App developer Panic reveals 'Playdate' handheld gaming system
Panic, a developer known for macOS and iOS apps like Transmit and Coda, on Wednesday announced plans for its first hardware offering in Playdate, a small handheld gaming device set to launch in 2020.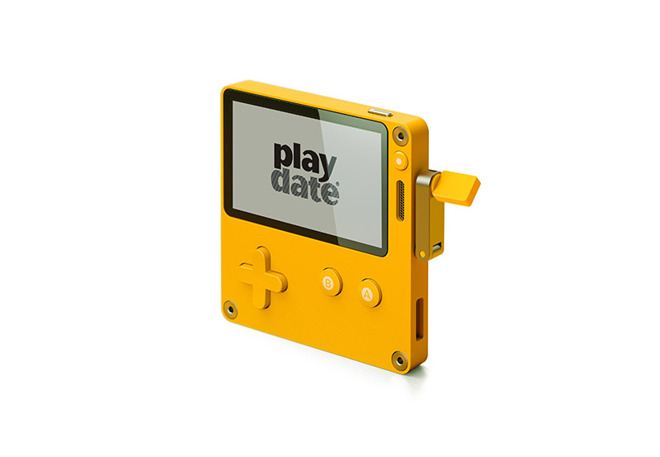 Four years in the making,
Playdate
is decidedly idiosyncratic, with a retro-futuristic 2.7-inch 400-by-240 pixel, reflective black-and-white display joined by more modern components like Wi-Fi and Bluetooth communications and a USB-C port. A headphone jack and speaker are also incorporated into the tiny, square-shaped device measuring less than three inches on each side.
Along with the usual power button, directional pad and A and B controls, Playdate includes a small crank with a handle that fits into a recess in the chassis housing. The distinctive input was dreamed up by Teenage Engineering, a Swedish digital music electronics company which assisted Panic in Playdate's design and manufacture.
A team of five people, led by Panic's director of special projects Greg Maletic,
conceived and developed
the project, reports the
Oregonian
.
As detailed by
MacStories
, Playdate's
software lineup
-- and method of distribution -- is unique. Panic enlisted notable indie game developers Keita Takahashi, Zach Gage, Bennett Foddy, Shaun Inman and others to contribute to the project. Aside from showing off the crank in Takahashi's "Crankin's Time Travel Adventure," Panic is keeping game specifics under wraps, saying only that the first batch will include short, long and experimental titles.
Games run on the Playdate OS and were built using a custom SDK that supports C and Lua. Panic also tooled a Mac-based simulator and debugger for developers.
The first dozen games will be pushed out to Playdate one-by-one every week as part of a "season," with each release designed to be a surprise for users. Future seasons will be discussed at a later date, but the initial group is being offered as part of the device's $149 pricing.
"The system itself is really all about surprises," Cabel Sasser, Panic co-founder, told the
Oregonian
. "We know everything about everything before it comes out. And we wanted to buck against that a little bit."
Panic is no stranger to the gaming industry. The company published "Firewatch" in 2016 to critical acclaim and its upcoming "Untitled Goose Game" received plaudits for its unique play style, but Playdate marks a bold step into the realm of hardware. With a unique interface and games like "Crankin's Time Travel Adventure," however, it appears Panic is -- wisely -- not chasing market giants. Indeed, Playdate is designed to co-exist alongside products like Nintendo's Switch, according to
MacStories
.
The system is a gamble, as Panic funded the project internally and without funding from investors. Though hopes are high for the diminutive device and unique game release "season" model, Panic is not betting the company on its success.
"Worst-case scenario, we're still going to be standing the next day," Sasser said. "We might have a roomful of cardboard boxes."
Playdate will debut in early 2020 for $149. Those interested in being one of the first to order can join a first come, first served pre-order list on the
Playdate website
.