Samsung reportedly being tapped for 16-inch MacBook Pro, iPad Pro OLED screens
Apple is considering the possibility of adding flexible OLED displays to its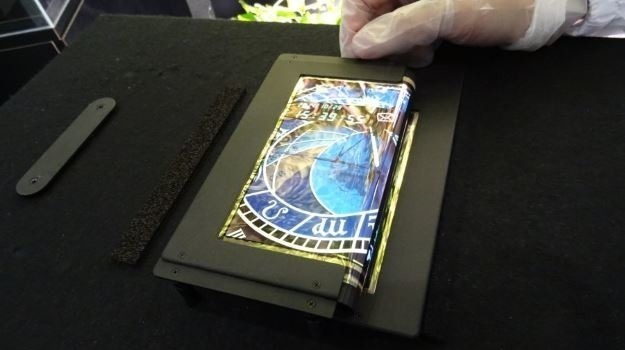 An early prototype of a flexible display panel



Rumors and speculation have pointed to Apple possibly using
OLED panels
in its
newest products,
following its success in the iPhone X and later iPhone models. The technology boasts higher contrast and a more vivid display compared to the existing LCD display systems that currently power Apple's Mac lineup.
According to sources
of
TheElec
, Apple is "considering adoption of OLED displays in its high-end Pro models of notebook and tablet PC product lines." Specifically, Apple is tipped to introduce a
16-inch MacBook Pro
with an OLED display, while the
11-inch iPad Pro
will switch from
LCD to OLED
.
Samsung has been tipped as a supplier of the OLED panels, but it is apparently negotiating supply of the components using a Thin Film Encapsulation (TFE) method of production, one that offers a number of benefits.
Typically associated with the production of flexible OLED panels, TFE uses a thin film layer instead of a glass substrate to hold the OLED panel, resulting in a thinner overall panel. There is also no need to add backlight modules as would be required for LCD, as OLED is self-illuminating, saving even more space.
By creating a thinner panel, this could lead to even thinner versions of the
MacBook Pro
and
iPad Pro
, or a similar size but with more space for other components, such as increased battery capacity.
While the technology is for a flexible OLED, it does not mean that the MacBook Pro or iPad Pro would take advantage of the bendy nature of the component, just the space and weight-saving aspects.
Samsung is keen to become a display supplier to Apple for its folding technology, and has reportedly sent samples for potential use in the
2020 iPhone
. The samples were sent in March, long before the withdrawal and delays in the release of the
Galaxy Fold
, a smartphone that showcases the technology's flexibility.