Mophie announces new USB-C powerstation portable battery line
Posted:
in iPhone
edited May 2019
Mophie has announced a new line of portable batteries including the powerstation mini, the powerstation, the powerstation XL, and the powerstation XXL, all with a shared USB-C port for both charging the battery, and charging devices.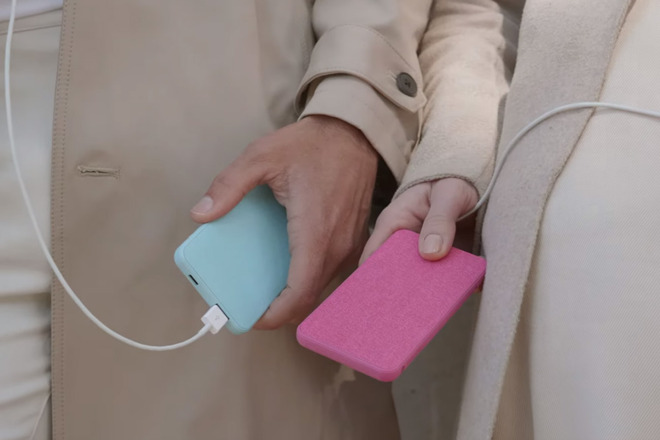 The powerstation mini, powerstation, powerstation XL, and XXL have 5,000mAh, 10,000mAh, 15,000mAh, and 20,000mAh respectively. The shared USB-C input/output port can be used to charge the powerstation battery or a connected device. The powerstation and powerstation mini feature one additional USB-A port, and the XL and XXL have two, allowing users to recharge multiple devices at once.
"Mophie is committed to providing consumers with power for all their devices whenever and wherever it's needed. We've updated our powerstation line to feature USB-C ports, so consumers can use the same cable to not only charge their device, but to recharge their powerstation as well," said Robert Johnson, the general manager of mophie. "Available in multiple colors and capacities, the compact powerstation batteries fit easily into any bag, ensuring there's always an extra charge on hand."
The powerstation line includes soft fabric finish designed to offer some protection against scratches and scuffs, especially for those who like to carry portable chargers along with their phones and tablets. The mini is also available in black, gray, navy, hot pink, and light blue, the powerstation is available in black, gray, navy and pink, the XL in black and gray, and the XXL being exclusively available in black.
The powerstation line comes with mophie's two-year warranty and is said to be triple tested to ensure safe operation and high-quality performance.
Anyone looking to pick up a powerstation of their own can head to
mophie's website,
although the units will be available nationwide at T-Mobile, Verizon, and Best Buy stores as well. The powerstation will retail for $39.95, the powerstation mini for $49.95, the powerstation XL for $59.95, and the powerstation XXL for $69.95.