How to use external storage on iPad and iPhone with iOS 13
Posted:
in iOS
edited September 2020
With iPadOS and iOS 13, Apple is finally adding much-requested support for external storage connectivity on iPhone and iPad. There is a lot of details to parse through so we've done the legwork to lay out everything you need to know about using hard drives and other external media with iOS 13 and iPadOS.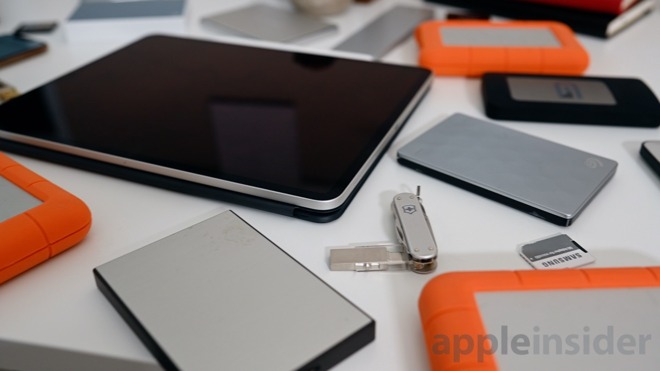 iPad external storage
Starting with iPhone
During the WWDC keynote, Apple focused primarily on the use cases with iPad and iPadOS, but the iPhone wasn't left completely out.
We had no issue connecting SD cards into our iPhone with Apple's SD card to Lightning adapter and having them accessible within the Files app. We could access all the folders and storage and manipulate them accordingly.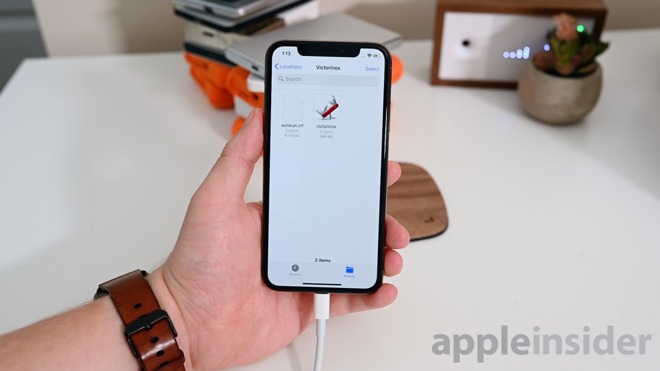 USB flash drive connected to iPhone with USB-A camera connection kit
Some small thumb drives we were able to connect as well with Apple's USB camera connection kit that presents a USB-A port to connect them to. When the capacity got too large, however, it started to draw too much power for our iPhone and we got a modal alert explaining as much. As a middling solution, we used Apple's
USB 3
camera connection kit which gives you not only a USB-A 3.0 port but a Lightning input as well. When we connected it to power we could now get other thumb drives to work.
This USB 3 kit still didn't solve all external storage woes as external HDDs and SSDs still were unable to connect to our iPhone. They either said they drew too much power or didn't connect at all.
In short, at the moment in iOS 13 -- as far as beta one is concerned -- thumb drives and SD cards work great within Files but larger storage devices do not. It is a possibility Apple could change things throughout the beta process or with a firmware update for their USB dongles.
The iPad is forever changed
The iPad is really where external storage comes in handy. It is exceptionally powerful and full-featured. Not only can you connect SD cards and thumb drives but portable hard drives and solid state drives. Desktop hard drives also connected without issue.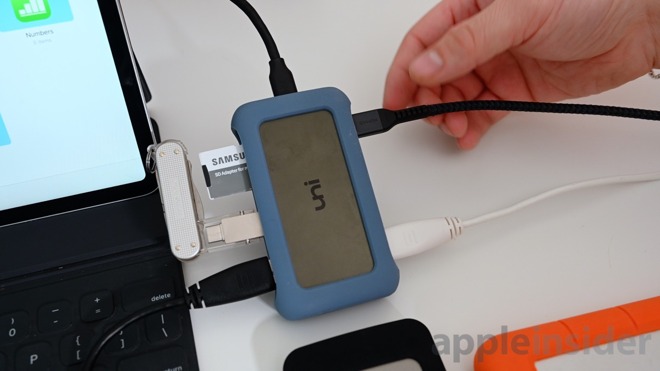 Multiple USB drives connected to an iPad Pro
We wanted to push our iPad, so we connected our uniAccessories USB-C hub to our iPad Pro. We connected the USB-C port to power, one USB-A to our LaCie Rugged Drive, one to our Glyph Atom Raid SSD, one USB-A to our Victorinox flash drive, and lastly connected our SD card to the card reader.
All four external storage devices quickly appeared right in the location menu of our iPad Pro's Files app. We could move between them all, grabbing multiple at a time, or even save them to our iPad's local storage.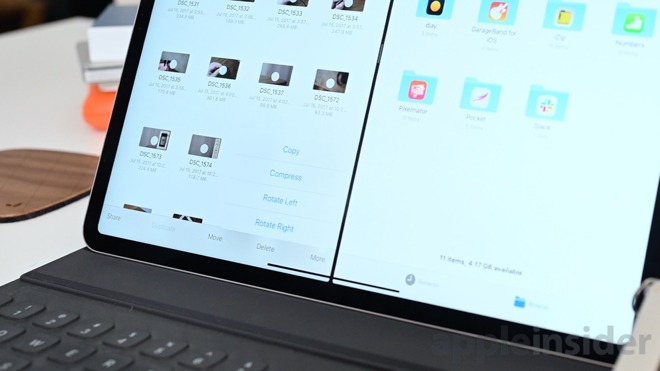 Compress and rotate files on iPadOS
Thanks to iPadOS, you can now compress and unzip files without relying on third-party apps to do so. Quick actions also are here to rotate images and other file-specific actions. Safari got a new download manager in iOS 13 and iPadOS and within Settings you can direct all downloads to go directly to external drives rather than the internal ones.
All of this works best with iPad Pro over USB-C but the Lightning camera connection kit also works with previous iPads.
Powerful features
Officially, Apple will be supporting ExFAT, FAT32, HSF+, and APFS storage devices though APFS support is absent in the first beta.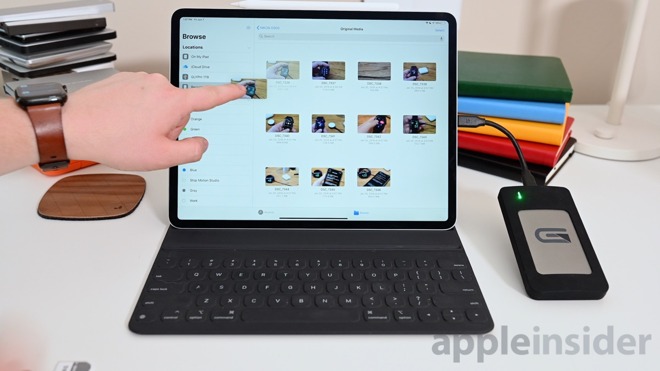 External storage on iPad Pro
Even though we are currently testing in beta, external storage is going to be huge with iOS 13 and iPadOS when it becomes fully available. There is so much you can do and it is all easy and intuitive. Multiple Files windows and support from external apps makes the iPad Pro an even more capable professional device.
Apple will be releasing iOS 13 and iPadOS this fall alongside macOS 10.15 Catalina, watchOS 6, and tvOS 13.
Thanks to
Steve Troughton-Smith
for his assistance with this piece.
Check out all of
AppleInsider's
other features regarding the new features coming in Apple's latest updates.