Case manufacturer Olixar betting on three lenses for most 2019 iPhones
Accessory producer Olixar has started to produce protectors for the rear camera module of the 2019 iPhone models, with the firm seemingly confident of the size and layout of the square camera bump arriving with the smartphones this fall.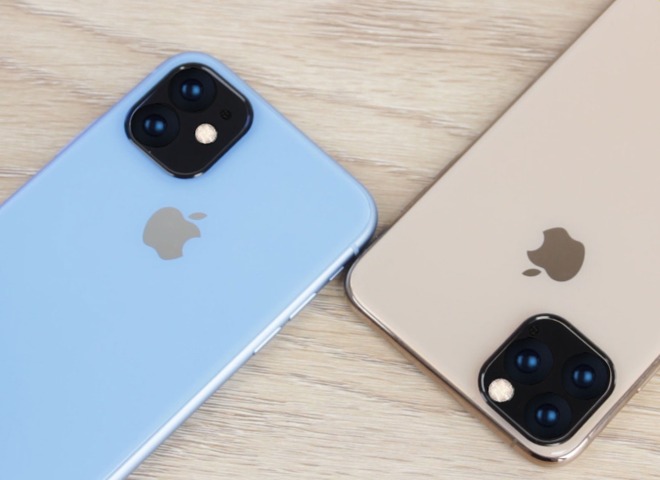 The 2019 iPhones are widely considered
in rumors
to have an extra camera on the back of the devices, bringing the iPhone XS and Max followups "iPhone XI" and "iPhone XI Max" up to
three cameras
and the update to the iPhone XR to
two cameras
. In all cases, the camera bump on the back is thought to be square in shape to accommodate the extra lens on the premium models.
Accessory firm Olixar has taken the step of producing camera protectors for the new square module, which they have provided to
retailer
Mobile Fun
. The protectors all seem to use the same lens configuration as pictured in earlier renders and leaks, such as the so-called
case molds
, with the extra lens appearing on the right-hand side of the square, in between the heights of the other two on the left.
On the iPhone XR replacement, the flash takes the same position. The flash is located above the extra lens on the "iPhone XI" and "Max" versions.
While accessory producers are able to create products for future iPhone releases ahead of time, in order to capitalize on launch period sales, there is no guarantee that the components pictured will exactly fit what Apple provides. As the production of the accessories can be expensive to prepare, it does demonstrate a high level of confidence on Olixar's part that they went to the effort to create the camera protectors months away from the expected launch event.
The Olixar camera protectors, made from tempered glass, are being offered on pre-order for
$10.99
for a twin-pack.
The 2019 iPhones are expected to consist of two OLED models and one LCD, with the OLED versions having a super wide angle lens to go alongside the existing wide angle and telephoto cameras. The cameras for the LCD version are thought to be an upgrade to a wide-angle and a telephoto version, bringing it in line with the existing iPhone XS and XS Max.