Mac page design app Affinity Publisher comes out of beta
The long-awaited page layout app Affinity Publisher has launched after an extended public beta period. Alongside its own design tools, the app leverages its sister Affinity products to create a publishing workflow.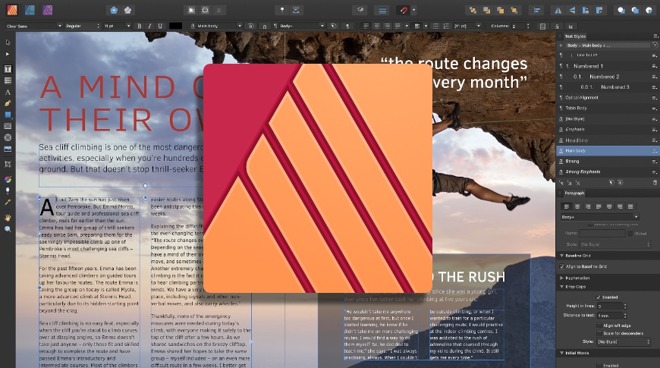 Affinity Publisher has come out of its extended beta
Shortly after updating its Affinity Photo and Affinity Designer apps to
work with the new Mac Pro
and Pro Display XDR, Serif has released
Affinity Publisher
.
Affinity Publisher is a page-layout design tool that has been well-received during its extended beta period. It's intended for producing documents where you need fine control, such as single-sheet flyers, magazines, or entire books.
Inevitably, it's going to be compared to Adobe InDesign. We'll need to test it thoroughly before we can say how it compares in the details, but the very fact that on first appearance it appears similar is a bonus. Affinity Publisher can't open InDesign's .indd files directly, but users of the Adobe app will find this alternative familiar and easy to use.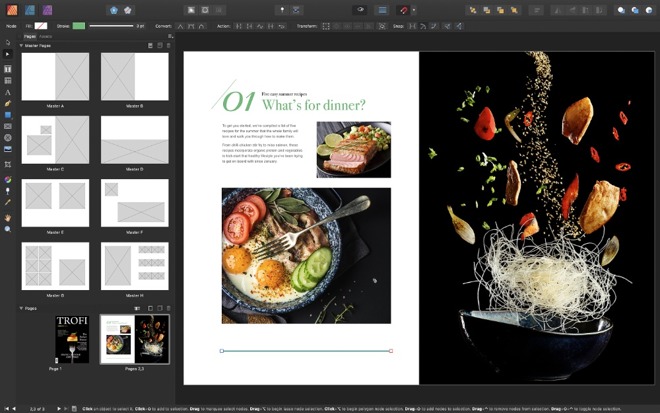 The devil is in the details, but at first glance Affinity Publisher will feel very familiar for InDesign users
They'll also find that it's cheaper. Where InDesign is a subscription app, Affinity Publisher is a single purchase. It's on a launch sale for $40.
AppleInsider
will be evaluating Affinity Publisher, and comparing it to other offerings in the near future.
Even though Adobe users will be looking at it, and even though publications will evaluate it as an alternative, it's still not fair to label Affinity Publisher as simply an InDesign or Pages clone. It's a strong publication app in its own right.
And alongside its own page-layout features, Publisher also brings a way of leveraging other Affinity apps you may have. If you've got Affinity Photo or Affinity Designer installed on your Mac, you can use all of the tools from those apps directly within Publisher. You don't have to round-trip your document out to those apps and back again.
Affinity Publisher is a Mac app, but the makers say that an iPad version is coming -- and that will be a significant release as there is no Adobe InDesign for iPad yet. Serif also says that in the meantime, current iPad versions of Affinity Photo and Affinity Designer will be able to work with Publisher documents.