Adobe brings Lightroom to the Mac App Store
Adobe has brought Lightroom, its flagship photo editing and management app, to the Mac App Store a year after Apple announced its big revamp coinciding with the release of macOS Mojave. The move is Adobe's first major app to make the leap.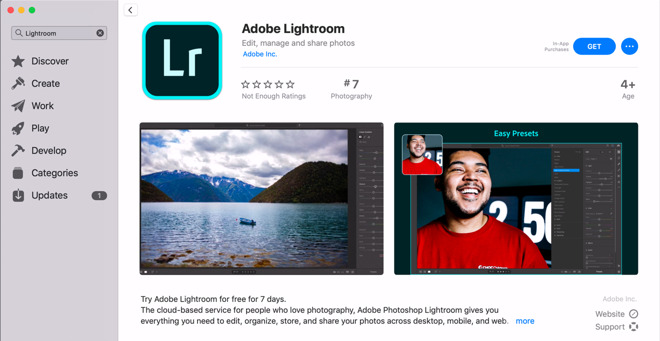 Adobe's
Lightroom
joins Microsoft's
Office 365
, Panic's
Transmit
, and Bare Bones Software's
BBEdit
as major Mac apps now available from the largest catalog of Mac apps in the world.
While major developers were quick to embrace the iOS App Store, many Mac developers hesitated to put their work on the Mac App Store because they already had other options for selling their work. Additionally, Apple imposed some restrictions for apps sold on its official App Store that were similar to iOS, but entirely new to the more openly permissive software model that has long existed for Macs.
Apple has made some adjustments to accommodate Mac developers' needs, and last year also gave its Mac App Store the same overhaul that it brought to iOS 11 two years ago. The revamped App Store in macOS Mojave, just like iOS 11's a year earlier, focuses on editorially curated content, with regular "App of the Day" and "Game of the Day" sections as well as lists, how-tos, developer interviews and feature pieces highlighting third-party developer's work.
Apple opens the aperture for Lightroom
Another enticement for Adobe bringing Lightroom to the Mac App Store: Apple's own Aperture is now going away, with last year's Mojave being the last version of macOS capable of running the aging app. Apple
first launched
Aperture back in 2005 as a professional version of iPhoto.
Aperture was initially viewed as Apple taking on Photoshop, but the new title was really aimed at managing photographic workflows rather than comprehensive photo editing. Adobe was quick to react, however, launching its own beta of Lightroom just weeks after its launch.
After competing for several years, Apple essentially put Aperture into maintenance mode in 2014 and
began recommending
that users move to Adobe's Lightroom.
Apple has since taken many of the unique features it created for Aperture and folded them into iPhoto, and now the renamed Photos, upgrading the free, bundled photos app into an advanced photo management tool for consumers that uses advanced Machine Learning to make photos searchable, along with powerful features that present summaries of your photo library and help you discover events and memories.
In April, Apple noted that Mojave would be the
last version of macOS
capable of running its aging, 32-bit Aperture software. The title
hasn't been listed
on the Mac App Store since 2015.
Lightroom for pros in the Mac App Store
Emphasizing its professional audience, Adobe commonly refers to the title as "Photoshop Lightroom." The app is a free download from the Mac App Store and comes with a free one-week trial. There are In-App purchase options to subscribe monthly at $9.99 or annually for $118.99. Adobe refers to this as "a cloud-based service for people who love photography" which "gives you everything you need to edit, organize, store, and share your photos across desktop, mobile, and web."
A subscription to Photoshop Lightroom includes 1TB of cloud storage to "access your entire library of full-resolution photos anytime you want, anywhere you are, from any device," with powerful photo editing features that enable you to adjust your full-resolution shots and keep both your originals and edits backed up to the cloud.
Adobe's App Store listing notes that "with easy-to-use photo editing tools like sliders and filters, Photoshop Lightroom makes it simple to create photos that look just the way you want. And you can edit your full-resolution photos anywhere -- on mobile devices, the web, or your desktop. Edits on one device are automatically applied everywhere else."
Featuring "smarter organization," the company notes that Lightroom incorporates its Adobe Sensei machine learning "to recognize the people and other content in your photos and then applies searchable keywords automatically. Looking for shots of your cousin or favorite trips to the water? Auto-tagging makes searching a snap so you can create albums based on any person or theme you want."
Another feature is easy sharing: "post photos directly to social sites, showcase them on your website by sending them directly to Adobe Portfolio, and create stunning graphics, web pages, and video stories in minutes with Adobe Spark."
Featured by Apple
Apple is promoting Lightroom in two Mac App Store
feature articles
: "Master the Basics of Lightroom: 4 features every newbie should know" and "Move Up to Adobe Lightroom: edit and organize like a pro, no matter your skill set."
The first feature states, "Adobe Lightroom may be a go-to tool for creative professionals, but this powerful photo editor and manager is approachable enough for beginners. Here are four ways the app helps fledgling photographers up their game."
The first outlines Lightroom's machine learning to identify people, objects, and scenes. The second outlines powerful editing features such as the Auto tool (below), which is designed to "figure out the ideal adjustments to make to your image," then "show you exactly what those adjustments are. Take a look at its suggested settings for exposure, contrast, and more, and experiment with each slider to see how it affects the image."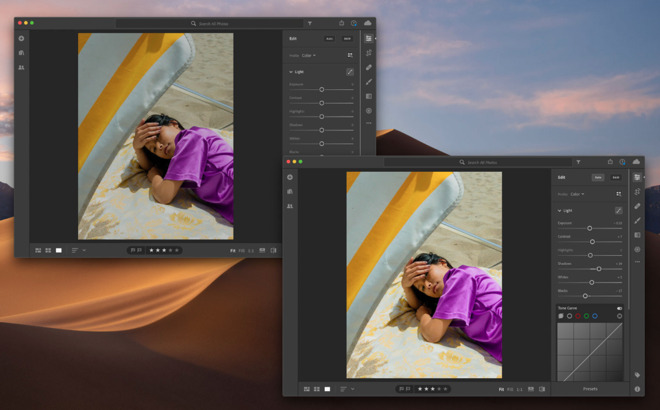 Lightroom's Auto tool
Next, Apple suggests you "experiment with the more advanced options. In the Light panel, for example, click the button that looks like an S to open the Tone Curve. It'll let you edit Shadows, Highlights, and everything in between with more precision than the simple sliders offer.
"Or enable the Color Mixer by heading to the Color panel and clicking the rainbow circle. This tool lets you adjust the hue, saturation, and luminance of specific colors in your photo.
"Both work similarly: Click a target icon and select the area you want to modify, then experiment. (Skin is a great place to start.) Tone Curve adjusts only portions of the image that are similarly lit; Color Mixer adjusts only portions that are similarly colored."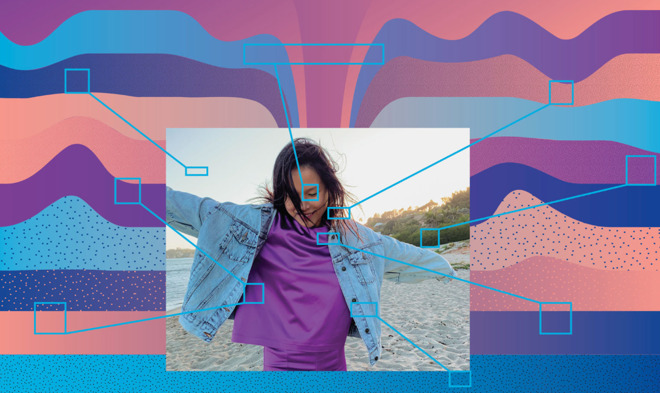 Lightroom's Tone Curve
Under the heading "make the most of your edits," the App Store feature notes that "once you've tweaked a photo to perfection, there's no need to start from scratch when you move on to the next one. Just select the adjustment panels you want to reuse, copy them, switch to a new image, and paste. It's a fast way to edit several photos from a similarly lit portrait sitting or event.
"To easily apply those settings to a bunch of images, create a preset. (Click Presets > Options (...) > Create Preset.) Once you've saved a preset, you can apply it to other photos at any time."
Mac users on Mojave or the upcoming Catalina Public Beta can peruse the Mac App Store and review the listings for Adobe and Apple's feature articles, which are exclusively presented in the Mac App Store itself, and not available on the web.