Live radio station streams accessible on HomePod ahead of iOS 13 launch
Posted:
in iOS
edited July 2019
Live radio streams, a feature set to arrive with iOS 13 as well as the HomePod this fall, is seemingly already available to use for a small number stations in Germany under iOS 12, seemingly indicating the feature is practically ready for launch.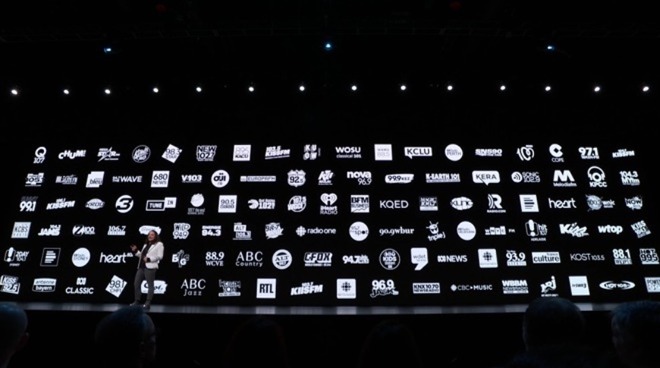 Apple's WWDC announcement for adding live radio streams to iOS 13
At WWDC, Apple revealed iOS 13 would include support for
live radio
, with over 100,000 different stations around the world available for listening, with additional support for iHeartRadio, TuneIn, and Radio.com. Users would be able to ask Siri to listen to their selected station, with the feature also set to arrive on HomePod at the same time.
According to
Macerkopf
, some users in Germany are currently able to listen to a set of 12 german-language radio stations from their iOS devices and HomePods. Furthermore, the hardware isn't running the current betas for the milestone versions, but instead are using the publicly-available releases.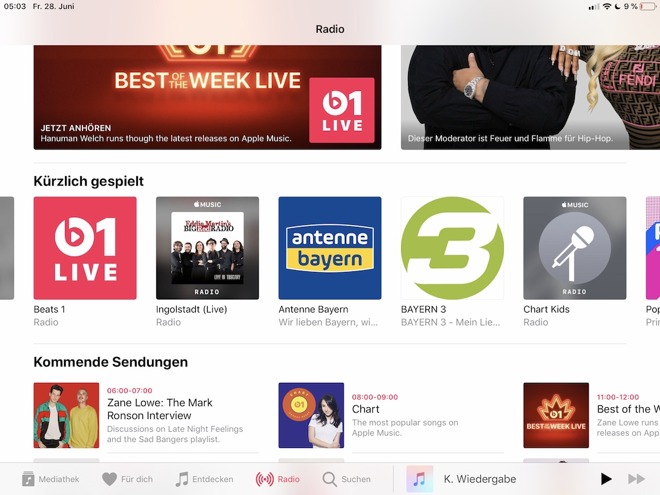 German radio stations listed within Apple Music's Radio tab [via Macerkopf]
One user advising of being able to hear stations including Antennes Bayern and NRJ on HomePod and iOS claimed he was using iOS 12.3.1 and version 12.3 for HomePod. Later testing by the publication discovered the same stations could be heard, though many others were not able to be requested.
In some cases, it was possible to bring up the stations under the Radio tab of Apple Music, alongside the native Beats 1.
Attempts by
AppleInsider
on a UK iPad and a U.S. HomePod did not bring up alternative stations at all, suggesting this may be a limited test or an accidental pre-launch slip by Apple. Either way, it shows the feature is partially functional, and should arrive as scheduled this fall.