Sales of iPhones down year-on-year despite popularity of iPhone XR in US
The iPhone XR was the best-selling smartphone in the United States in the second quarter, according to research from Kantar, but the share of iOS device sales seem to have slipped in both the US and major European markets while Android vendors enjoy growth during the same period.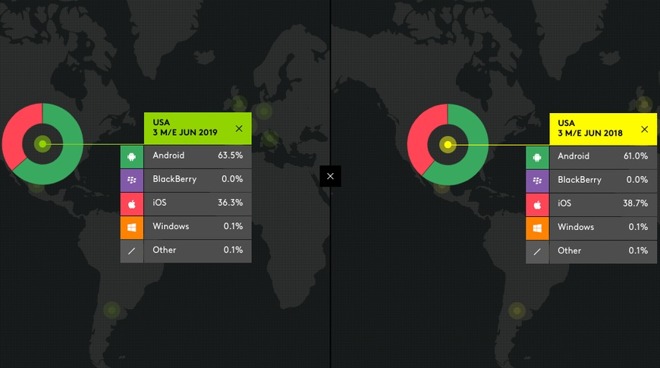 In the second quarter of 2019, the iPhone XR secured the top spot in US sales with a 7.8% share of the market. Apple dominated the top three spots entirely, with the iPhone 8 and iPhone XS Max in second and third place respectively, followed by Samsung's Galaxy S10+ and Galaxy S10 in fourth and fifth for the quarter.
The bulk of Kantar's
report
relates to the
proportion of sales
of devices with different operating systems, namely comparing iOS with Android and others. While the data does reveal year-on-year changes in operating system proportions for a selection of markets, it does not advise on how many smartphones are actually sold, nor the levels for specific companies, aside from Apple for iOS.
According to the company, iOS saw a year-on-year percentage drop in proportion of 0.8% to 19.1 percent of sales in the EU5 area, covering the five major markets in Europe. By contrast, Android saw a gain of 0.6% from 79.5% for the three-month period ending June 2018 to 80.1% for 2019.
On a country-specific basis for EU5, iOS gained the most share in Italy at 3.4%, followed by Spain and Germany. There was a drop of 0.8% in the UK and large 5% in France for iOS, contributing to the overall EU5 downturn.
For the United States, iOS saw its share of sales drop year-on-year from 38.7% for Q2 2018 to 36.3% for Q2 2019. Over the same period, Android saw its share increase from 61% for 2018 to 63.5% in 2019.
Apple saw year-on-year sales share drop for iOS by 5.5% in Japan to 37.4% while Android gained 6% to reach 61.8%. In Australia, iOS gained 0.7% to hit 33%, but Android saw no percentage change at 66.8%.
The important China market was good for Apple, with a moderate improvement in sales share for iOS from 19.4% in Q2 2018 to 19.7% for Q2 2019. Meanwhile, Android's 80.4% of sales in Q2 2018 dipped down by half a percent to 79.9% for the 2019 results in the market.
Huawei is seen to have endured a number of
"large setbacks"
in the period, Kantar global director Dominic Sunnebo suggests, alluding to bans put in place by the U.S. government to limit the company's activities in the country, which have since been
rolled back
. "Early indications are that Samsung and Xiaomi are the key beneficiaries, with Apple seeing a
smaller uptick
in sales as a result," Sunnebo highlights, but notes many Huawei owners are simply putting off upgrading until more clarity on the situation can be reached, rather than opting for a competing device.
Apple's small improvement in China is with a
backdrop of unrest
by the country's consumers who may view the iPhone maker as a symbol of the U.S., prompting calls for a boycott of its products, but the support for the local hero Huawei is seemingly helping it further its sales in its home country. When combined with sister brand Honor, Huawei is close to making up one in every two sales in China for the period, garnering a 46.1% share.