Having problems with Wi-Fi on Amtrak trains? Here's how to (probably) fix it
Amtrak's trains are a good way to get from point to point, inexpensively and quickly, without subjecting your vehicle to miles it doesn't necessarily need to have. And they have Wi-Fi, of a sort. Here are some tips on how to connect to the Wi-Fi hotspots on the trains, and some things you should know.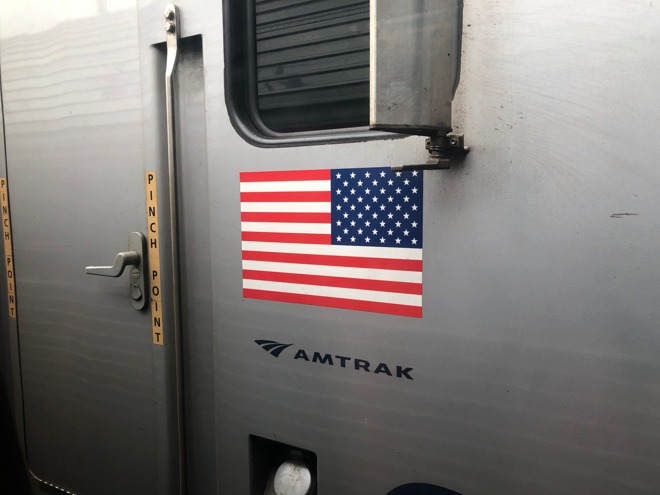 Amtrak says that Wi-Fi connection is simple. Just connect to the "Amtrak_WiFi" network on any of its trains, and you're good to go. The reality is a bit more complex, though.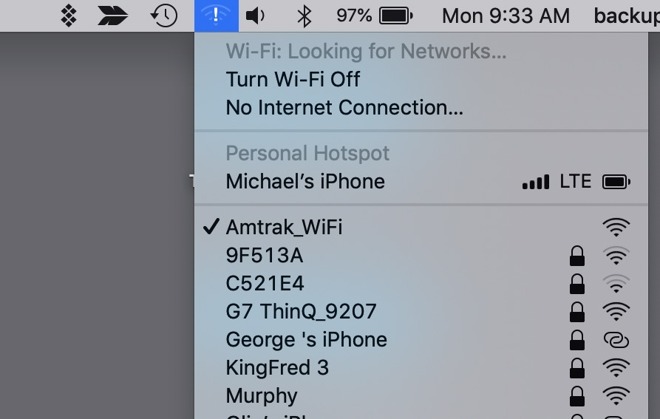 It says that it's connected to Wi-Fi, but there's no Internet connection
Before you travel
Know that the connection is slow, will go out from time to time, and won't do streaming video well, or at all. Don't count on being able to make downloads more than about 10MB in size, and mail might arrive later than you want it to.
And, here's some common sense advice -- like on any other network Amtrak Wi-Fi works better when there are fewer people on the train. Either pick a less-busy time to travel, or go business class.
For what it's worth, there is more legroom in business class, and even when our conductors on the trains we've traveled on have said that the train was sold out, the business class car never got more than about three-quarters full. When Wi-Fi was absolute garbage in the food car further forward on the train, it was adequate back in business class.
And on the train, you do have power for devices. Ever seat row has a pair of AC sockets on both sides of the train. Don't be a jerk about it, though -- your seat neighbor may want to use it too.
And a final warning -- the Wi-Fi on the train isn't secured. At all. Think about what sites you visit.
On the train, with your iPhone or iPad
The iPhone or iPad are the easiest Apple platforms to connect for a few reasons. We found the fewest problems when connecting, as the Amtrak routers generally popped up a captive terms of service screen automatically after connecting to the router.
If you're connected and can't use Wi-Fi still, the first thing to try hit Apple's captive page manually.
This can force the Amtrak terms of service screen to appear, if the router and the iPhone or iPad isn't connecting to the network properly.
If that doesn't work, then reset network settings on the device.
Tap the Settings icon


Tap General


Tap Reset


Tap Reset Network Settings


Try to reconnect to Wi-Fi
On the train with your Mac
We had more problems connecting the Mac. If the Amtrak terms and service page doesn't pop up, sometimes a stop to the captive page linked above does the trick.
If that doesn't work, check to see if you have a DNS server manually entered, like Google's at 8.8.8.8 or Cloudflare's at 1.1.1.1. If you do, either set up a new network location for the train, or delete the manual DNS entry and try the captive page again.
Multiple capture page visits?
This seems to be a fact of life. Nearly every time there's an engine change from electric to diesel, or a crew change at a big station, you'll have to re-authenticate. If you're on the train for more than about three hours, you'll have to do so as well.
Not having to do so is the exception rather than the rule.
Maybe no help, though
In our experience, the Wi-Fi has been iffy across the board. It'll work for 50 miles, then not work for 25, then again for 30, and so on. And, in some cases, it just won't work at all, anywhere on the train.
Amtrak has no tech support on the train. Do tell the staff, but they can't do anything for you immediately, and may not be able to until you hit a big station with a long stop -- and possibly not at all.
A better option
This Wi-Fi on the train won't eat your data, but like we said, it isn't secure. The best option to actually get work done at an acceptable internet speed is to either work directly on a LTE device, or tether your Mac to your iPhone's LTE connection.
Before you do this, to avoid sometimes massive over-charges, be sure that your data plan has an allowance for tethering, as connecting to a device that isn't your iPhone or iPad generally has a different data pool. Video streaming or carrier-blessed music services that don't count against your cap when used on your device, are generally counted when used on a tethered connection.
On your LTE device, do the following.
Tap the Settings icon


Tap Personal Hotspot


Toggle the feature on


Establish a Wi-Fi password, if you haven't already


Connect to the iPhone with Wi-Fi, Bluetooth, or with a cable to your computer
This will give you a secure connection to the internet, not bound by technical issues with the train. In all likelihood, you will lose the signal in a tunnel, though.