Barclays pessimistic on AAPL, predicting imminent Services slowdown
Barclays has started to cover Apple's stock once again, handled by a new managing director at the investment bank, but the initial view of the iPhone maker is dreary, landing it with a price target of $192 and an 'Equal Weight rating" based on 5G iPhone and Services pessimism.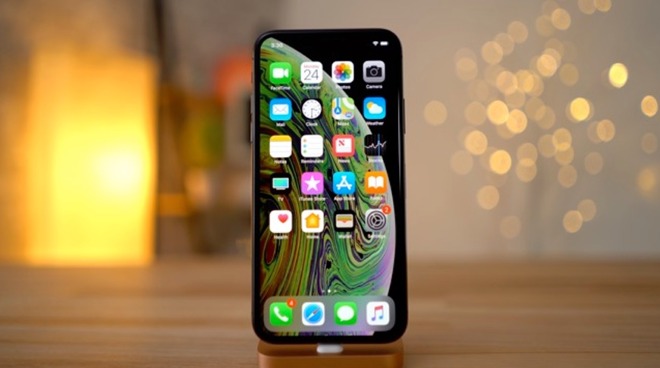 Barclays analyst Tim Long's first investor note about Apple outlines the company's premiere devices as having gone past its peak, with current-generation models like the iPhone XS and iPhone XR being "relatively unsuccessful" in recapturing sales.
The situation may not necessarily be revised in the next quarter, Barclays suggests, doubting the September refresh to prompt existing iPhone owners to upgrade their devices in a major way. The push to 5G in 2020 may not even make a "meaningful difference" to sales, with Long also suggesting the average selling price for iPhone will also decline that year.
Acknowledging
iPhone sales
aren't the entire company's worth, Barclays also insists
Apple's Services growth
will slow down from its current state. While new services, like Apple TV+ and Apple Arcade, could be revenue generators, the pricing of the incoming services, as well as relatively young elements of the Services business will face increased pressure from competition, especially over pricing.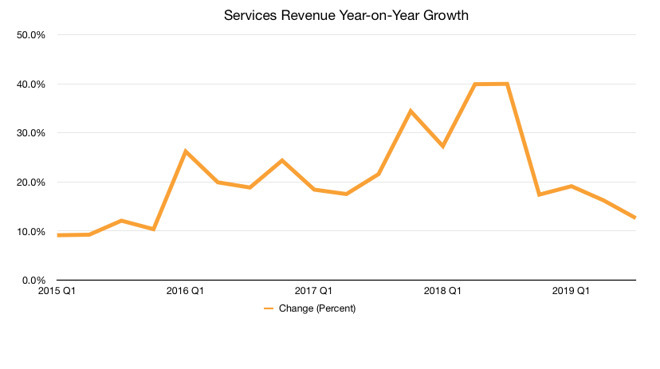 Apple's Services revenue growth over the last four years
The trepidation on Services seems to go against what most
other analysts
are saying, with upcoming new services set to build upon the already strong Services base. In the
latest quarterly results
, Apple reported $11.5 billion in Services revenue, up 13% year-on-year, as well as accounting for 21% of Apple's overall revenue and 36% of gross margin dollars, and counts over 420 million paid subscriptions across all of its services.
In the note, Apple is given an "Equal Weight" rating, along with a price target of $192.00. The target is lower than the current price of Apple, which started the trading day at $200.20, recovering after the recent downturn caused by the ongoing
US-China trade war
and currency spat.
Long has been at Barclays for a relatively
short time
, having joined the investment bank in June 2019 as a managing director. Before the move Long spent ten years at BMO Capital Markets as a senior equity analyst covering communications technology, and had previously worked for Banc of America Securities, Credit Suisse AG, Merrill Lynch, and Bell Communications Research.