Tim Cook invites Coast Guard Admiral Karl Shultz to Apple Park
Apple CEO Tim Cook met with U.S. Coast Guard Commandant Admiral Karl Schultz at Apple Park on Thursday, where the two discussed a range of topics including similarities in their seemingly disparate jobs.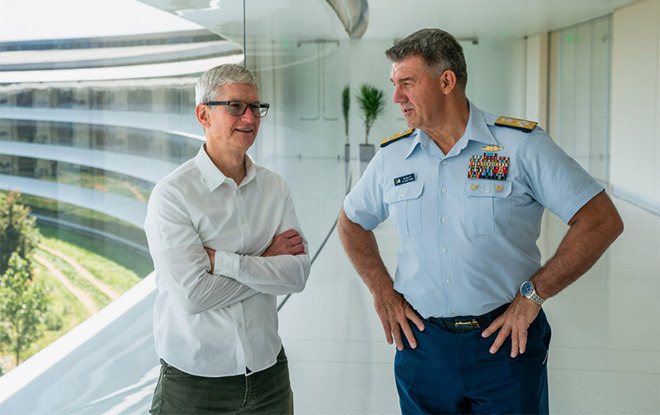 Source: Admiral Karl Shultz via Twitter
Schultz posted a photo of his time with Cook
to Twitter
, saying the two shared "ideas, perspectives, & experiences" during what appears to be a brief meeting.
The image shows Schultz and Cook talking next to a top-floor window that overlooks the courtyard of Apple Park's main "spaceship" building. While unconfirmed, the location could be close to Cook's personal office or near an executive conference room.
Schultz's account of the meeting does not reveal much about what was discussed.
"Our industries are different, but our purpose is similar - do the best for our people, provide the highest level of service possible, & make a positive impact in the world. Honored to meet w/@Apple CEO,
@tim_cook
, to share ideas, perspectives, & experiences. Thank you, Sir!" Shultz's tweet reads.
Apple has a working relationship with the Coast Guard, as the military branch
employed iPads
as part of relief efforts in the aftermath of Hurricane Harvey in 2017. Nearly two dozen helicopters were specially equipped with the tablet to help coordinate search and rescue teams in and around Texas.
In 2016, Apple assisted Coast Guard efforts to locate a pair of teens lost at sea by
extracting data
from an iPhone found on their boat, which was discovered drifting off of Bermuda some eight months after their disappearance. Unfortunately, the company's specialists were unable to access the weatherbeaten device.