'B Corp' leaders challenge Apple, others to become force for good
Apple should put the planet before profits, a group of more than 30 business leaders from major companies have urged, via a full-page advertisement in the New York Times demanding members of the Business Roundtable lobby group become more ethical in their practices.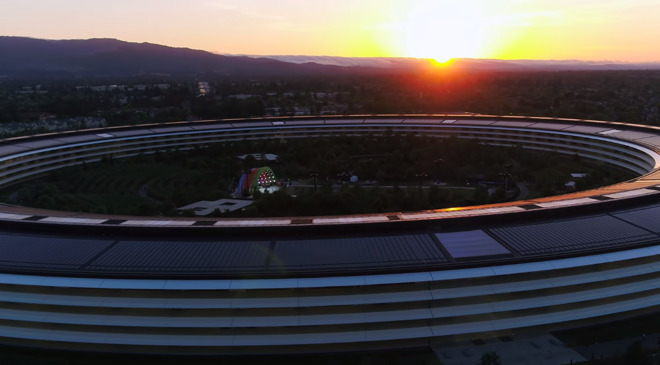 The advertisement takes the form of a letter addressing the Business Roundtable, an organization representing 181 of the largest companies in the United States, including Apple. The open letter is in response to a
decision
made by the Business Roundtable to change how it defines the "purpose of a corporation" to one promoting "an economy that serves all Americans," rather than just shareholders.
While the Business Roundtable wants companies to benefit all stakeholders, adding customers, employees, suppliers, and communities to the list of responsibilities, the group of "B Corp" CEOs view this as not a revelation to them. B Corps refer to companies that have become "certified" in providing a positive impact for the new stakeholders, as well as the environment.
In the letter
published
in the
New York Times
, the B Corps insist "We operate with a better model of corporate governance -- benefit corporation governance -- which gives us, and could give you, a way to combat short-termism and the freedom to make decisions to balance profit and purpose."
The ad also includes a list of 33 business leaders representing major brands, including Ben & Jerry's, Danone North America, Patagonia, Stumptown Coffee Roasters, and others.
"We're living in a world where business is responsible for more than 60% of the pollution of our air and our water and our land, and yet businesses take very little responsibility," said Patagonia CEO Rose Marcario. "I think what the B Corp community does is brings together these like-minded companies to be a greater force for good in the world."
While the additional concern of helping protect the environment is likely to be new to many of the firms in the Business Roundtable, it certainly isn't new to Apple, which regularly touts its
environmental credentials
. Along with
iPhone trade-in
programs and including recycled materials in its products, the iPhone maker also works to minimize its carbon footprint by investing in
solar power initiatives
servicing its operations around the world, as well as other
conservation efforts
.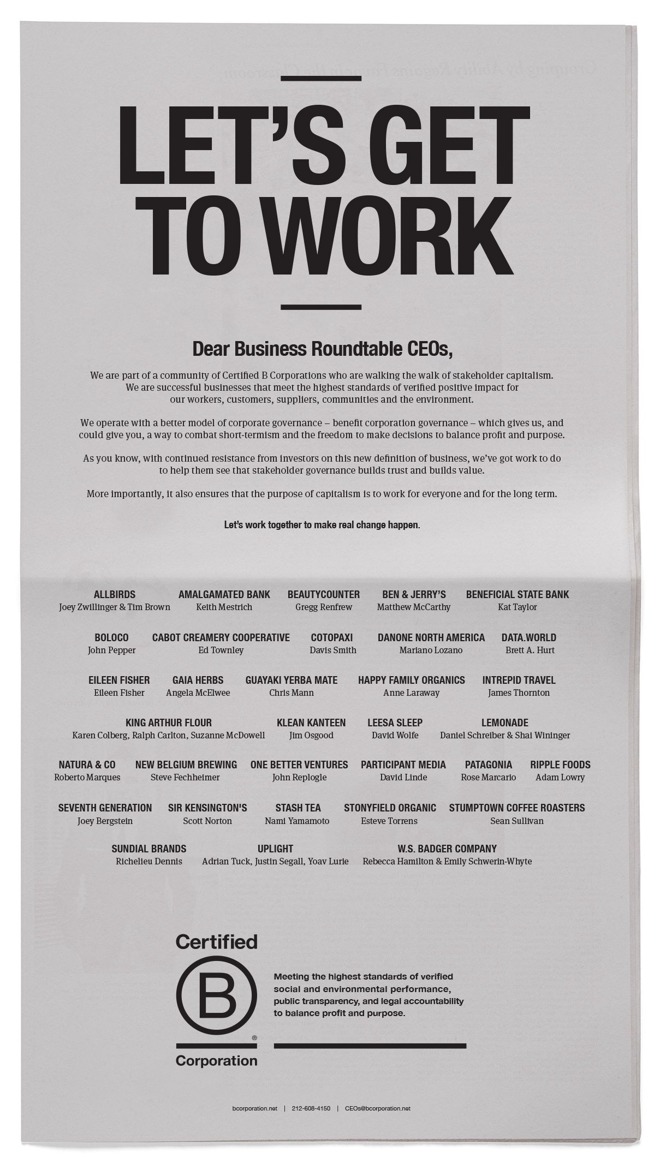 The full-page ad letter from B Corp chiefs to Business Roundtable CEOs.