Steve Wozniak says Apple should have split up long ago, talks push into services and more ...
Apple co-founder Steve Wozniak in an interview Tuesday said he believes Apple should have broken off and spun out multiple divisions from its main business "a long time ago," but notes his former company has admirably handled its role as a "big tech" leader.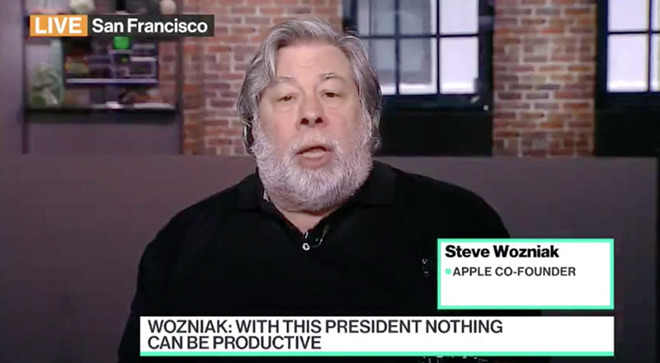 Wozniak touched on the issue of breaking up big tech in
an interview
with
Bloomberg Technology's
Taylor Riggs.
"I wish Apple on its own had split up a long time ago and split off independent divisions to far away places and let them think independently the way Hewlett-Packard did when I worked there," Wozniak said. "But that's my opinion, it's not like there's not one set of facts that's makes it right. Other people can come to other conclusions. I think big tech has gotten too big, it's too powerful a force in our life and it's taken our choices away."
Concerns over a distillation of power in the tech industry, mainly Google and Facebook, were raised earlier this year and subsequently brought to the fore when presidential candidate Senator Elizabeth Warren
announced plans
to break up big tech in March. At the time, Warren specifically characterized Apple's ownership and operation of the App Store as anticompetitive.
Calls for inquiry prompted the Department of Justice to
launch an antitrust investigation
"into the widespread concerns that consumers, businesses, and entrepreneurs have expressed about search, social media, and some retail services online." Separate probes into Apple and Google are also being prepared.
In August, the DOJ confirmed state attorneys general
are participating
in the wide-ranging investigation that in part seeks to determine what effects companies operating large platforms have on consumer pricing, segment innovation and product quality.
As for Apple, Wozniak believes the iPhone maker is doing an admirable job at maintaining what is arguably the world's most lucrative mobile platform.
"I think Apple's the best of the companies for a lot of different reasons; caring about the customers and just making money off of good products, not from tracking you, following you," he said.
Wozniak went on to offer his take on Apple's push into services.
"I'm actually very proud of Apple as a company because of the fact that we have been able to transition," Wozniak said. "We started with the name 'Apple Computer,' and then as we moved into products that were more personal in nature like iPods and iPhones, we dropped the 'Computer' from our name. And being flexible, being able to shift with the demands of the market is very important for a modern ongoing company that's really going to make it."
Apple has over the past few years placed an increasing emphasis on services like Apple Music, iCloud, Apple TV and, more recently, Apple News. Leaning on a massive install base, the company has seen services revenue skyrocket,
reaching $11.5 billion
at the end of the June quarter.
"So moving into services, if that's where a lot of the business is -- Apple's a huge company, [it] can only move in directions that are very large in dollar volume, potentially. We have moved into smaller hardware products like watches -- that's probably about my favorite piece of technology in the world right now -- but the services, when Apple Pay came along you notice that Apple took a lot of steps leading the industry," Wozniak said.
The Apple co-founder lauded the company's integration of security features like Touch ID and Face ID into services including Apple Pay, technologies that have been mimicked by competitors but are integral to a safe, streamlined user experience. He went on to tout Apple Card, saying the new credit card is not only secure, but a "beautiful" product.
Moving on to a hot-button topic, Wozniak offered his thoughts on the U.S.-China trade war and more specifically Apple CEO Tim Cook's handling of the situation. Noting that he dislikes the idea of tariffs and other competitive economic sanctions, Wozniak questioned Cook's
regular powwows
with President Trump.
Asked whether he would interface with Trump, Wozniak said, "I probably wouldn't because I don't think with this president anything can be productive."
"I think Tim Cook, though, being a very important economic force in the United States -- Apple is -- I think Tim Cook actually gets the president's ear a little bit and can warn him, 'this might be bad in a certain way.' For example it was recently pointed out that if we suffered an imbalance of trade with more expensive products that might benefit Korean company Samsung or something like that."
Update:
Following publication, Woz clarified his opinions in a statement to
The Verge
, saying Apple should split off divisions for practical reasons, not government-led antitrust motivations.
"For decades I have said that I would have preferred Apple to relocate divisions off to other locations, as HP did when I worked there. HP had divisions all over the country that acted more independently than in a single campus, and I saw the effects of living in nice environments, like Colorado, and having more independence as a group to come up with great products. In the case of Apple this would have meant things like relocating the computer division to one place and the iPhone division to another, etc. I also have pointed out for decades that I was the only Apple executive I ever heard express these sentiments. The campus (castle) idea is more popular," Wozniak said.