Apple's AirPods fail to earn Consumer Reports recommendation, beaten by Samsung's Galaxy B...
In its latest head-to-head headphone review, Consumer Reports pitted Apple's AirPods against Samsung's Galaxy Buds to find the cheaper Samsung model sounds better, lasts longer and is an all-around top performer.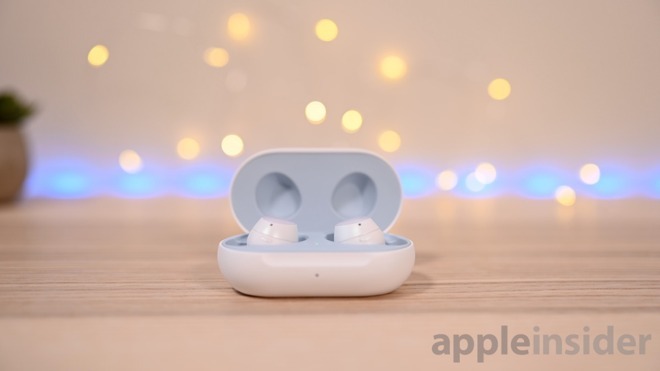 The comparison, published
on Tuesday
, reached many of the same conclusions as
AppleInsider's
Galaxy Buds review
from March, albeit applied to the -- slightly -- tweaked second-generation AirPods.
In short, Samsung's entry into the "smart earbud" category beats Apple's wireless headphones in the sound department, battery life, control options and, for Samsung smartphone owners, ease-of-use.
Galaxy Buds
also apes niceties pioneered by Apple, including an open-to-pair case mechanism compatible with certain Galaxy phone models.
Just as AirPods revert to limited functionality when paired to an Android device, Samsung's buds don't play nice with iPhone. That said,
Consumer Reports
believes the Samsung model is more functional on iOS than AirPods are when paired to an Android device.
Curiously, the report goes one step beyond crowning Samsung a victory, and denies AirPods a coveted "recommended" rating. According to
Consumer Reports'
Thomas Germain, Apple's product "didn't score well enough" in the publication's tests to warrant a recommendation, despite plaudits for iOS integration and a streamlined user experience.
Consumer Reports
does note AirPods turned in a "decent" performance reproducing music and movies, and will "sound perfectly acceptable" to some users. AirPods' phone call audio and carrying case were also given the thumbs-up.
"The AirPods don't sound terrible -- far from it. But when you listen back-to-back with the Samsung Galaxy Buds, the difference is undeniable. You don't have to be an audio snob to hear it," Germain writes.
Consumer Reports
has a somewhat controversial history when it comes to grading Apple's latest releases, with some alleging the publication trades on the tech giant's name to drive readership. In 2016, for example, the reviewers
failed to recommend MacBook Pro
for the first time, a decision later reversed after discussions with Apple and a software update. A
quick dismissal of HomePod
in 2018 again stoked claims of bias.
Following the HomePod kerfuffle,
AppleInsider
was granted an
inside look
at the publication's facilities and testing methodologies. At the time,
Consumer Reports
reviewers and editors denied undue prejudice against Apple, saying their results are objective and based entirely on
analytical and data-driven
methodology.