Review: Apple Card is more of an experience than a reward generator
Posted:
in iOS
edited January 2021
Apple Card isn't a traditional Apple product. It isn't a shiny new standalone electronic device that we can put through its paces. Instead, it's an amalgamation of tech, software, and financial services.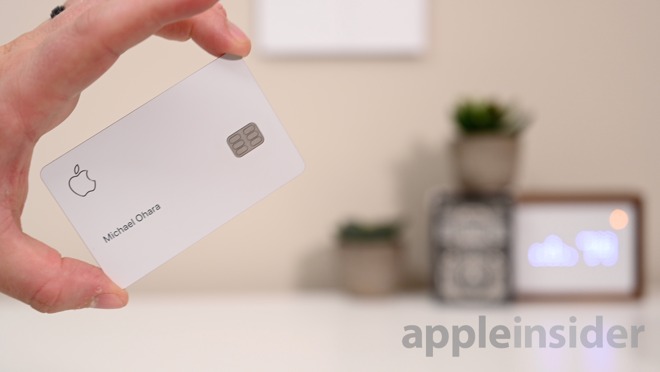 Apple Card
In many ways,
Apple Card
is
like Apple's other products. It is a seamless blend of physical design and software -- something Apple alone seems capable of pulling off.
Design
Design is always at the forefront of Apple's products. That holds true for hardware as well as software. To be fair, there are plenty of metal cards and there are clean white cards, but Apple has executed its own differently.
The card is titanium and a multi-layered white finish is applied before the Apple, Mastercard, and Goldman Sachs' logos are etched into the pristine surface.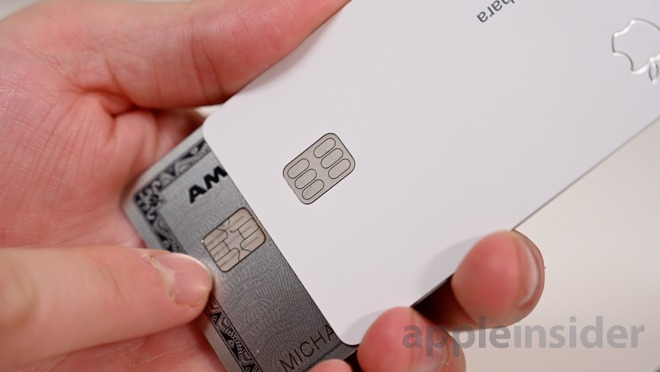 Apple Card chip is even cleanly designed
Apple has paid attention to all the details here. Ones oft-overlooked by any other card purveyor. For example, the chip embedded in the card is a simple set of six ovals, not the mismatched pattern of lines on other cards. No one else would notice or care -- but Apple did.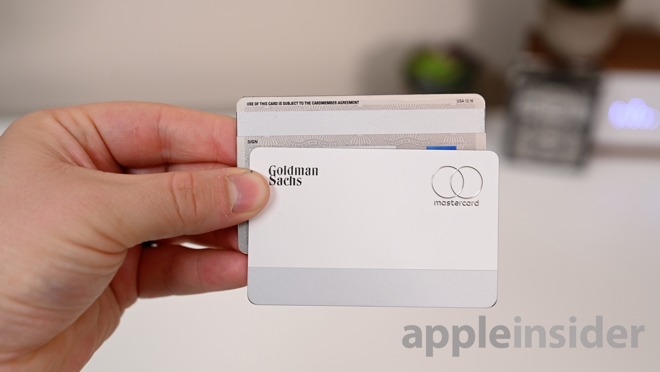 Apple Card magnetic strip is on the bottom
The iPhone maker also switched up the side the magstripe is on, instead of aligning it to the bottom of the card. The strip goes all the way to the edge as well. This allows the user to orientate the card properly when swiping, keeping the Apple logo visible.
Other design considerations are obvious, such as the lack of any identifying information or phone number. There is no card number, no expiration date, no service phone number, no CVV code, no signature, no copyright info, anything -- simply baren.
This is for security reasons as well as aesthetic ones. If the card is stolen or even viewed, no one can get the number without swiping it which requires at least some special tool rather than just looking at the information and using it online.
The biggest and most public drawback to the design is the unfortunate nature of white cards. They just can't keep that stark appearance for long. Any colored materials that frequently come in contact with it will inevitably stain the finish -- and yes, that includes denim or leather.
The titanium alloy that Apple is using is porous too which doesn't help matters. This happens to nearly all white cards, metal or plastic, and isn't exclusive to Apple Card -- but the optics aren't great.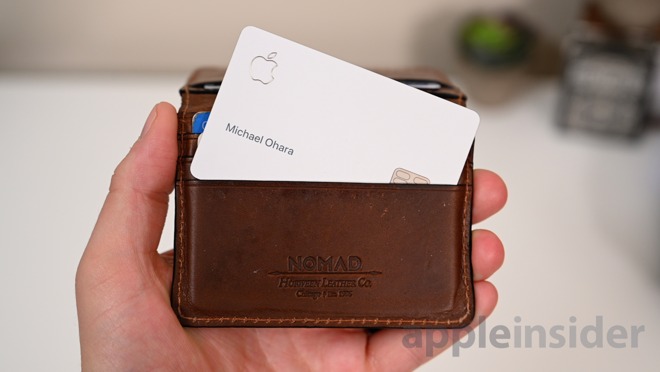 Apple Card can get discolored by wallets
A commonly cited metal card is the Amex Platinum card. It is hefty stainless steel and works around Apple's discoloration problems by keeping the natural silver color of the metal and printing it with black ink. After multiple years of use, ours looks as good as new.
Another drawback to titanium is its rigidity. The American Express card is denser, as it is stainless steel, but is more flexible than the lighter titanium Apple Card. On certain card skimmers, such as those on some gas station pumps, require the card to flex a bit. It can be difficult, if not impossible to use the Apple Card with these.
Fortunately, we are all moving away from swiping to chips, and from chips to contactless payments.
Usability
Applying for the Apple Card takes a few taps in the Wallet App, but we've
gone over that before
. Beyond application, the vast majority of the usability of Apple Card is through the Wallet app -- other than the few times when one has to utilize the physical card.
The app, which has been a part of iOS for years, has built upon the existing design, only adding select features that are necessary for managing a credit card.
From here, users can view balance and available credit, a simple colored graph of weekly activity, when a payment is due, and their latest transactions. Each of these can be delved into further.
The weekly activity is exceptionally easy to see where all your money is being spent including skewing the hue of the columns based on the categories of spending. Transactions are bolstered by not only the amount and (frequently) an icon of the company, but of the location as well. If you shop at one retailer multiple times, tapping on one transaction will show all other transactions with them as well and the running monthly total.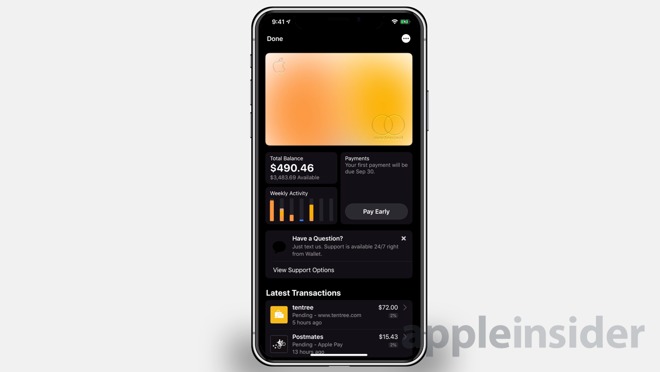 Apple Card works in the Wallet app
Apple does an admirable job in making your spending as upfront as possible in software. It is always in the credit card company's best interest for users to spend money and hold a balance -- including Apple. But, instead of hiding any information on websites or in monthly statements, Apple makes everything as clear as possible.
Even when paying, Apple easily allows you to see the interest you will be charged based on how much you pay off each month.
From your iPhone, you can also get a card number for shopping online or paying bills, lock or request a replacement Apple Card, set up reoccurring monthly bills, or request a new virtual card number.
To contact support, users can simply go through iMessage and talk on their own time. Rewards, in the form of Daily Cash, are deposited nightly onto your Apple Cash card.
Simply put, everything about Apple Card is easy to use.
A first step into fintech
It is that ease of use that sets Apple apart. That card number that is stored in the Wallet app? You should rarely ever have to access it. Thanks to the autofill features of iOS and macOS, anytime you go to input a credit card number the Apple Card credentials can be automatically inputted. Other cards used do this similarly, but only after manually adding them and aren't labeled as Apple Card is.
As soon as one applies to Apple Card it is immediately usable through Apple Pay -- on iPhone, Apple Watch, iPad, and Mac. It is seamless and unlike any other credit card.
Apple also has focused so much on that experience of using Apple Card. From paying in the Wallet app to getting the physical card in the mail.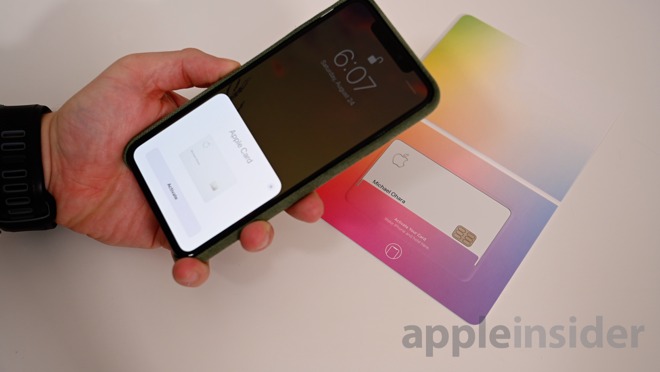 Apple Card is activated via NFC
When the card arrives, just days after signing up, it arrives in a stark white card. Upon opening, the card is there with the user's name printed on the front. By holding the phone near the card, a hidden NFC tag activates the iPhone where a modal dialog appears. Activating has more in common with a set of AirPods than a mainstream credit card.
While there are excellent features to Apple Card, there is also Apple's first real step into this space, other than Apple Pay.
That means several commonplace features are missing. You can't export data or sign into apps like Mint, nor can you add a second user for joint accounts. If an iPhone goes missing, it could also be difficult to pay the card while you're waiting for a replacement, as at present, there are no ways to make a payment.
As Apple Card is built right into iOS we expect features and changes to come in the future through updates, but for now, there are limitations.
Rewards
Apple's cashback rewards are implemented differently than competitive offerings. Apple hasn't obfuscated rewards, but grants straight-up cash, deposited into the Apple Cash card each day based on spending.
Shopping with Apple for hardware, software, or services earns 3%. Using Apple Pay earns 2%, and other uses of the card generate 1% in Daily Cash.
The physical card rewards are paltry compared to some other higher-end cards, especially considering places like restaurants and older retailers still aren't supporting Apple Pay.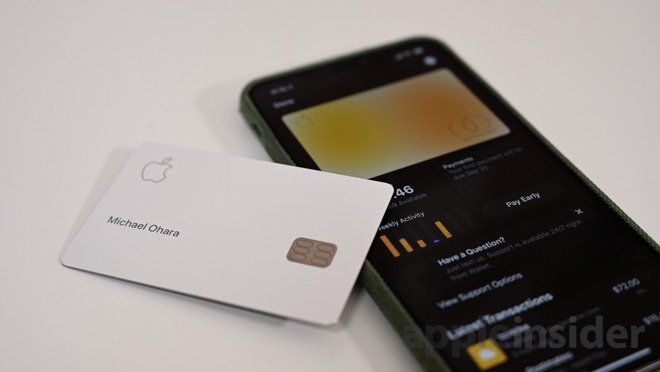 Apple Card
Apple fans are likely to benefit most with Apple Card. A new iPhone, an updated Mac, and the like are all 3% cheaper by using Apple Card. Savvy users will likely move their App Store and iTunes subscriptions too and get 3% back on Netflix, Hulu, Showtime, Apple Music, or any others that are billed through Apple.
Still, those expenses seem small in the overall scope and users who are focused solely on the rewards should look elsewhere.
Apple Card for Apple fans
Apple Card is a huge step for Apple. It poses all-new challenges the massive company hasn't had to overcome before.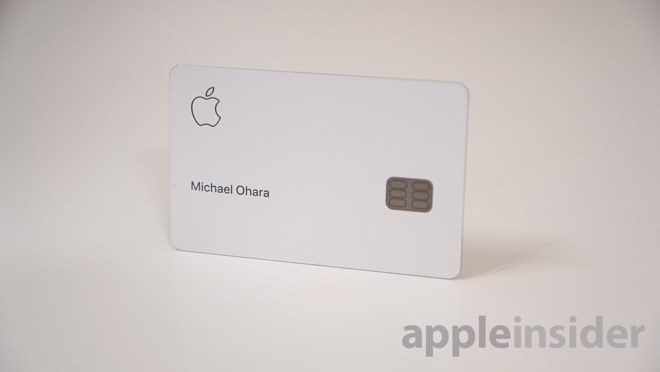 Apple Card
The first step is valiant and builds on the foundation set by Apple Pay. The card and application combo is a joy to use and changes things up in a way we don't often see in the fintech space. Financial technology has been slow to change and integrating within the OS is a way to innovate that can't be done otherwise.
Some things Apple isn't able to do itself, which is why it partnered with Goldman Sachs and Mastercard. That brings advantages from both of them including their infrastructure and Mastercard's cardholder benefits.
Apple Card is more than just another credit card. It is a first big step for Apple and a status symbol to those toting it around. There are absolutely downsides to Apple Card but it is an enticing proposition for fans of the iPhone maker.
Review: 4.5 out of 5
Where to get
Prospective users can pick up the Apple Card by submitting an application inside the Wallet app of their iPhone running iOS 12.4 and later.