Fifth Avenue Apple Store's iconic glass cube is unwrapped
The famous glass cube at Apple's Fifth Avenue retail space in New York has been uncovered, with the now-visible landmark a sign that a two-year remodeling effort for the Apple Store is close to completion, and is likely to reopen in the near future.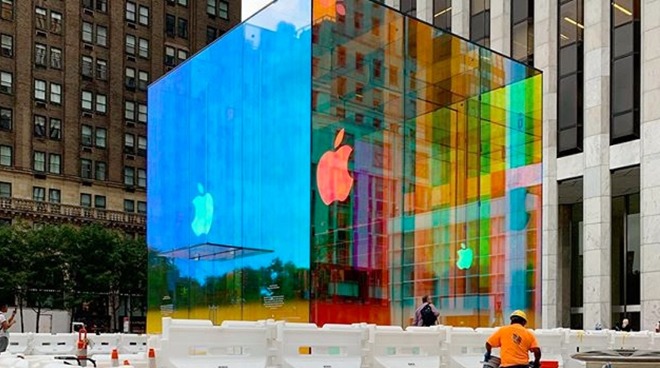 Apple's Fifth Avenue store glass cube (via Instagram/chaseitorbchased)
Uncovered on Thursday night, the glass cube of the Fifth Avenue store is now able to be seen in full. A photograph published to
Instagram
by user "chaseitorbchased" shows the cube completely uncovered, complete with the Apple logo visible from all sides, though still surrounded by protective barriers.
Apple shuttered the Manhattan store in 2017 to renovate the location, as well as to increase the size of the store. Work on the store itself started on January 20, 2018, with Apple granted a permit to take down the iconic glass cube structure in April of the same year, in a procedure believed to have cost as much as
$2 million
.
View this post on Instagram
Brand new #applestore5thavenue is back up! #applestore #5thavenue #newyorkcity #sk8 #theskatingchick #sector9longboards #wip #stillwip
A post shared by ChaseItOrBChased (@chaseitorbchased) on Sep 6, 2019 at 6:30am PDT
Rather than leaving the glass clear, the cube has been coated in a multi-colored wrap,
Quartz
reports
, with the semi-reflective material providing enough light to see the hanging Apple logo, but still preventing onlookers from seeing into the underground retail space. It is likely the film will be removed for the grand opening.
On the wrap is a sticker, advising passersby about the work. It reads:
Apple Fifth Avenue
Always Open to Open Minds

Beneath the surface of Fifth Avenue, you'll soon discover a reimagined space where creativity is always welcome. A 24-hour store with doors open to the bright lights and big ideas of this city, ready to inspire what you can do, discover, and make next.
Plans for the outlet include a doubling of the underground retail space from 32,000 square feet to 77,000 square feet. Part of the expanded space is thought to be occupied by a new
Beats 1 broadcasting zone
, allowing the Apple-owned online radio station to broadcast shows from the outlet.
It is still unknown when exactly the outlet will open up to the public, but the revealing of the cube is likely a sign it may not be far off. In January, CEO of management firm Boston Properties John Powers
suggested
the opening could take place sometime in early 2019, though evidently that time has passed.
Apple has been running its retail operations in a
temporary location
while the store received renovations, one that has dealt with issues relating to
bed bugs
earlier this year. The next tenant of that property is expected to be Under Armor.