Review: Ubio Labs Shadow Series Power Bank is as portable as it is beautiful
If you're looking for a power bank that combines the convenience of quick charge capabilities with a sleek design that looks good on your desk, you may want to check out the new line of power banks from Ubio's Shadow Series.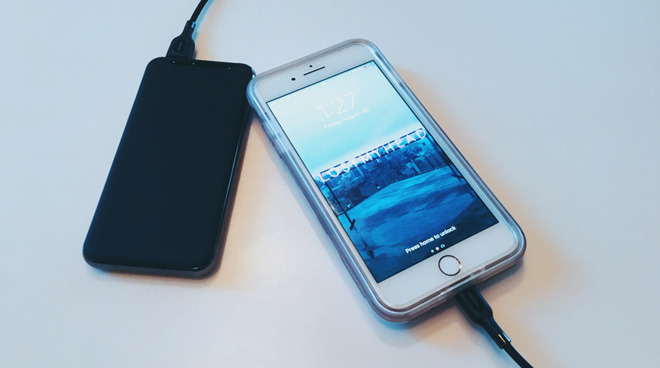 If you've got a smartphone, chances are you've experienced the dreaded "low battery" alert. Not only can this be extremely inconvenient, there are times where it can be downright dangerous. That's why I've taken a look at a charger from Ubio Lab's Shadow Series, a sleek-looking, quick-charging, portable power bank line that can help keep your
iPhone
from dying when you need it the most.
The form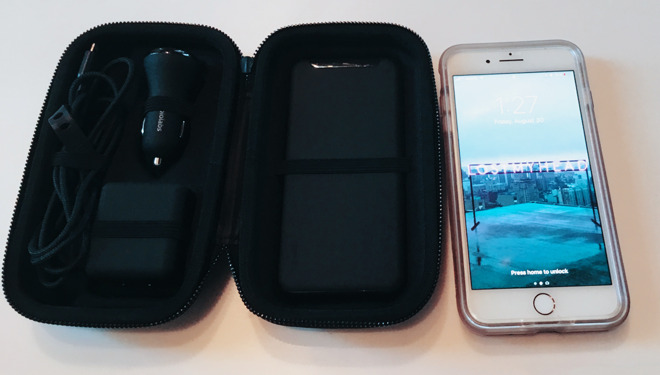 The Shadow Series power bank definitely has a high-end feel to it. The soft, rubber-like black finish is somewhat grippy, so it's less likely to take a tumble to the floor whether resting on a table or hanging out in your back pocket.
The dark chrome edge around the outside is also a nice touch. If you're the type of person who likes a slick, "luxe" aesthetic to your gear, it would likely fit in well with the rest of your devices. There is a version of the Shadow Series standalone power bank that comes in pink as well.
On the front of the power bank is a small line of four white LED lights that indicate how much charge is left within the battery.
If you choose to get the charging bundle, everything comes packaged together in a hard-shell, zippered carrying case. It includes a car adapter, a wall adapter, a USB A to Lightning cable, and the Powerbank. The case allows for the added convenience of being able to simply throw the battery in your bag and go, without needing to worry about keeping track of all the individual pieces.
And function
One of the most convenient things about the Shadow Series is that these power banks charge using a Lightning cable. This means that instead of worrying about trying to find a micro USB, you can simply use a cord you likely already have. Again, if you purchase this as a bundle and not as a single battery, you'll get a nice woven Lightning cable to go along with your power bank.
The Shadow Series power bank included in the kit has a 6000mAh battery, which means it'll have enough juice to charge an iPhone 6s about three and a half times, an iPhone 8 Plus or an iPhone X twice, and an iPhone XS Max almost twice. A fifth-generation
iPad
Mini can likely get a full charge and an additional half charge from the Shadow Series, while a third-generation iPad Air will be able to eke out a single full charge. You'll also be able charge your iPad Pro with the Shadow Series but you'll need to provide your own USB-A to USB-C cable, and the larger devices will only get a partial charge.
As far as output goes, the Shadow Series line boasts 12 -watt, 2.4 amp at 5 volt capability, meaning that they qualify as a falling under the umbrella of a "quick charge" power bank. This makes it especially convenient for those who are looking to quickly resuscitate their iPhone without needing to be tethered to a battery for an extended period of time.
The Shadow Series portable charger took about 30 minutes to charge my iPhone 8 Plus from empty to 50%, and then an additional 45 minutes to charge it from 50% to 100%.
The verdict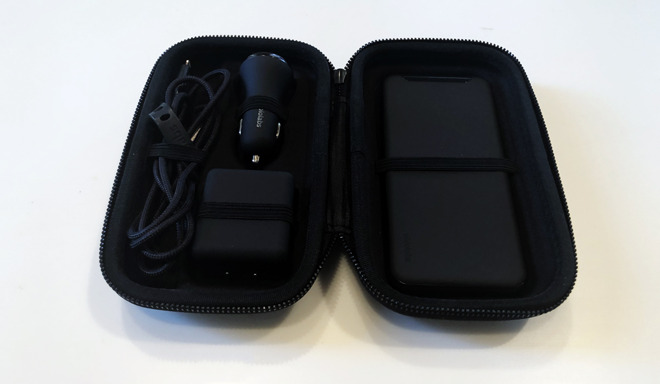 The Shadow Series portable charger is a nice on-the-go power bank for anyone who is on the go and has the added appeal of looking nice when you need to leave it out on a table. The best feature is easily the fact that it is a quick charge power bank, allowing you to quickly bring your phone back from the brink of death. I especially liked the hard-shell, zipper carrier which kept everything neat and tidy in my bag, ready for whenever I may need it.
The Shadow Series portable power bank costs
$39.99 for the 6,000mAh capacity power bank
. The Shadow Series Portable charger bundle
costs $79.99
and includes a 6,000mAh power bank, a USB-A car charger, a wall adapter, and a 4' braided Lightning cable. You can get the Shadow Series line directly from AT&T.
Rating: 4.5 out of 5 stars