Consumer Reports puts iPhone 11 Pro Max at top of smartphone rankings
Consumer Reports has rated the iPhone 11 Pro Max at the top of their smartphone list, citing improved battery life and camera quality as favored factors.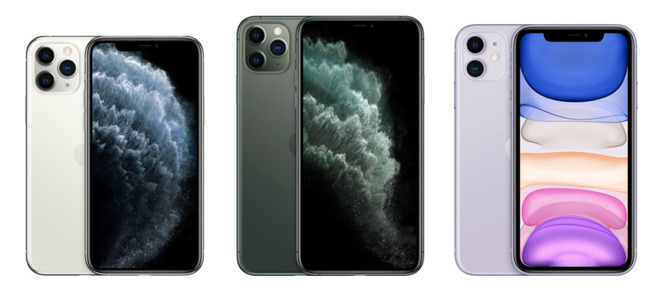 Consumer Reports
has released a piece discussing the many improvements the new
iPhone 11 Pro Max
has received over last year's
iPhone XS Max,
which also did well in their testing.
In their battery life test, the iPhone 11 Pro Max lasted for 40.5 hours, an increase over the 29.5 hours of the iPhone XS Max. They also stated that the
iPhone 11 Pro
lasted 34 hours on a single charge, over the iPhone XS's 27.5 hours. The
iPhone 11
lasted 28 hours, which was still an improvement over the iPhone XR.
Camera improvement was also a crucial factor in
Consumer Report
's glowing review. Their testers stated that the iPhone 11 Pro and iPhone 11 Pro Max received some of the highest scores in the ratings for still-image quality. All three phones in the iPhone 11 line received excellent ratings for rear-video quality.
The testers also found that the A13 bionic chip in all three phones in the iPhone 11 line was significantly faster than the 2018 Phone models, as well as the highest-end Android models. They point out that this is especially useful for editing 4K video and gaming.
Other factors included a durability test in which both the iPhone 11 and the iPhone 11 Pro Max did well, with the iPhone 11 Pro not surviving the repeated drop test.
Overall,
Consumer Reports
seemed quite impressed with the iPhone 11 line. Though they echoed the same concerns that many have about purchasing an iPhone that isn't 5G capable, they did call them "high-performing, sleek machines."
The iPhone 11 Pro Max is the first Apple phone to top the rankings in several years. The iPhone XS series lost out to the Samsung Note 9. Notably, the iPhone also came in second to the Galaxy Note 7, which was plagued by battery fires shortly after examination.