Apple's 'PhoenixCE' diagnostic software left on customer MacBook Pro
An Apple customer who bought a Certified Refurbished MacBook Pro claims to have discovered the presence of diagnostic tools on the notebook, applications used to check the MacBook is fully functional but are meant to be removed before being sold.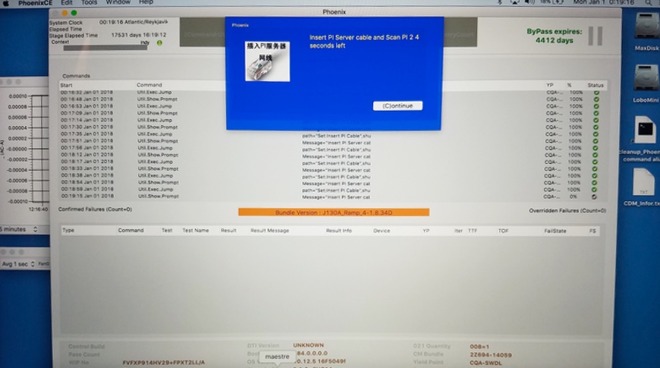 A refurbished MacBook Pro running PhoenixCE (via BickNlinko/Reddit)
In a post to Reddit's /r/Sysadmin subreddit, user "BickNlinko"
writes
they had "just bought a certified refurb MacBook Pro and it came with all Apple's diagnostic stuff." As part of the post, they included a
photograph
of the
MacBook Pro
display, showing the tool along with a warning related to a network connection.
The person goes on to advise they called Apple support to alert them to it and "to see if they would freak out." After getting through to a supervisor, they were told to "boot in into the recovery mode and do a fresh install of the OS," with "BickNlinko" adding "They didn't seem to care very much.
The notebook's new owner also coyly claims "I may or may not have made images of the two disks" containing the diagnostic tools.
An
AppleInsider
source within Apple corporate not authorized to speak on behalf of the company said to us that "our internal diagnostic tools sometimes accidentally escape the depot. They pose no security threat to users, and are mostly useless outside of Apple testing facilities."
The last time anybody on the
AppleInsider
staff used or saw the "Phoenix" suite of software was several years ago. Even then, during the testing process, the software would have to connect to either a hardware dongle or data stored on a LAN -- not WAN -- to complete testing on any given model.
Eradication of the testing software is a required step prior to returning a repair to a user, and there is a specific procedure that is followed to ensure compliance. Obviously, those steps were skipped, resulting in the leak of the software.
This is not the first time Apple's diagnostic tools have surfaced in public, with forum posts occasionally cropping up querying its presence. For example, in 2012 a
MacBook Air
with the software
wouldn't shut down
because PhoenixCE continued to run and wouldn't quit.
Within the Reddit post, YouTube Apple personality and critic of
Apple's repair policies
Louis Rossmann asks the MacBook Pro owner if they have any services they would like performed on the machine, including cleaning and upgrades, and suggesting they get in contact. While Rossman doesn't directly explain why he offers this, it is likely an attempt to get a closer look at the software, as well as any other tools Apple may have left on the MacBook.