AirPods competitor Google Pixel Buds 2 coming in early 2020 for $179
At Tuesday's Google release event, the company announced Google Pixel Buds 2, offering significant improvements over the last iteration -- but if you want them, you're going to have to wait a while.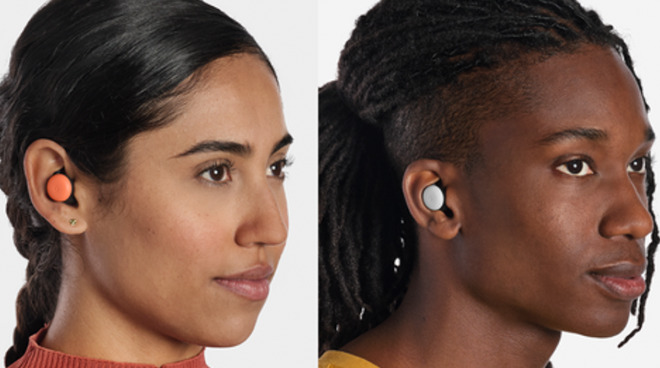 The Pixel Buds 2 will feature a hybrid design, sealing ear for better bass reception and a "spatial vent" to prevent the "plugged-ear" feeling common with many headphones. Dynamic software will adjust volume as the wearer moves between quiet and noisy areas.
Unlike "stem-style" earbuds such as Apple's
AirPods,
the Pixel Buds feature a small piece that tucks into the wearer's concha -- the spot above the opening of the ear. They refer to this piece as the "stabilizer arc," designed to keep it in place during heavy workouts. The Pixel Buds also sit flush to the ear, making them somewhat less obvious than other wireless earbuds.
Like most newer Bluetooth devices, the Pixel Buds 2 will have a vastly increased wireless range. Wearers should be able to get roughly 100 yards of wireless range outside, or roughly three rooms indoors.
Two microphones in each earbud will focus on the wearers voice while suppressing the environmental noise. They also feature a voice accelerometer that can detect speech through the vibrations of the jaw, which should help provide clearer calls in windy environments.
The Pixel Buds will automatically detect when they're in a wearers ears and feature touch controls for playing, pausing, and adjusting the volume of music. Wearers should expect five hours of listening time on a single charge, and roughly 24 hours when used in conjunction with the wireless charging case. The pixel buds are sweat and water resistant, so wearers shouldn't need to fear sweaty workouts or rainy days.
While designed with Google
Pixel
and
Android
owners in mind, Pixel Buds will still pair with any Bluetooth 4.0+ laptops, tablets, and devices -- including the
iPhone,
iPad,
and Bluetooth-enabled
macOS
computers.
Pixel Buds feature the Google Assistant and "Hey Google" functionality. This gives wearers the ability to quickly perform basic actions, such as playing audio, sending texts, asking for directions, or even translating a foreign language.
The
Google Pixel Buds 2
will be releasing at some time in 2020, will come in orange, mint, white, and black, and are set to feature a retail price of $179.