Apple sees 'lots of positives' and significant profits in China
Following previous declines in Apple's revenues in Greater China, CEO Tim Cook says the company has taken several successful steps to turn that around in the company's fourth quarter of 2019.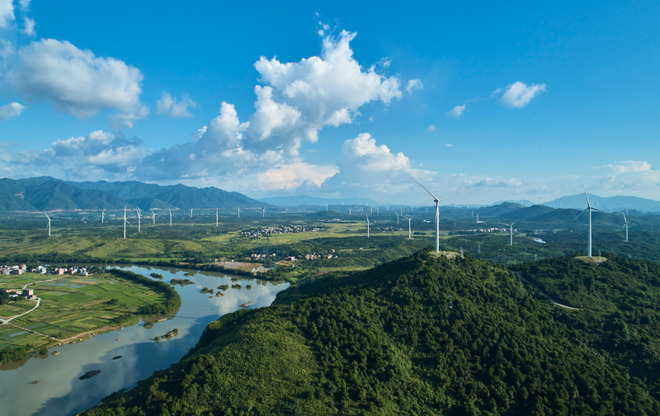 The Concord Jingtang Wind Farm in Hunan Province is part of Apple's Clean Energy Fund. | Source: Apple
Speaking to analysts on a financial earnings call on Wednesday,
Cook
said that
Apple
sees "lots of positives" and repeated that the company "feels good" about its business in
China
. Despite previous declines in the region, he said that Apple has taken multiple steps to address losses and, in combination, these are turning the company's fortunes around.
"We had a very good September and the lead of that is the reception of the
iPhone 11
, and
iPhone 11 Pro
and
11 Pro Max
," he said. "We feel really good about how we've gotten started there."
"As you can tell from the numbers," he continued, "we've significantly improved since the beginning of the year, we've gone from minus well into the 20s [percent] to minus two last quarter and if you look at that in constant currency, we actually grew one. And so there's a very slight growth there. We obviously want that to be better, but we feel good about how we're doing."
Repeating that the new iPhones have been "extremely well received there," Cook said that these products were part of several simultaneous steps that the company has undertaken to reverse downward trends in China.
"I think it's a combination of things that have turned things around," he said. "I think the trade tension is less and that clearly looks positive right now with the comments we've been reading in the press."
"[Also] the things that we've done from a pricing and monthly payments point of view, and trade-in, getting the trade-in program up and running, all of these things have moved the dial," he said. "And so it's sort of the sum of all of that."
Cook wanted to stress that despite his having focused on the iPhone in particular, there was more going on in China.
"[Our]
Services grew double-digit
," he explained. "We began to see more gaming approvals in the quarter, or I should say some key gaming approvals as it's not all about quantity, but about which ones."
"Also wearables are doing so great at a company level, and they're doing even better in China. And so lots of positives there," he concluded.
China is an important growth region for Apple, which has largely tapped out mature markets like the U.S. and Europe. Greater China is the company's third-largest market and accounted for $11.13 billion of $64 billion of total revenue over the quarter. That number is down from the $11.4 billion Apple's China business posted last year.