Apple iPhone sales estimates 'aren't any good' says leading analyst
Posted:
in iPhone
edited November 2019
Figures from market research groups trying to estimate how many iPhones Apple is selling "simply aren't any good," according to Neil Cybart, the Above Avalon analyst who most accurately modeled the company's revenues and earnings for the quarter.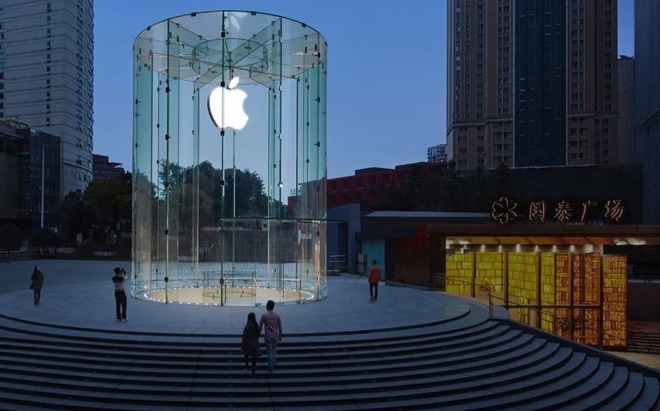 Cybart specifically took issue with figures published by Canalys, which stated that Huawei's shipments in Q3 had grown 66% in China, a market where sales have retracted by 3% over the last year. Apple's calendar Q3 shipments in China were estimated by the firm to have dropped by an astonishing 28%.
Cybart said the data "looks off," specifically noting that Apple reported that its revenue in China was up year-over-year in constant currency. "The math just doesn't work for Canalys here," Cybart
tweeted
yesterday.
Apple just reported that its Greater China revenues were down 2% in the quarter, including the impact of a stronger dollar. That's impossible to align with Canalys' data claiming that iPhone shipments crashed by 28%. Canalys data suggests that Apple lost around $1.5 billion in iPhone sales across 2 million fewer handset sales in the quarter.
"I'm not exaggerating when I say I have yet to see one tech industry research firm publish iPhone shipments estimates that look correct," Cybart stated in a follow-up tweet. "Apple's decision to withhold iPhone unit sales data was equivalent to taking off the mask for these firms. Their numbers simply aren't any good."
This Canalys smartphone data that made the rounds yesterday looks off. They have iPhone shipments in China down 30% last quarter. That's highly improbable since Apple said revenue in China was up year-over-year when you exclude FX. The math just doesn't work for Canalys here. pic.twitter.com/NFwoZeMKOr
A narrative for China that doesn't add up
Canalys'
public data
on the smartphone market in China states that Huawei achieved incredible 66% growth in the September quarter, with sales of 41.5 million compared to 25 million in the year-ago quarter.
The firm stated that "Huawei is in a strong position to consolidate its dominance further amid 5G network rollout," which appears to support the popular narrative that Huawei phones are winning over iPhone users in China, driven by both lower prices and the allure of 5G.
However, Canalys' data also clearly shows that smartphone demand in China isn't growing at all, and hasn't been for some time. In April it
reported
that smartphone sales in China had fallen to "the lowest level since 2013."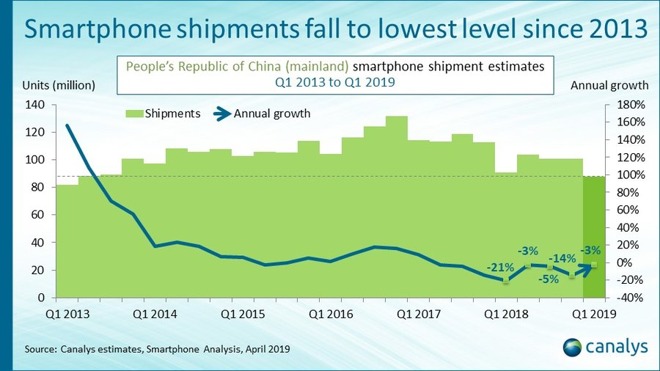 Huawei is suffocating other Androids in China
Huawei itself
reported
its first half of 2019 smartphone sales figures as reaching 118 million units, and in October
reported
185 million sales across the last three quarters, meaning it shipped 67 million phones globally in Q3.
Canalys' numbers for China mean that Huawei shipped more than 60% of its global sales into Mainland China. If accurate, that would not be a "strong performance" from Huawei as Canalys described in its press release, but rather a very difficult situation for the global leader in smartphone shipments.
It is also pretty clearly impacting Huawei's low-margin competitors in China who rely on high volume shipments to stay in business. However, the fact that Apple could report a rebounding "continuous improvement" in its Greater Chinese sales in Q3, even before its first full quarter of iPhone 11 launch sales, indicates that Apple was virtually unaffected by a massive injection of 16 million Androids into the stagnant Chinese smartphone market that isn't budging above 100 million per quarter.
If Chinese buyers were actually a homogenous group as price-sensitive and excited about 5G as many bloggers insist, Huawei's massive injection of Androids should have blown away Apple's sales entirely, with a toxic ripple effect on Apple's other hardware associated with the mass defection of millions of iPhone buyers rushing to buy Huawei devices out of thrift and patriotism. But that simply isn't happening.
Shipments in China this quarter continued to shrink year-over-year. Huawei isn't tapping into new demand, it's simply shipping more phones into a market that isn't growing. And the reason why it's doing that is because it can't sell its phones in Europe and other markets outside of China due to the U.S. Entity List forbidding Google from licensing Android and its Google services to Huawei. There is no real demand for Android phones that can't run Google Maps or access the Play store, outside of China.
Huawei's extra Google-free Androids are being dumped in China, and pretty evidently are destroying the sales of Samsung and other Chinese Android makers in that market. Huawei's sales are not additive; they are coming out of the existing, stagnant pool of shipments that Catalyst referred to as "a gloomy China market."
Without access to any official reported unit sales data from Apple or from the Retail Stores that sell much of its hardware, Canalys appears to have simply modeled the same impact on Apple's iPhone shipments. However, Apple isn't selling commodity phones in direct competition with Androids in China. Apple has a solid base of users in China-- as it does in every other market-- who are resistant to leaving the company's ecosystem.
That's clear from Apple's growth in China in parallel sales of Services, as well as hardware including iPads, Macs and Apple Watch, which all remain very strong in China despite virtually exact replicas of Apple's products being sold by Huawei and others at much cheaper prices.
In Apple's earnings call this week, the company's chief executive Tim Cook specifically noted, "we also saw continuous improvement in Greater China, where year over year revenue comparisons became more favorable each quarter of fiscal 2019 from a 27 percent decline in the first quarter to a 2 percent decline in the fourth quarter."
Canalys previously
reported
a 14% decline in Apple's iPhone sales in China for calendar Q2 (Apple's fiscal Q1), as Apple detailed a 27% revenue decline. It is now claiming a 28% decline in Apple shipments in the September quarter where Apple itself reported a far more favorable year-over-year comparison of just -2%. As Cybart stated, "the math just doesn't work for Canalys here."
Cybart knows Apple
Cybart's figures for Apple's September quarter revenue and earnings per share were the most accurate across 18 Apple analysts, according to a
ranking
by Philip Elmer-DeWitt of
Apple 3.0
.
This also isn't the first time Cybart has taken issue with sales estimates published by market research firms. In May he called out IDC's estimate for global iPhone sales in Q1 as being '
highly inaccurate
' to the point of being 'embarrassing' for the firm, after IDC published shipment estimates that implied Apple's average selling price had suddenly exploded upward into impossibly absurd heights.
A year ago, Apple announced that it would stop
detailing its unit sales
of iPhones and other devices in Fiscal 2019, drawing more attention to its installed base of active users than its quarterly unit sales, which have consistently resulted in a flawed understanding of the company's actual performance.
However, the company still reports revenues for each business segment and for each geographical region where it does business, making it clear where and how the company is earning its money. No other phone or PC maker has ever consistently reported unit sales of their hardware by segment.