Apple Card users having problems with making payments
Posted:
in iOS
edited December 2019
A number of Apple Card customers are having problems managing their credit card, with reports of users struggling to make payments to the credit facility through the Wallet app, with the distinct possibility of some users accidentally making multiple payments against their account balance.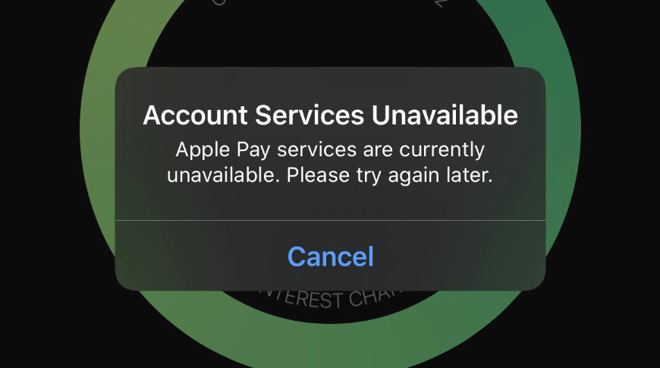 Apple Card
is designed with a variety of
management settings
within the Wallet app, such as tools to estimate interest based on payment schedules, and categorizing purchases, as well as the reward system, Apple Daily Cash. The app is also the primary way for users to make payments to the card's balance.
In postings to Twitter, as well as readers contacting
AppleInsider
directly, there appears to be some issues with the Apple Card service for a number of users, chiefly those attempting to make a payment to the card balance through Wallet.
The issues vary in severity, with some users seeing the
message
"Account Services Unavailable" and to try again later, while others progress further and can attempt to make payments. One user reports trying to pay a balance and being given the message the amount is "
too high
," and some actually attempt the payment but do not
get a verification
of the payment itself.
Users affected by the issue are finding they are waiting for considerable lengths of time before being able to get in contact with a Goldman Sachs representative of the service via Apple Business Chat or over the phone. So far affected customers are being informed of the existence of an "issue with their available credit or balance displayed within Wallet," and that it would be resolved shortly.
In an
Apple Business Chat
conversation shared with
AppleInsider
by a reader, where they attempted to pay and saw the message "Processing, done" but the card shows the same balance, the user is informed "We are aware of the issue and we are currently working to resolve it," with the advice to check back in a few hours and to not make any further payment attempts.
The representative acknowledges the existence of five payments set to be paid that day, due to multiple attempts by the user, with the advice to contact support to cancel the extra unwanted payments. When the request is made via text, the representative advises it cannot be completed over chat, only over the phone.
Given the relatively few posts on Twitter and to messages to
AppleInsider
, it is unlikely that the issue is widespread. At present, it appears that it impacts only a small number of users attempting to make the payments on Friday.
AppleInsider
has asked for clarification from Apple on the matter.