Apple partnering with tech giants for big clean energy buy
Apple, eBay, Samsung, and Sprint have joined forces to purchase clean power from a new wind farm owned and developed by Apex Clean Energy.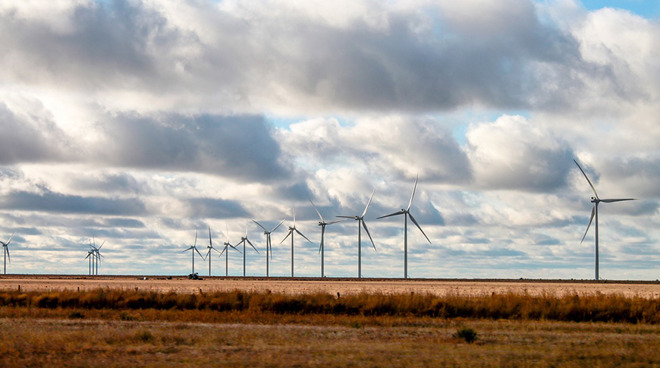 The wind farm, named the White Mesa Wind project, will be located in Crocket County, Texas. When completed in 2021, it will be capable of supplying 500 megawatts of power to the surrounding area.
Founded in 2009, Apex Clean Energy is a wind-energy company based in Virginia with 13 wind energy projects in Oklahoma, Texas, and Illinois.
Apple will be the largest purchaser in the agreement. Between the four companies, the purchase totals 75 megawatts of clean energy-- or enough to power roughly 20,000 homes. The agreement will enable those involved to access cost-effective renewable energy from Apex.
Californian energy liaison company 3degrees facilitated the agreement.
Lisa Jackson,
Apple's Vice President of environment, policy, and social initiatives spoke of
the agreement.
"We're proud to be powering all of Apple's operations around the world with 100 percent renewable energy and driving the private sector to support the clean energy transition. Businesses of all sizes and of varying energy needs can help bring new, renewable energy online. This collaborative agreement in Texas is a model we hope others will replicate."
Apple has been spearheading quite a few new green projects. In September, Apple brought three wind farms
on the grid in China.
Apple has also
helped to encourage
other companies, as well as their component suppliers, to move to using renewable energy. The project, known as the China Clean Energy Fund, provides both funds and information to companies interested in utilizing green energy in their supply chain.
This is extremely important, as a majority of a consumer electronics company's carbon footprint is in manufacturing and shipping. For example,
70% of Apple's corporate carbon footprint
lies in their supply chain.
Tim Cook
mentioned that Apple is brainstorming new ways to encourage third-party product manufacturers, like those who make cases or accessories, to think about their energy use. In the future, it's possible that
Apple may offer a special badge
or certification for mindfully produced goods, in addition to culling what gets sold in official Apple Stores.
Having Samsung, Sprint, and eBay on board for the agreement could spur more changes across the industry. Consumers are beginning to expect a company to do more in terms of sustainability and environmental stewardship, and any company that eschews environmentally-friendly practices could be left behind.