Apple TV+ subscriptions & ads predicted to generate $25 billion per year by 2025
JP Morgan analyst Samik Chatterjee says that more than three years after Tim Cook started highlighting Services revenue investors are starting to appreciate that aspect of the company -- and Apple TV+ plus the potential of dramatic advertising revenue growth will lead the charge.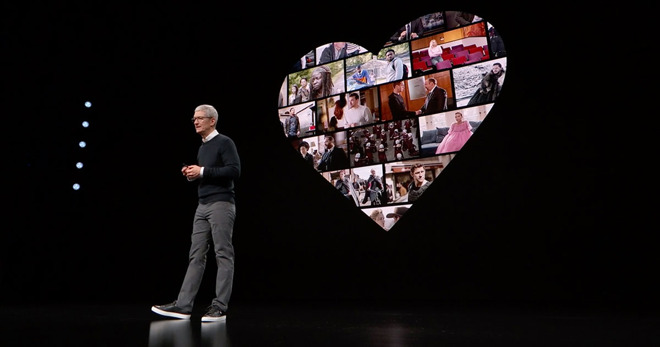 In a note seen by
AppleInsider
, Samik Chatterjee from JP Morgan is predicting a big future for
Apple TV+
and Apple's services, driven not just by subscription volume, but by the potential to grow advertising dollars flowing into Apple's coffers. As a result of this strength, Chatterjee sees only upsides for Apple, reflected by his growing his stock price estimate by $10 to $290.
Chaterjee sees a big advertising opportunity within Apple's services, given larger market trends. The user base of about one billion iPhones, and Apple's "successful exploration of advertising to-date" may entice Apple to do so, predicts the analyst.
Apple Search Ads in the App Store
If Apple amped up advertising in Apple TV+ and the App Store, Chatterjee says that revenues could increase 33% per year to $11 billion in fiscal year 2025, growing from an estimated $2 billion now.
It's not at all clear if Apple will do any of what Chatterjee thinks it will, however. At present, other than trailers for other Apple TV+ programming and product placement for its own line of hardware, Apple isn't running ads in Apple TV+. However, in the last fiscal quarter, Apple reported its highest-ever revenue from Apple Search ads in the App Store.
To further grow this line of business, Chatterjee says that Apple will have to expand the one ad per keyword search limit that it presently has on the App Store.
Apple Search ads have been controversial. The primary argument against them, is that they confuse discovery in the App Store for all, with some reports that they aren't generating adequate revenue from sale conversions versus what they cost.
Another avenue of possible growth is by charging Google more to be the primary search engine on iOS. Apple accounts for about $14 billion of Google's $30 billion in traffic acquisition cost annually. Chatterjee predicts that this equates to about 17% of global advertising revenue, which Apple could theoretically claim more of, if it expands its own efforts.
Introduced
in 2016
, Search Ads added promotional listings for apps at the top of searches within the App Store, targetable by keyword, device type, location, schedules, and other metrics. In 2017, Apple added a
basic tier
that catered towards smaller developers and teams, including a streamlined sign-up process, simplified developer payments, and fees based on installations rather than ad interactions.
Apple TV+ is only in the early days
Chatterjee isn't basing his stock price valuation hike on imminent revenues from Apple TV+. He predicts that paid subscribers will be limited, because of Apple's wide-ranging 12-month trial for purchasers of new devices.
However, given the $4.99 cost, he sees a "slow ramp" of paid subscribers for the next year, and a "healthy percentage" of the early adopters to renew in the fall of 2020.
In September 2020, Chatterjee predicts only 2 million Apple TV+ paid subscribers. Assuming there are no other free offers, he expects that to dramatically expand to 101 million paid subscribers with a growth curve very similar to Apple Music, all of whom will contribute $4.99 a month to Apple's bottom line.
Apple CEO Tim Cook took to the stage at the
March 25 event
to deliver what he ultimately called a "sneak peek" at the new streaming video service called Apple TV+. In a presentation that was replete with star names, Apple would only say at the time that the service is coming in the fall and be available via the Apple TV app.
The service debuted on November 1, for $4.99 a month. It is not yet known if Apple would offer bundles with its existing
Apple Music
, the
Apple News+
service -- but a report
has recently reiterated
the report that Apple is looking into bundling.