Apple begins construction of new campus in Austin, Texas
Ahead of today's visit from President Trump, Apple has announced that it has broken ground on a new campus for Austin, and that production is now underway for its forthcoming Mac Pro.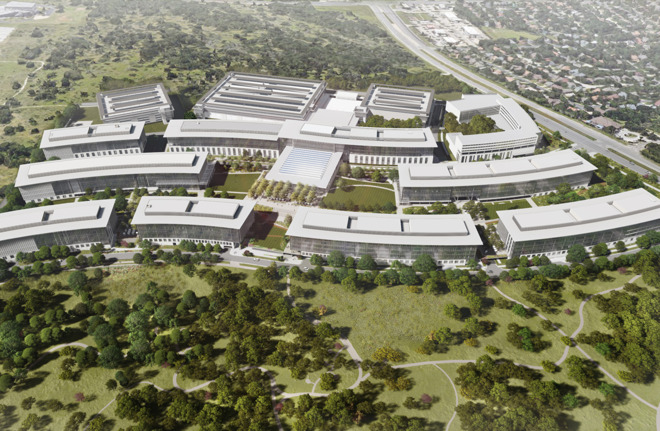 Apple's campus in Austin, Texas
Apple
has announced that it has begun construction on its new
Austin
, Texas campus, on a site close to where it says the 2019
Mac Pro
has already entered production. The new campus is a $1 billion, 3-million-square-foot site that is to house an initial 5,000 employees, later growing to 15,000. Apple expects to open the plant in 2022.
"Building the Mac Pro, Apple's most powerful device ever, in Austin is both a point of pride and a testament to the enduring power of American ingenuity," said
Tim Cook
, Apple's CEO.
"With the construction of our new campus in Austin now underway," he continued, "Apple is deepening our close bond with the city and the talented and diverse workforce that calls it home."
"Responsible for 2.4 million American jobs and counting, Apple is eager to write our next chapter here and to keep contributing to America's innovation story," he concluded.
Cook also tweeted about beginning production of the Mac Pro in Austin.
The construction of our new Austin campus is underway and the assembly line for Mac Pro is up and running! Building Apple's most powerful Mac ever in Austin is a testament to the enduring power of American ingenuity, and we're proud it's made here. https://t.co/je6IIVnPg8
Apple already employs around 7,000 people in Austin, and says that this is an expansion of over 50% in the last five years.
The company is also working with the city on education, with its
Community Education Initiative
bringing Swift lessons to schools and the Austin Community College.
Apple's plans for the new campus see it working with local firm Bartlett Tree Experts to both preserve and increase the number and range of trees on its site. The campus will feature thousands of trees, plus a publicly-accessible 50-acre nature and wildlife area. It will all be powered by
100% renewable energy
.
The work in Texas is part of
Apple's plan to increase US investment
, and the company says it is on track to contribute $350 billion to the economy between 2018 and 2023. The Advanced Manufacturing Fund has already contributed to the state of Texas with a
$390 award to Finisar
, a laser research firm in Sherman that makes components for the Face ID system.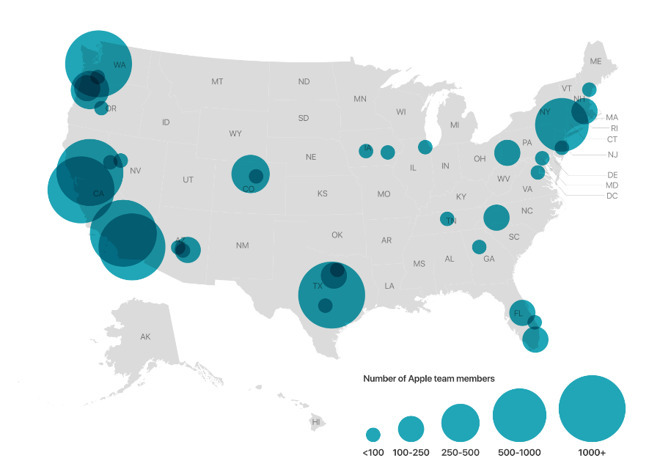 Apple's projected US employment by 2022 (Credit: Apple)
Tim Cook is expected to be in Texas for
President Trump's tour
of the Apple facilities there later today.