Use Apple Pay at an Apple Store before December 2 to donate $1 to (RED) for World AIDS Day...
If you're heading to an Apple Store, breaking out Apple Pay at the register will contribute a dollar to help fight HIV and AIDS in Africa.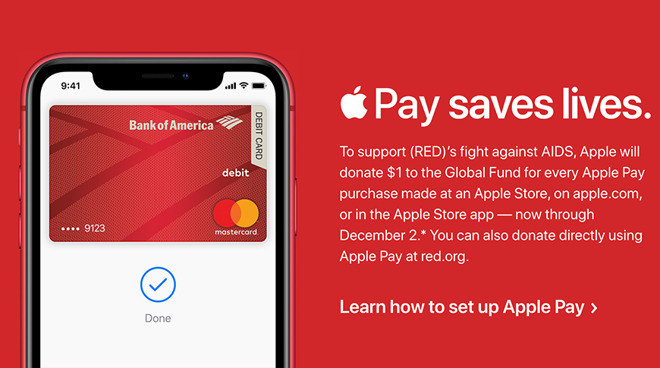 To qualify to make the donation, purchases must be made with
Apple Pay
and must be conducted at Apple.com, through the Apple Store app, or at a physical Apple Store worldwide. Donations will be collected up through December 2, and the donation is capped at a total of $1 million.
The announcement of the initiative was made though Apple's
Product(Red) page
, which curates their current offerings helping to fund the fight against AIDS. Apple's Product(RED) line includes
iPhones
and iPhone cases,
iPad
smart covers,
Beats
headphones and speakers,
Apple Watch
bands, and more.
As well as purchases counting towards the donation, people can also donate directly via
Red.org
.
Product(RED) is a brand that seeks to raise both awareness and funds to help eliminate HIV and AIDS in eight African countries including Ghana, Kenya, Lesotho, Rwanda, South Africa, Swaziland, Tanzina, and Zambia. 100% of all money generated by (RED) partners goes to fund HIV/AIDS programs on the ground in these sub-Saharan African countries.
The initiative has led to special versions of
the iPhone
in the color to be released over the years, and has raised
millions of dollars
in the process.