Piper Jaffray ups AAPL price target to $305, sees 'perfect storm' for 'iPhone 5G'
Sales expectations for Apple's upcoming "iPhone 5G" are too low, according research investment firm Piper Jaffray, which raised its price target on shares of Apple this week behind mounting anticipation for the new handset and ongoing dominance in the wearables market.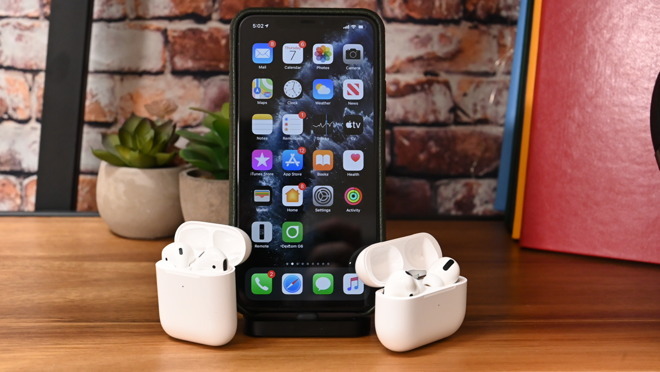 In a research note seen by
AppleInsider
on Friday, Piper Jaffray analyst Michael Olson cites a survey of consumer interest to back up his claims about "
iPhone 5G
" demand. Looking forward, Olson sees a "perfect storm" with the existing iPhone expected to perform at least at estimated sales volumes, and non-iPhone sales, specifically wearables like the
Apple Watch
,
AirPods
, and
AirPods Pro
"trending better than expected" through the end of the year.
Olson polled iPhone owners, and asked if they would upgrade to a 5G iPhone, if it cost $1200. Interest has only increased from the survey in June, where 18% of respondents said that they would buy a new iPhone with 5G.
"Our third survey of >1,000 U.S. iPhone owners shows 23% are interested in purchasing a relatively higher ASP ($1,200) 5G iPhone, unchanged from our Sep-19 survey and up from 18% in our Jun-19 survey," Olson writes. "We see this as a strong level of interest given limited 5G marketing/ chatter to date and the high price point used in our survey."
The last "major" iPhone cycle, according to Olson, was the iPhone 6 and iPhone 6 Plus. The latter drove 52% year-over-year iPhone revenue, and 37% unit growth in 2015. While Olson isn't expecting that much of a push, Piper Jaffray is modeling a 3% year-over-year revenue growth in the iPhone in fiscal year 2021, which begins for Apple right after the flagship iPhone release cycle in October 2020.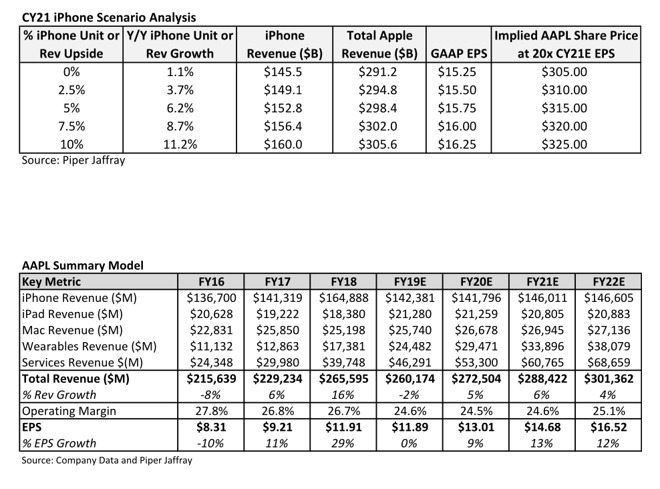 Piper Jaffray iPhone scenario analysis and historical AAPL price points
As a result of this demand, Olson is raising Piper Jaffray's AAPL price target to $305 from $290, based on a new 20x multiple of estimated 2021 calendar year earnings per share of $15.25. That's up from a 19x multiple the analyst had been using previously, as he sees "increasing confidence in the combination of potential for strong near-term results (solid trends with iPhone and wearables & services) and growing anticipation around the upcoming [late calendar year 2020] 5G iPhone cycle."
Apple stock is on a tear as of late, and is presently trading for $280.48, up 0.10% in pre market trading on the NASDAQ stock market.