Jamf Pro gains immediate FileVault encryption & deeper integration with Jamf Connect
Apple device management platform provider Jamf is improving the integration of its Jamf Pro and Jamf Connect products, connecting the two with new features relating to configuration and enrollment workflows to make it easier for administrators to use, while simultaneously improving the end-user experience.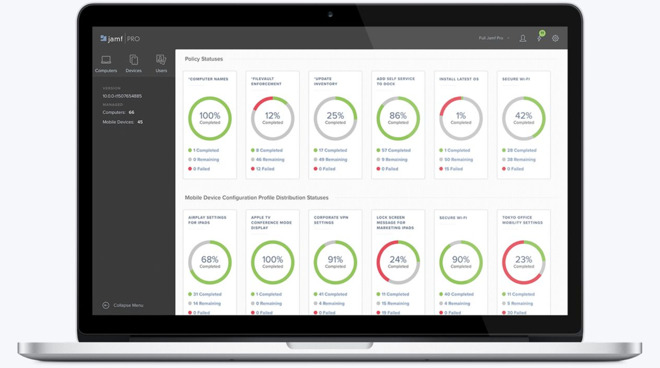 Jamf Pro
Revealed on Thursday, the new integration allows
Jamf Connect
, a Mac authentication and identity management tool, to be directly configured within the
Jamf Pro
management interface. The added configuration is meant to solve pain points relating to credentials, especially at the time of setting up accounts for new users.
"A recent global survey showed that 31% of issues experienced by Mac users were login and credential issues, so a fairly sizable hurdle throughout a user's experience," Jamf chief technology officer Jason Wudi explained. "By making Jamf Connect configurations available in the Jamf Pro interface, the number of steps to deploy or edit a Jamf Connect configuration are reduced, making setup and management much easier."
As part of this new integration, improvements have been made to the automated enrollment workflow and Jamf Connect password sync. A seamless handoff of a user's full name and username between Jamf Pro and Jamf Connect means the administrator knows the user has a cloud identity provider username they can use for their local Mac account, making things more consistent across the board.
By having a single set of credentials for both the Mac and the cloud identity, users are less likely to require IT support for authentication-related issues.
Changes have also been made to Jamf Pro to dynamically update configuration options for Jamf Connect, making it easier to configure. As Jamf Connect releases on a two-week schedule, administrators will be able to use the latest features as soon as they become available within the Jamf Pro console, rather than heading into a separate Jamf Connect instance.
There is also immediate FileVault encryption, meaning users don't have to log out and back in to a device before FileVault encrypts the files.