BlueMail restored to Apple's Mac App Store after dispute [u]
Apple has now approved a newly submitted version of BlueMail to the App Store, four months after the developers sued for allegedly removing the app unfairly.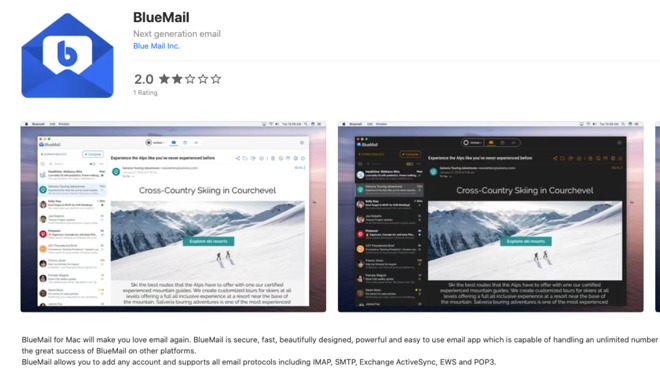 Blix's BlueMail is back on the Mac App Store after eight months
Blix, developer of BlueMail, had filed suit against Apple for allegedly removing the app unfairly, and abusing its market dominance. Apple has now approved a new version of the app.
A revised version of BlueMail has been returned to the Mac App Store, eight months after it was removed by Apple for what were said to be violations of the store's requirements. Blix, the app's developer, has
disputed this
and maintains that Apple unfairly removed it while also infringing the company's technology.
Specifically, Blix claims that Apple has used its patented technology to power the new "
Sign in with Apple
" feature. Co-founder Ben Volach, in an email to
AppleInsider
, said that Apple's restoring the app comes after both the lawsuit and Blix's call out to small developers to join its complaints against the way the App Store is run.
"We're happy that users can once again get BlueMail through the Mac App Store, but we know this isn't the end," wrote Volach. "Our experience has shown that until the app review process includes effective checks and balances, Apple holds too much power over small developers."
One solution could be to include external independent members and observers in Apple's App Review Board," he continued, "just as a public company's Board of Directors represents its shareholders."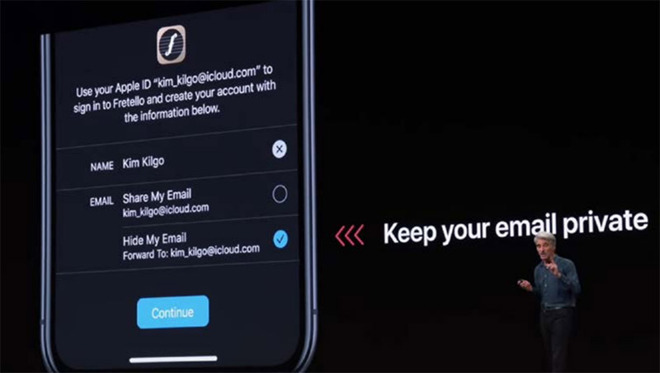 Craig Federighi introduces "Sign in with Apple," which Blix says is a reason its BlueMail app was removed
The version of BlueMail now back
on the App Store
is a new revision that Blix submitted on February 6. Blix says, however, that the update did not change key elements of the app that Apple had disputed, yet it was quickly approved.
A spokesperson for Apple told
AppleInsider
that the the company has been trying to work with Blix on getting their app restored.
"Blix's mail app is currently available on the iOS App Store and they have a brand new communications app available on the Mac App Store," said the spokesperson. "We have attempted on multiple occasions to assist them in getting their BlueMail app back on the Mac App Store. They have refused our help."
"The App Store has a uniform set of guidelines, equally applicable to all developers, that are meant to protect users," continued the spokesperson. "Blix is proposing to override basic data security protections which can expose users' computers to malware that can harm their Macs and threaten their privacy."
Blix has not confirmed what changes it made to comply with App Store guidelines, but information from Apple suggests that the key update was to do with Gatekeeper. Apple says that Blix did not follow the latest guidelines concerning Gatekeeper until this latest version.
The company's other co-founder, brother Dan Volach, however, believes that the fast approval was instead because of how his company had been reaching out to the public,
to developers
and to Apple's CEO.
"When we wrote to Tim Cook in November, we heard back in hours," he said. "When we wrote to Apple's developer community, BlueMail was back on the App Store within a week."
Update 12:55 PM Eastern Time
: Added details from Apple about the App Store appearance.