HomePod gains smart speaker marketshare in Q4, still lags far behind front runners
Apple posted strong HomePod sales for the fourth quarter of 2019, according to new statistics shared Thursday, but its sales growth rate trails that of other top players and the device's overall marketshare sits well behind frontrunners Amazon and Google.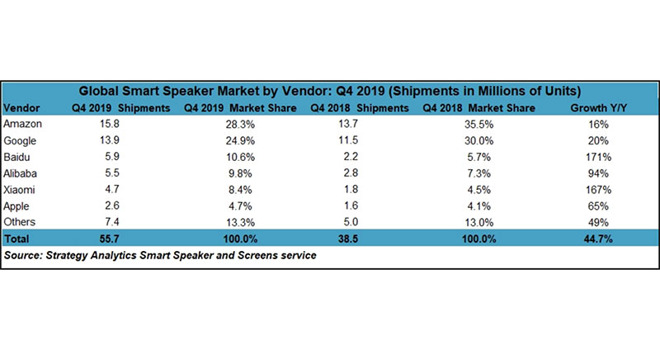 According to the
latest estimates
from Strategy Analytics, Apple shipped 2.6 million
HomePods
in the last quarter of 2019 to capture a 4.7% slice of the global smart speaker market. The figure is up 65% from 1.6 million units shipped and a 4.1% marketshare in the year ago quarter.
Despite year-over-year growth, Apple remained in sixth place behind the likes of Amazon, Google and a cadre of Chinese companies.
Market leader Amazon shipped 15.8 million Echo devices to take a 28.3% share of the market, up from 13.7 million units in 2018. Google, which sells a range of speakers loaded with Google Home technology, shipped 13.9 million units for a 24.9% marketshare over the same period, up 20% year on year.
Both Amazon and Google saw their dominant position at the top of the segment erode as challengers Baidu, Alibaba and Xiaomi each enjoyed more fruitful per-quarter increases.
Baidu, for example, moved from 2.2 million units shipped in quarter four 2018 to 5.9 million units in 2019. The world's fifth-largest vendor, Xiaomi, saw similar growth from 1.8 million units to 4.7 million units over the same period. Alibaba, which sits between Baidu and Xiaomi in terms of marketshare, shipped 5.5 million units, up from 2.8 million units last year.
Apple notched the lowest uptick in sales on the year at 1 million devices, followed by Amazon's 2.1 million and Google's 2.4 million units. Baidu exhibited the largest change year-over-year with a 3.7 million unit bump and was trailed by Xiaomi's 2.9 million unit increase. Alibaba was close behind with a difference of 2.7 million units from 2018.
"Consumer appetite for smart speakers remained undimmed during the all-important Q4 period as newly launched devices with improved feature sets and audio performance helped drive record quarterly shipments," said David Watkins, director at Strategy Analytics. "Consumers across the world were once again enticed by scarcely believable deals from leading brands such as Google, Amazon, Baidu and Alibaba, while Google in particular stepped up its giveaway promotional activity in partnership with brands such as YouTube and Spotify."
Overall, the smart speaker segment touched a record high of 55.7 million sales during the fourth quarter of 2019, driven in part by
strong holiday demand
in the U.S. and Europe, the report said.
Stay on top of all Apple news right from your HomePod or HomePod mini. Say, "Hey, Siri, play AppleInsider Daily," and you'll get a fast update direct from the AppleInsider team.