Review: Netatmo Smart Indoor Camera pairs HomeKit Secure Video with AI facial recognition
The Netatmo Indoor Camera isn't a new product, but what is new is a fresh firmware update that builds on its initial HomeKit support by adding HomeKit Secure Video support. We upgraded our cam to the latest firmware to test out the camera with all of its promised features.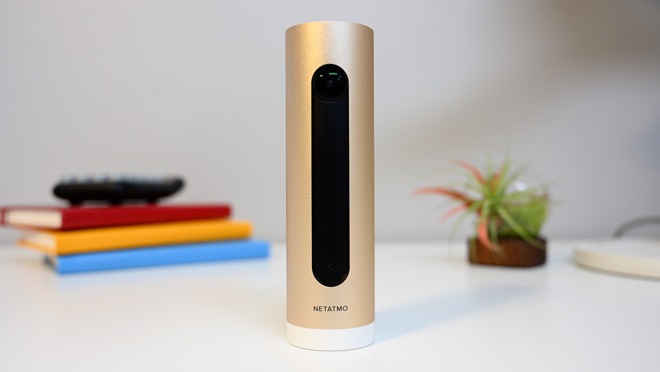 Netatmo Smart Indoor Camera
Like all
HomeKit
products, getting started with the Netatmo Indoor camera is dead-simple. Included in the box you have the camera itself, a micro USB cable for power and a dedicated micro USB cable with a wall adapter. There is also a set of Netatmo security stickers for your doors or windows to warn would-be intruders of your security monitoring.
Plug in the camera, scan the HomeKit code, and you are all set to go as far as HomeKit is concerned. You can unlock additional features when you download the Netatmo Security app which is the application used by the Netatmo Indoor Camera, Welcome Camera, and smoke detector.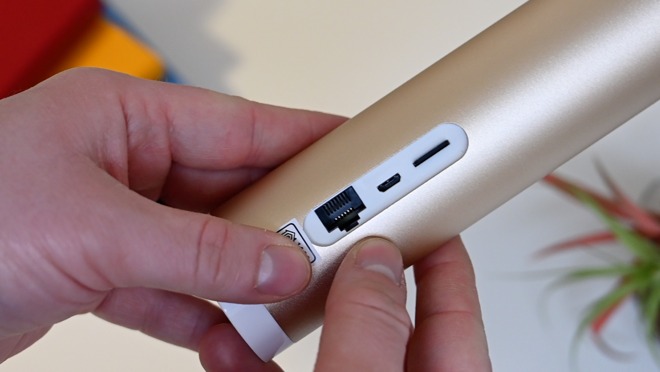 The rear IO of the Netatmo Smart Indoor Camera
The camera is a simple affair, a sleek anodized aluminum body that appears as a champaign or light copper color. The top and bottom have white accents and a black oval graces the front and hides the various sensors and camera module. Around back is an ethernet port for hardwiring the unit, a micro USB port for power, and an SD slot for local storage.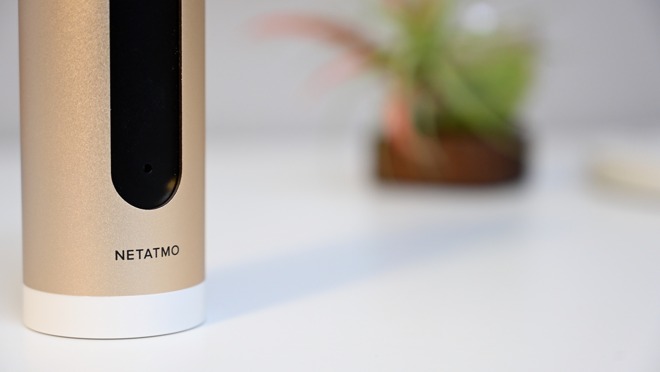 Netatmo's logo on the front of the Smart Indoor Camera
On the bottom of the camera is a silicone foot which should help it stay in place. Unfortunately, the camera is quite light which means sometimes the camera is still able to move around when the cable gets hit. That cable is quite stiff which meant even keeping the camera facing the right direction can be tough unless the cable goes straight back.
Netatmo uses its Security app with the Smart Indoor Camera, which is the same app that pairs with its smoke detector and outdoor camera. It guides you through the HomeKit setup process before letting you know what the Security app offers in terms of features. Namely, AI facial recognition.
Using the Smart Indoor Camera with the Netatmo Security app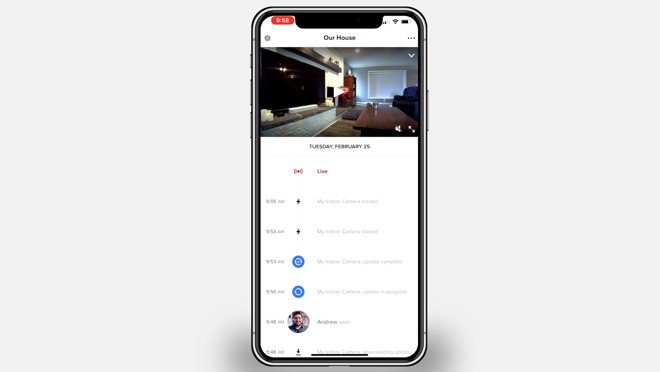 Activity timeline in the Netatmo Security app
With the camera added to the Netatmo Security app, a snapshot of the feed is at the bottom of the display. You can tap the up arrow -- or swipe up -- to move the feed to the top of the display and bring up the activity timeline. The feed can also go fullscreen.
The timeline shows any activity related to the camera -- be it camera systems occurrences such as reboots or software updates, the camera starting or stopping based on HomeKit rules, motion being detected, or people entering the camera's field of view.
Visitor profile in the Netatmo Security app
Whenever a person is detected, the camera will use artificial intelligence to try to identify the face based on previous people who've entered the home. The more a face is seen, the more the camera will recognize them and the stronger profile will be built. If a camera is ever unsure about a face, it errors on the side of caution and alerts you as an unknown person.
If an unknown person is flagged, you can long-press on the face and choose edit. You can name the person if they are new or assign them to an existing person the camera knows. It will also ask you to confirm or deny additional images that it thinks may be that same person. It feels very similar to the Face feature found in Apple Photos.
When you have a profile of a person, you can note if it is you or not, if you want to be notified of their arrival -- and during what times, and whether or not to record views of that person.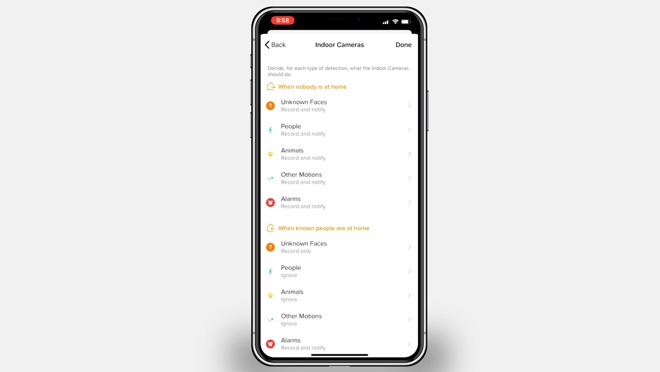 Netatmo's notification controls
Aside from faces, you can get quite granular with the Security app's notifications. Within settings, you can get in and choose what happens when it sees unknown faces, people in general, animals, other motion, or hears an alarm. All of that can be set for when someone is home versus when everyone is away.
Tying into HomeKit Secure Video
Netatmo has done a standup job at offering features that are beyond HomeKit's purview, but HomeKit is still crucial and a large reason many users are reading this right now.
The Smart Indoor Camera's HomeKit integration is as good as any and is as good as it can get with the recent inclusion of HomeKit Secure Video support.
For the basics of HomeKit, the camera can be viewed from the Home app or accessed via Siri. Just ask Siri to "show me the living room camera" and a live feed will be retrieved. The Home app also shows the motion sensor and the occupancy sensor from the camera. By default, iOS 13 groups these accessories together but they can easily be ungrouped.
With those sensors, other accessories can be controlled. The lights can come on when motion is detected or you can get a Home notification when occupancy is detected. I love having this at the front door and whenever we walk in the entryway light will turn on -- but only if it is after dark.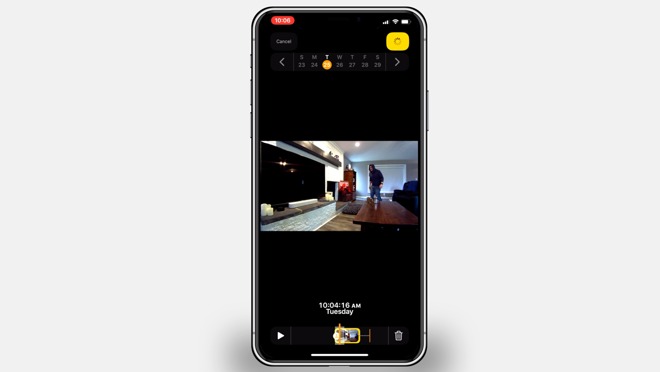 Recorded video of an intruder thanks to Secure HomeKit Video in the Home app
Then we have
HomeKit Secure Video which pushes things further
. HomeKit Secure Video allows you to record to iCloud, completely encrypted. If you have the 200GB iCloud storage plan you get ten days of history for a single camera and if you have the 2TB plan you can add up to five cameras.
Tapping the live camera feed in the Home app will show you the timeline of motion activity recorded at the bottom of the display. It will denote people versus vehicles versus any other motion. Those clips can be shared and saved to the camera roll as well.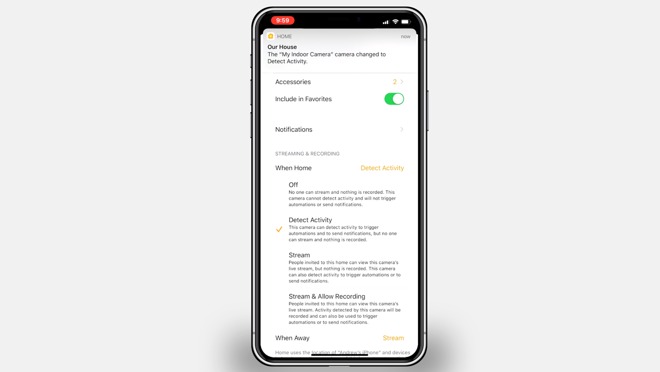 Recording options for HomeKit Secure Video
HomeKit has strict security settings that can be implemented both for while users are home as well as when they are away. The camera can be set to off which means it does absolutely nothing and can't be accessed by any other user. Then it can still keep the camera off but will be used to detect motion which is necessary for any motion-based automation rules that are set up. There is stream mode that would allow users to see what's happening on the camera, and finally stream and allow recording mode which does exactly what the name implies.
Normally, we set the camera to detect activity while we are home and to stream and record while we are away. As far as what to record, iCloud allows you to record any motion or specific motion including people, animals, or vehicles.
Living with the Smart Indoor Camera
We've tried many different smart home cameras, but only Netatmo has emphasized placing this camera at the entryway of your home, rather than in common living spaces. Of course, you can drop this camera wherever you please, but Netatmo highlights using it at the entry of the home where it can clearly see faces as they enter.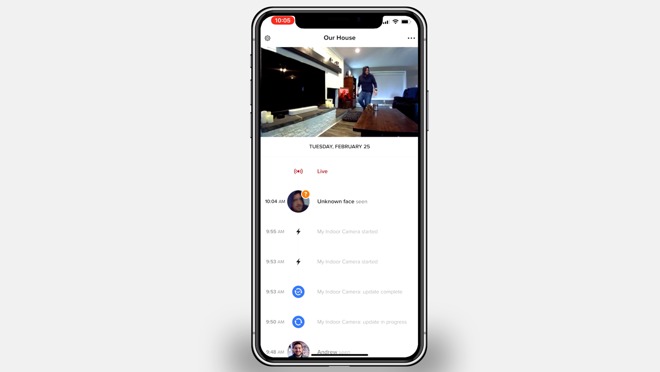 An unknown face detected on the Netatmo Security app
This is important for privacy and may be more palatable for those who are apprehensive about adding a camera inside their home.
By identifying faces, the camera is much more private as it will only record users it doesn't know. This considerably cuts down on the deluge of notification bloat that is far too common with your run of the mill smart home cameras. If you are constantly bombarded with errant notifications you start to ignore them. If the camera only alerts you the important ones, you will absolutely take notice because there are no non-important alerts.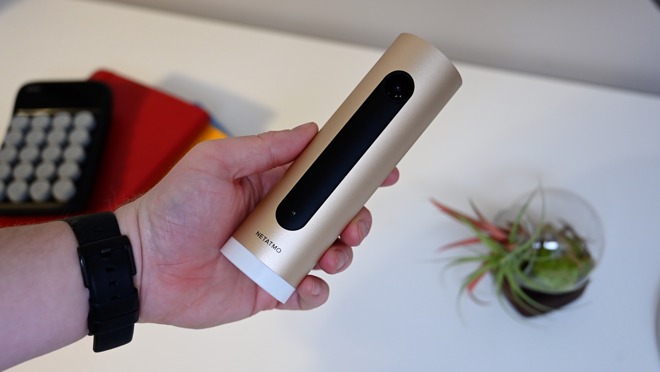 The Netatmo Smart Indoor Camera
We also love the ability to alert you of a siren. This could be a CO detector, a smoke detector, or a security system. Even ones that aren't "smart" included. The Netatmo cam will hear them, can start recording, then let you know that an alarm is going off.
Cameras like this clearly have the security aspect to them but they can also be essential tools for caregivers and parents. You can specifically be alerted when your kids come home from school each day. If you are watching over an aging loved one you can see if they ever leave, if someone enters their home, or if something has gone wrong. It is far less intrusive and more practical for a large demographic of people. Not to mention the added peace of mind.
Netatmo has also gone above and beyond when it comes to subscription plans. Unlike Arlo, Logitech, and many others there is no necessary subscription pan to unlock all of its features. All features are available right out of the box including motion identification, extended timeline, rich notifications, and more.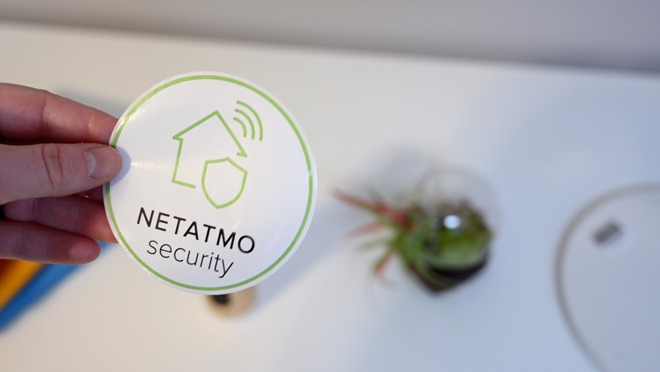 One of two security stickers included with the Netatmo Smart Indoor Camera
Not even cloud recording. You have HomeKit Secure Video to save to just using your iCloud Storage Plan or you can rely on the local micro SD card, Dropbox, or your own FTP server. That way you can save as much footage as you have storage.
There are cheap, budget cameras like Wyze which are an appealing option but they've had recent security breaches and are far behind when it comes to features. They have a cheap plastic build quality, only a 110-degree field of view (compared to 130 degrees), have an additional subscription plan, no AI smart features, no HomeKit support, and constant notifications. Though the Netatmo cam is more, we think it is entirely justified.
HomeKit certification, aluminum build quality, the lack of any form of a necessary subscription plan, new feature updates, advanced AI all contribute to the higher price point than some of its competitors.
Should you buy the Netatmo Smart Indoor Camera?
With cameras, it entirely depends on what you are looking for. The AI feature that automatically detects faces to only identify you of certain users and automatically shut off when it sees others is huge and easily enough of a reason for us to choose this over competing models.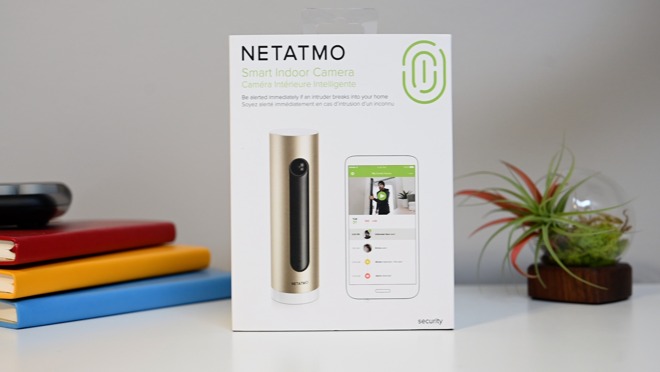 The box of the Netatmo Smart Indoor Camera
Not everything is perfect about the camera. It is a little on the light side. For unlimited storage, you have to know how to set up your own FTP or have Dropbox -- or at least manage your SD card well. HomeKit still has cameras go unresponsive on occasion, which isn't Netatmo's shortcoming.
These aside, the camera looks great, works perfectly well, and doesn't rely on us to add yet another subscription plan to our monthly bills.
Netatmo Smart Indoor Camera pros
Sleek aluminum design


Smart AI can identify faces for privacy and smarter notifications


No neccessary subscription plans with all features available out of the box


HomeKit and HomeKit Secure Video support


Excellent app


Drobox, iCloud, FTP, and local micro SD card as storage options


Can notifify users of sounding alarms


Web access
Netatmo Smart Indoor Camera cons
Light camera that can move if not well placed


No cloud recording from Netatmo (for those who want it)


HomeKit Secure Video can still occasionally have hiccups


More expensive than other cameras
Rating: 4 out of 5
Where to buy
The Netatmo Smart Indoor Camera can currently be
picked up on Amazon for $191
. All cameras will be updated automatically to add support for HomeKit Secure video.