Apple engineers reportedly testing new prototype AirPower with A11 processor
An AirPower device codenamed C68 is allegedly now in testing with engineers, and Apple is said to have fixed its previous problems by adding an A11 processor to manage the device's overheating.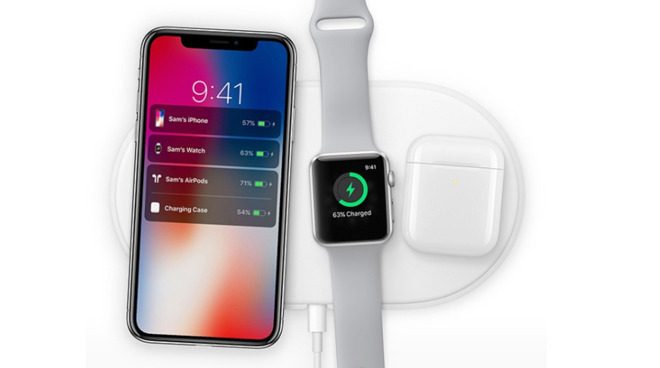 The original and never released AirPower wireless charging mat
Following recent claims that Apple is
revisiting the idea
of an
AirPower
charging mat, the same source says that company's engineers are now testing what is being known as "C68."
According to
Jon Prosser
, Apple is currently sending prototypes to the homes of engineers working in the company's Sharing and Proximity networking team. This team is reportedly working on software communication between this device and others.
While working from home, engineers on Apple's Sharing and Proximity' team are receiving prototype units of something called "C68".

They are being asked work on software communication between devices for a "future product" that has an A11 inside to "dynamically manage heat". pic.twitter.com/q4UvnF4ksx
Prosser, who shows an out of focus image of one edge of such a device, claims that Apple has addressed its previous problems by adding an A11 processor to manage the device.
"Because the Apple Watch uses a tweaked proprietary charging method," says Prosser, "it requires more energy to charge. In previous prototypes, if you placed an Apple Watch on the mat alongside other devices, the entire mat would overheat, and in most cases, combust. (Not joking.)"
"Using the A11," he continues, "this new prototype has the ability to route power to specific coil regions and can dynamically wait for temperatures to drop before applying more power - preventing it from overheating."
AirPower was first announced in 2017, when it was the subject of a rare Apple sneak peek at a future product. After continued delays, though, it was officially and publicly
cancelled 19 months later
.
While the company gave no reason beyond how it "will not achieve our high standards," it has been believed that the issue was to do with overheating.
Friday's report is Prosser's
second mention
that the AirPower wasn't completely killed by Apple. Both reports come after established analyst Ming-Chi Kuo claimed, in January 2020, that Apple was planning to release what he only described as a "
smaller wireless charging mat
," in the first six months of 2020.
Kuo did not call this mat AirPower, and the claim that it is "smaller" suggests that it wouldn't have the AirPower's ability to charge an iPhone,
Apple Watch
and
AirPods
simultaneously. Consequently, if there is a revised AirPower being prototyped, it may not be the same device as this smaller mat.