More data suggests Mac shipments declined double digits in Q1
A second examination of the global PC market is corroborating earlier reports that Apple's Mac lineup struggled during the first quarter of 2020, with IDC saying its data is pointing to a more than 20% drop in shipments year-over-year.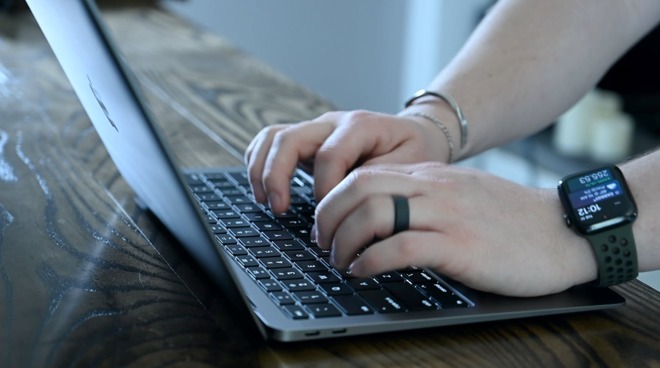 The continued coronavirus pandemic has fundamentally changed the way people work, as well as
raising demand
for computers around the world. Despite this need for in-home computing driven by social distancing policies, the PC industry as a whole ultimately suffered during the first quarter.
In analysis from IDC
released
on Monday, the global PC market declined 9.8% year over year in the first quarter, achieving a total of 53.2 million shipments. IDC believes the decline after a year of growth throughout 2019 was due to a reduced supply of computers, caused by extended factory shutdowns in February because of the
coronavirus
, and a slow resumption of manufacturing.
For Apple specifically, it is thought to have seen shipments drop from 3.9 million in Q1 2019 to 3.1 million in Q1 2020, equalling a reduction of 20.7% year-on-year. According to IDC, this was one of the "largest drops in recent history" for the company, with Mac production being "one of the hardest hit by the shutdown of factories."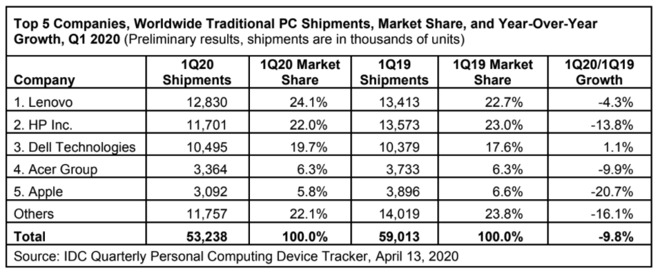 The inability to supply products at a time of high demand is temporarily an issue for the industry at large, but should go back to normal relatively soon. "However, this bump in demand may be short-lived," warns IDC research manager Jitesh Ubrani, "as many fear the worst is yet to come and this could lead to both consumers and businesses tightening spending in the coming months."
The view by IDC is very similar to one
offered by Canalys
on Saturday, who proposed global PC shipments fell 8% year-on-year, while Apple's shipments dropped from 4 million to 3.2 million units, or a 21% annual fall in shipments.
The accuracy of either prediction will be tested at the end of April, when Apple offers its
quarterly financial results
. While Apple will not reveal unit shipments, the revenue will still act as an indicator for the fortunes of the Mac arm
Furthermore, IDC believes there will be "longstanding positive consequences" once the dust settles. "Businesses that once primarily kept their users on campus will have to invest in remote infrastructure, at the very least, for continuity purposes," said research vice president Linn Huang, while "consumers stuck at home have had to come to terms with how important it is to keep tech up to date. This should provide a steady, long-range tailwind for PC and monitor markets, among other categories."
In terms of other major PC vendors, HP was the closest to Apple in terms of decline with 13.8%, followed by Acer with 9.9% and Lenovo at 4.3%. Dell saw relative stability, with growth of 1.1%. Apple also saw its market share decline in the period, from 6.6% for Q1 2019 to 5.8% in Q1 2020.