Suppliers accusing Apple of over-estimating future iPhone sales
Apple has reportedly given its supply chain production and sales estimates for the "iPhone 12" and other models produced for the fall that the companies believe are too optimistic.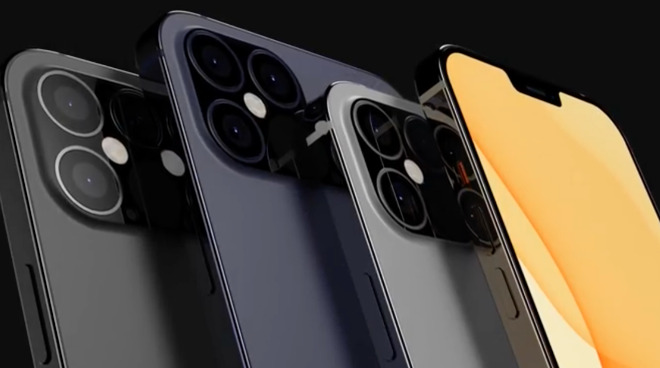 Renders made from a combination of leaked CAD designs and allegedly separately sourced information
As the effects of the
coronavirus
continue to affect businesses worldwide, Apple appears to be
faring better
at resuming production than most. However, according to a report on Tuesday, suppliers remain cautious and doubt Apple's predictions for what it will need in the short-term.
According to the
Nikkei Asian Review
, Apple has told suppliers that it intends to produce 213 million iPhones between March 2020 and March 2021. That is roughly a 4% increase over the same period in 2019 and 2020.
That estimate is lower than a previously reported 220 million iPhones, so Apple has reduced its estimates down because of the coronavirus impacting both production and sales. Nonetheless, suppliers have told
Nikkei Asian Review
that the revised number are still unrealistic.
"Apple's production outlook is pretty bullish, and we will need to assess whether it is based on a realistic demand [forecast]," one unnamed components maker told the publication. "Actual production could be 10% to 20% lower."
Another source, identified only as a display procurement manager, said
in Tuesday's report
that Apple is likely to have to change its estimates. "Apple may want to adjust inventories so that they have sufficient stocks in the fall and [at] Christmas."
Nikkei Asian Review
's sources also said that the 213 million iPhones are expected to be divided 50/50 between existing and new models. In addition to the recently released
iPhone SE
, Apple is expected to release up to four new 5G-capable "
iPhone 12
" models at the end of the year.
This report follows a
questionable one
in the
Nikkei Asian Review
which claimed that the "
iPhone 12
" would be delayed by some months.
The
Nikkei Asian Review
has an adequate track record in reporting the comings and goings of Apple's supply chain. Like most other supply chain monitors, however, it has a poor record in predicting Apple's product plans.