Best Buy shifts to curbside store service to fight coronavirus [u: reopening]
Best Buy is reducing its store services in the face of the coronavirus pandemic, with the major third-party Apple retailer moving to offering curbside service at all of its stores, with customers prevented from entering any of its US stores on a temporary basis.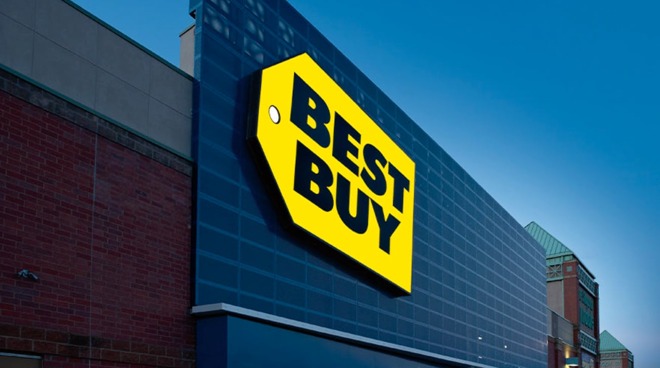 Update, April 29, 2020: Best Buy is slowly moving forward with reopening plans after halting in-store sales at its chain of stores in light of the COVID-19 pandemic. The big box retailer will in May begin offering scheduled in-store consultations at about 200 of its 1,000 U.S. stores, CNBC reported on Wednesday. This procedure calls for an employee to follow a customer around a store at a safe distance as they shop. The employee will wipe down products both before and after demonstrations.

Also to return are in-home delivery, installation and repairs, but with new safety precautions.

Original story follows.
In the latest move to provide services to customers while minimizing the spread of the
coronavirus
, Best Buy is shifting its retail strategy to an "enhanced curbside service" on an interim basis. Starting from Sunday and except where otherwise directed by state and local authorities, customers will have to make their purchases from outside the store.
Customers can order from the
Best Buy website
or app and request pickup at their local store, which will be handed over to them at the curb outside their selected location. In instances where a customer cannot place an online order but there is stock of the product in store, employees will retrieve the item from the store and sell it to the customer at the curb.
Orders for delivery direct to homes is still being offered, with slight changes for larger products such as washing machines. Appliances will still be delivered to a customer's door, but all in-home installation and repair has been temporarily suspended, with a view to later rescheduling. In-home consultations are also continuing, but virtually.
Employees at the retailer have been informed they do not have to work if they do not feel comfortable, and to stay home if they are feeling sick, with pay. Field employees who have lost hours will be paid for two weeks at their normal wage rate, based on their average hours worked over the last 10 weeks.
"The situation we're facing as a company and as individuals is unprecedented and changing at a pace all of us are working to keep up with," said CEO Corie Barry in a
statement
.
At the same time as announcing the restricted store policies, Barry advised Best Buy is "seeing a surge in demand across the country for products that people need to work or learn from home, as well as those products that allow people to refrigerate or freeze food."
Best Buy is the latest store to implement special measures in relation to COVID-19, but while relatively extreme, it isn't a complete closure of physical retail operations, such as the decision by Apple on May 17 to
temporarily close
all of its retail outlets.