Lawsuit alleges unauthorized use of song in Apple TV+ series 'Amazing Stories'
Apple and its Apple TV+ production partners have been hit with a lawsuit alleging that the group used a copyrighted song in an original series without first obtaining proper permissions from the rights holder.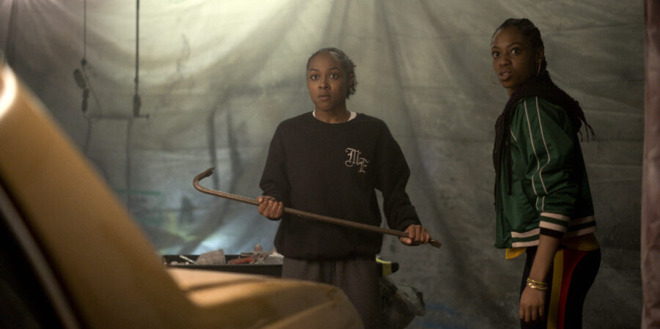 E'myri Crutchfield and Hailey Kilgore in "Amazing Stories" episode "The Heat." Credit: Apple
The complaint, lodged in the U.S. District Court for the Northern District of California on Tuesday, claims that Apple wrongfully used "Side Show" by Richie Rich in the second episode of
Apple TV+
anthology show "Amazing Stories."
According to the lawsuit, music producer and distributor Darrell Jackson -- the plaintiff in the case -- owns the copyright to the sound recording and musical composition of "Side Show."
Under the sole proprietorship JED Productions, Jackson produced the album that "Side Show" appeared on, "41Fivin," in 1989. A year later, JED Productions registered the copyright with the U.S. Copyright Office in May 1990.
"Side Show" appears prominently in "Amazing Stories" episode "The Heat," though the plaintiff in the case alleges that he did not authorize the use of the song in the episode. The lawsuit also claims that music distribution company Nakamiche Muzic Publishing falsely told Apple and other defendants that it owned the copyrights to "Side Show" and fraudulently licensed its use in "The Heat."
Nakamiche Muzic Publishing is said to be the "doing business as" designation for Daryl and Amber Anderson. Daryl Anderson, as "DJ Daryl," co-produced "41Fivin." Muddying the waters, the company has also allegedly registered "Side Show" with ASCAP as their own property. The lawsuit levies other accusations at the Andersons and Nakamiche, including slander of title and false designation of origin.
After showing Apple and other defendants proof of the copyright and asking them to cease and desist, the complaint alleges that they continue to use the recording unlawfully.
NBC Universal Media and Amblin Entertainment are also named as defendants in the complaint for co-producing "Amazing Stories."
The plaintiff is asking for an end to the alleged copyright infringement on Apple's part and an enjoinment on Nakamiche from claiming that they own the rights to "Side Show," along with damages and legal fees.