Review: Brilliant home automation system with HomeKit lives up to its name
After a lengthy delay, Brilliant has finally come through with HomeKit support for its smart home controller. While it isn't cheap, it more than justifies its existence with features and user convenience.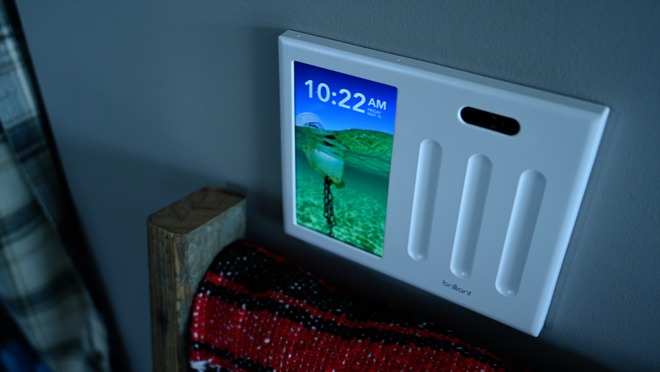 Brilliant smart home control panel
What is it?
There's really not much else like Brilliant on the market. It isn't just a smart wall switch like iDevice, Eve, Lutron, or many others. It isn't necessarily just a whole-home controller either.
Brilliant is a smart switch, a digital photo frame, a controller for Hue and LIFX lights, a place to control your Sonos system, a way to lock or unlock your door, and a way to communicate with your family throughout your home. And, to top it all off, it's now a
HomeKit
device.
Since it launched, Brilliant has continued to integrate with more and more brands, with piles of integrations already in place. At the same time, Brilliant is gearing up for a couple of major new additions to its lineup of integrated partners.
The device is fairly simple. It comes in four configurations and each size features a five-inch display. A single switch only has the touchscreen display while two, three, and four gang switches have long vertical divots that intuitively look like sliders. These are touch-sensitive and used to control the lights.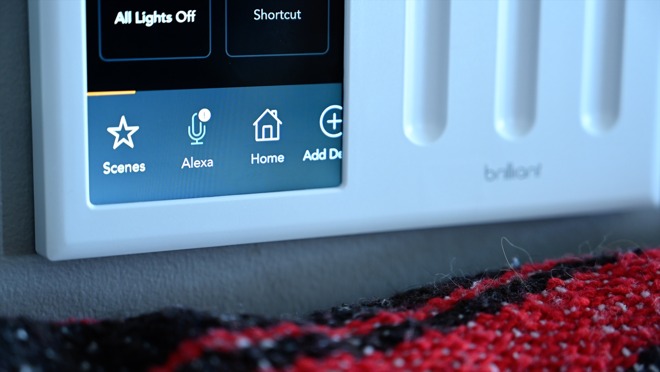 The bottom menu bar of the Brilliant conrtoller
We were very impressed with the screen on the Brilliant controllers. At 720 pixels by 1280 pixels, it has a pixel density of about 293, just shy of the iPhone's 326. It makes your photos look incredible and the controls all very sharp, and feels much more like using a smartphone than a wall switch.
Setup and installation
Like any device that requires wiring, some level of skill is necessary for a self-installation. But, it isn't hard, and Brilliant has gone out of its way to create a simple and easy-to-follow guide for the process.
That said, if you don't feel confident removing and installing a wall switch, let a professional or confident and knowledgeable friend lend a hand. Installation boils down to killing your power, removing the old wall switch, following the directions to connect the wires to the new switch, screwing it into place, and turning the power back on. It took us only a few minutes to manage and didn't have any issues.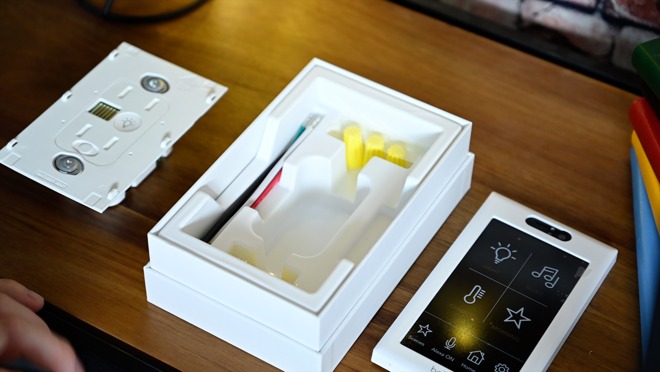 Parts included in the box of the Brilliant controller
Brilliant includes everything in the box including the wires, which are pre-stripped to the perfect length and dipped in solder to prevent fraying, and a smattering of wire nuts. You likely have your own behind your outlet, but extras are always preferred and if you need larger ones, Brilliant has you covered.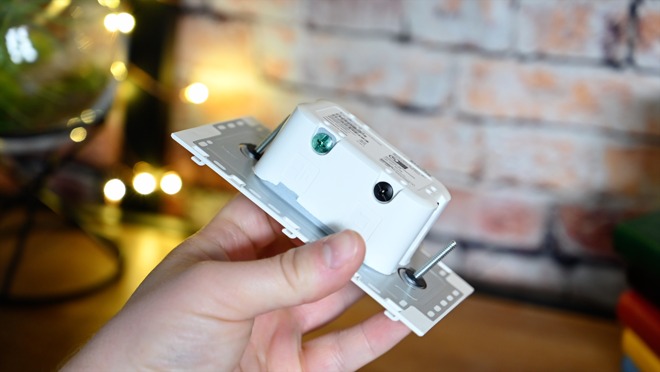 Wire holes in the sides of the Brilliant controller
A few things to note. These do require you to use a neutral wire, so if you have an older home without those, you're out of luck without a lot of extra work and money. These also do work three-way or four-way switches, which is one of the spots we installed ours.
After completing the wiring and flipping the power back on, the panel will illuminate and boot up. A "begin" button will show and the Brilliant panel will walk you through connecting to Wi-Fi, pairing with your Brilliant account, and setting up the lights you want to control.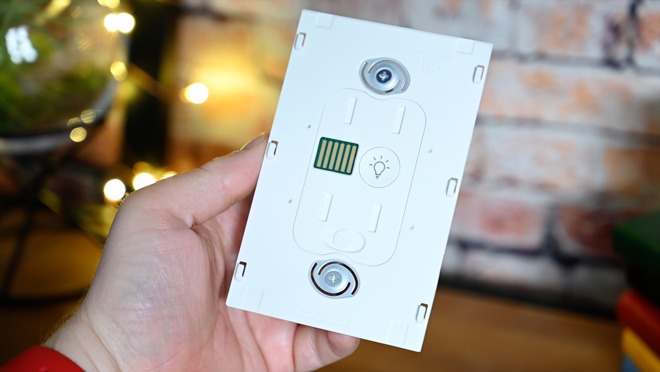 Test button behind the Brilliant panel
With the lights, the system will ask you what kind of bulbs you have connected -- LED, CFL, incandescent, and the ilk. Depending on which you have, Brilliant will ask you if you want the lights to dim. It then lets you test dimming them to see if there are any issues, such as flickering. If not, they are good to go.
Some devices you have connected to a wall switch may not be normal lights. It may control a wall outlet, a fan, or connected to a smart bulb that needs to perpetually stay on. This is all taken into consideration during setup. Brilliant seems to have thought of everything.
Controlling your lights
On the most basic level, Brilliant is in charge of controlling whatever is connected to the switches. There are a few ways to manage this.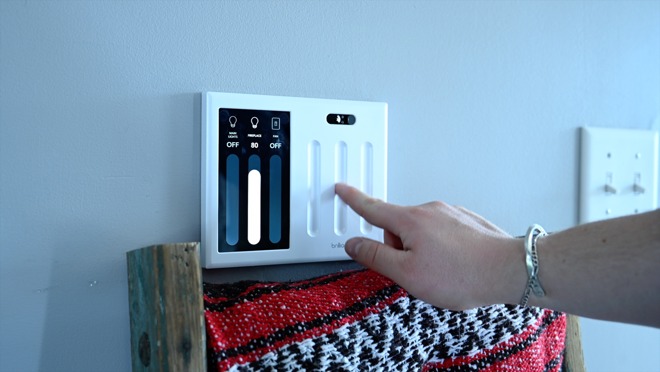 Brilliant controller with light sliders
With two-gang, three-gang, or four-gang boxes there are physical grooves that can be used to control the lights. Tap on anywhere on the groove and the light will turn on or off. Sliding on any of the grooves will (if possible) dim or brighten the lights.
Whether you have the grooves or don't (as the single-gang box doesn't), you can quickly control the lights by swiping down on the touch screen with two fingers and a quick swipe up will turn on all the lights. It is a simple gesture you can do as you walk by the switch.
Finally, you can tap on the "lights" shortcut right on the Brilliant home screen. It opens up controls for all the lights and allows them to be turned on or off as well as dimmed. When you use the sliders, this on-screen guide also shows up.
We mentioned above that during setup, you can tell Brilliant that the switch it is replacing controls a smart bulb -- like Hue or LIFX. This alone is huge. With these bulbs, they must always be connected to power. What happens all too frequently, is someone replaces their bulbs with smart bulbs and someone turns the wall switch off. Now those bulbs cant be controlled until the switch is thrown again. It is a mess.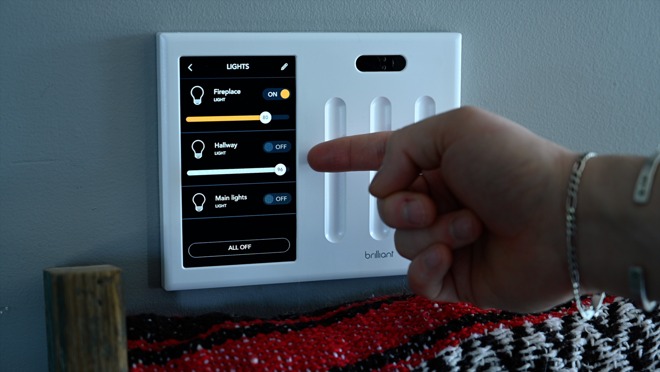 Light controls on the Brilliant controller
With Brilliant, it will know those are smart bulbs, leave them connected to power at all times, but allow you to map the switch control to control the bulbs via the Works with Brilliant integration. If you have Hue or LIFX bulbs and you've accidentally turned the switches off or taped them in position before, you know how big a deal this is.
Third-party controls
Support for third-party smart home devices is quite verbose, but also slightly limited. Many of the big players are present. For thermostats, there is support for ecobee as well as Honeywell Home. For security, there is August, Kwikset, Schlage, Ring, Yale, Assa Abloy, and ButterflyMX. Lights include Hue, Kasa by tp-link, LIFX, Wemo, Leviton, and Lutron. For music we have Sonos.
It has Amazon Alexa built-in, though it also works with Google Assistant, SmartThings, and of course Apple's HomeKit.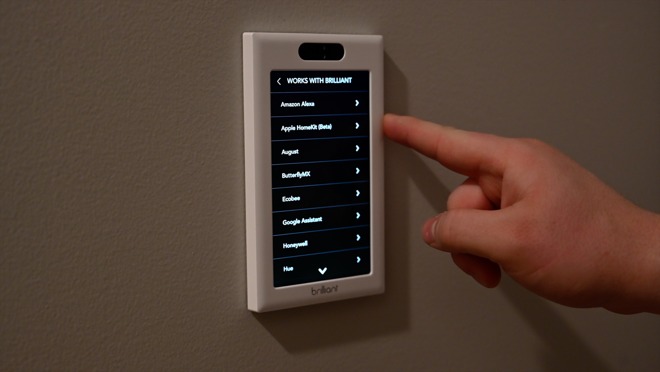 HomeKit settings in Brilliant
We tied our new August Wi-Fi Smart Lock, our ecobee thermostat, our LIFX and Hue bulbs, and our Sonos system to our Brilliant system all for easy contorl. We recently ditched our Ring to security issues with the platform which meant we didn't have a doorbell cam to connect which is too bad because that is one of the best integrations for the Brilliant system. Especially if you get a lot of packages, have frequent guests, or have a lot of food delivered.
Our issue with third-party integrations is that when certain devices don't work with Brilliant, it makes it glaringly obvious and mildly frustrating. The couple big ones for our own home include our Lutron Serena shades and our Arlo cameras.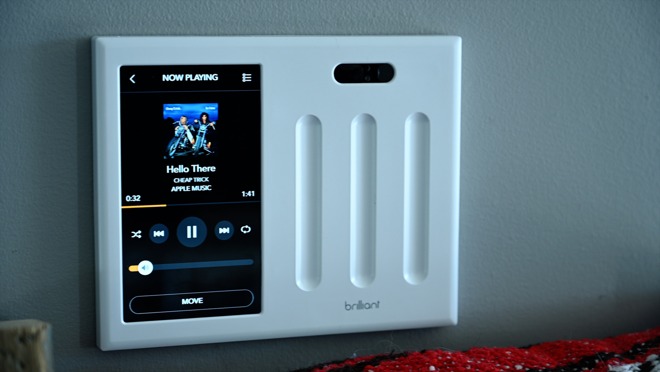 Sonos integration for Brilliant
This fault is shared between Brilliant and these other companies for not integrating together but it is the consumer who pays the price. If Brilliant is intended to be the central hub in your home for guests, children, or anyone who can't -- or won't -- use a smart device, what good is it when seemingly random devices aren't there or included in scenes? Your grandmother doesn't care that Nanoleaf makes the smart bulbs in your kitchen, she just cares that she can't control them.
That goes as well for the HomeKit devices, but more on that in a second.
What we did have set up, worked great. It would amazing to be able to tap into these devices right from the wall and not having to always use our phone. I don't carry my phone with me every second of the day I'm home and while my Apple Watch can alert me to notifications, it can't always control everything -- at least not easily.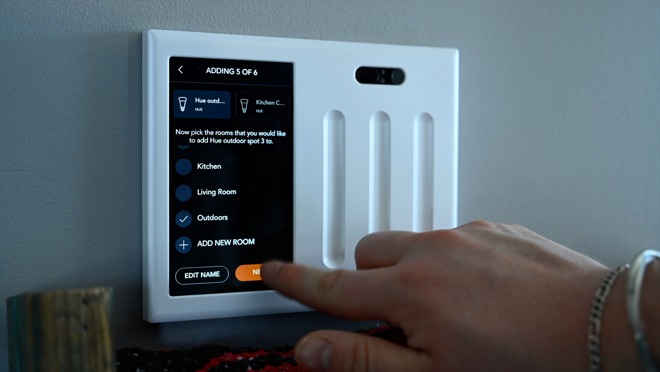 Adding our Hue lights to Brilliant
For instance, my wife can lock the front door from the bedroom when she comes in at night because there is a lock button and status right on our Brilliant home page. She claims that Siri "doesn't listen to her" so this is easier than opening the phone and going through the Home app.
We can easily adjust our thermostat from the living room even though the thermostat is quite far away. I can quickly adjust the Sonos volume in my bedroom from the living room. I can easily toggle scenes that include my lights, thermostat, and door from Brilliant. If I'm in the studio, my wife can quickly use the intercom to speak to me.
The options here are endless and only become more powerful the more devices you connect to Brilliant. Whether that is through more Brilliant devices or through accessories that specifically work via Brilliant. Once you've invested in Brilliant, we can see it dictating other purchases -- such as choosing Ring over August or Arlo despite the security issues because it does work with Brilliant.
HomeKit support
HomeKit support is
finally
here. Yes, after
more than a year since being announced
as imminent, HomeKit support has finally been delivered, We don't need to go into what caused so much delay and are just happy that it has arrived at all.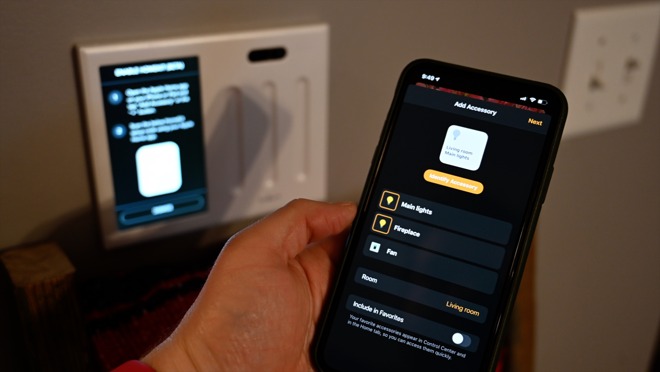 Adding multiple switches to HomeKit
At the moment, HomeKit support is in beta, and rolling out to roughly 10% of the Brilliant beta users at a time before the entire public beta pool is up and running with HomeKit. The plan is to remove the "beta" tag by June.
We've been testing the beta for a while now and can say that the implementation, even in beta form, has been perfect. We've had no issues with HomeKit thus far.
If running the beta software during setup, the setup wizard will ask you if you want to use HomeKit and present you with the pairing code. However, if you are already running the Brilliant system and receive HomeKit from the software update, you have to manually enable it.
To enable HomeKit, open the settings menu on your Brilliant panel, go to the "Works with Brilliant" section, and choose "Apple HomeKit."
From there, it is a familiar process. Scan the unique on-screen HomeKit pairing code, name the control, place it in a room, and label the switches accordingly.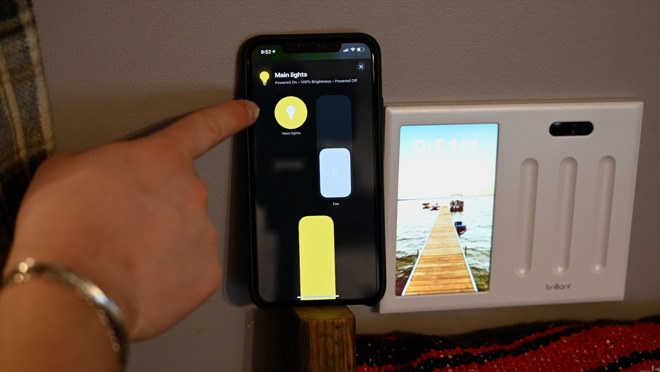 Different switch types from Brilliant in the Home app
At launch, there are limitations to what HomeKit can do. Right now, just the one to four switches controlled via the Brilliant panel will show in HomeKit. Neither the embedded video camera nor the motion sensor are exposed to HomeKit. The motion sensor in particular is glaringly absent and something that would be immensely useful when other HomeKit devices are in the room.
What's more, imagine if Brilliant were able to act as a whole-home controller for HomeKit devices. You can control any HomeKit device right from the wall panel. HomeKit video doorbell, thermostat, lights, et cetera could all show up on the wall panel for each control and access to programmed HomeKit scenes.
This is something that HomeKit is absolutely missing and it is being surpassed by competing smart home systems. The Echo Show and the Google Home Max can do that for Alexa or Assistant ecosystems and HomeKit owners are left to their iPads as the only thing close. Brilliant is well-positioned should Apple ever choose to open up HomeKit in this regard.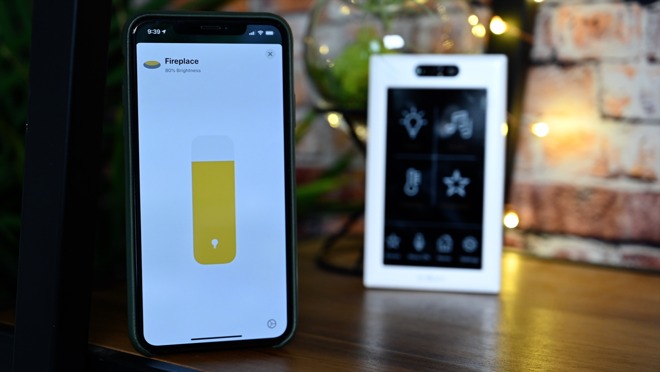 HomeKti dimmer with Brilliant control panel
With HomeKit, there is still plenty you can do. With your switches automated, you can turn any built-in lights or fixtures into HomeKit lights. We have a Brilliant controller installed in our hallway, rather near our ecobee. We use the motion sensors in the ecobee to tell our hallway lights to turn on when motion is detected.
Similar with our living room which is near our front door. We tell our entryway lights to turn on when our Hue outdoor motion sensor detects someone coming up our driveway or sidewalk.
You can ask Siri to turn lights on or off, you can control your fan through Siri, lights can be dimmed on Apple Watch, and it overall just integrates with your larger HomeKit system.
Brilliant touches
There are a lot of small touches that we really appreciate in the Brilliant system. We won't touch on every aspect, but at least our favorites.
Brilliant has many different wall plates available in several different finishes so that even though it is a tech product, it will easily fit into your home. A lot of smart switches are just all white and this makes it feel much more natural.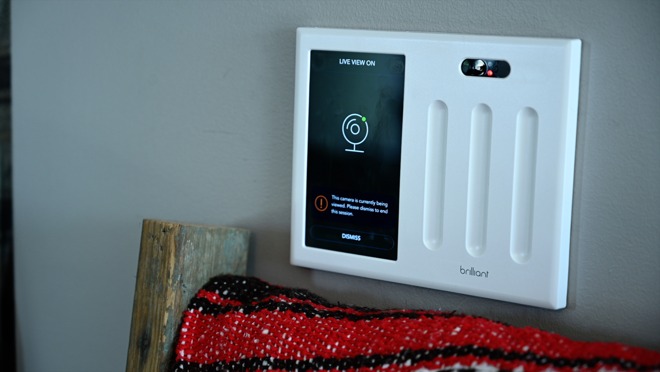 Active camera notifications on Brilliant
The intercom system is a great idea. There is a small camera, mic, and speaker on each of these and it is a great way to communicate through your home. Brilliant understands that a camera can be something not everyone wants, which is why it is very apparent when the camera is in use thanks to lights and other denigrators but it can also be completely blocked thanks to a physical lens cover that can be slid into place.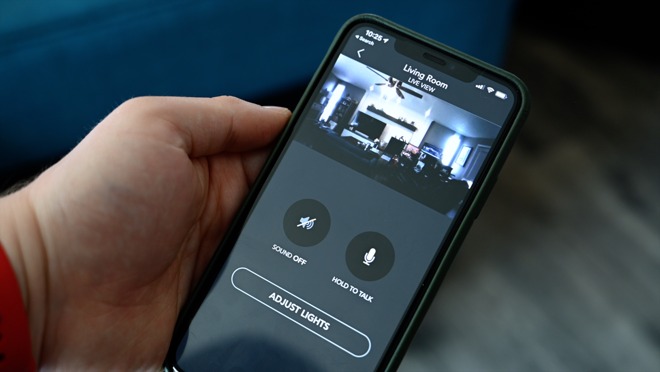 Live from the Brilliant app
You can access those cameras from the panel or from the Brilliant app. Additionally, you can passcode protect the cameras and restrict access to certain users.
There are motion sensors built into the Brilliant controller which allows you to have your lights turn on whenever you walk into the room. This is convenient as well as power-efficient as you don't have lights on in rooms that are unoccupied.
Brilliant runs over Wi-Fi and doesn't need your phone to be nearby to control them. But if Wi-Fi should ever go down, the Brilliant wall panels will communicate with one another over Bluetooth. So if you have a living room controller but want to control your hallway lights, the living room Brilliant panel will send the Bluetooth signal to the hallway controller to have the lights shut off.
Aside from using just more of the full Brilliant controllers, the company also offers smart plugs and dimmer switches too. These are perfect for lower-traffic locations or rooms where you just want to enable smart controls. They integrate into your system and you can control them on their own, through the Brilliant app, or from other Brilliant controllers in the home.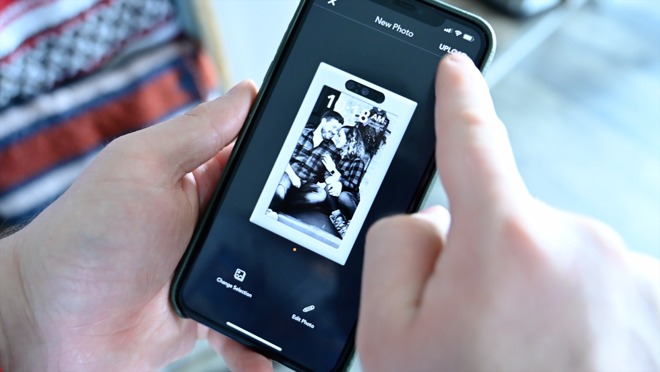 Adding a custom image to Brilliant
The last little touch is the ability to use the controller as a digital photo frame. Brilliant initially launched this feature as an afterthought but was blown away by how popular it became. After having it in our homes for a while, we see why. We loaded it up with some of our most epic photography and it is too cool seeing them put on display and rotated through.
There was a lot of effort going into this as well. It isn't just choosing several images and calling it a day, it is selecting your images then choosing exactly the crop that is most flattering. Brilliant also has several fantastic images to pick from as well from the stock library of animals, nature, still art, and others. You can get really creative with this feature and is a great way to decorate your home.
Is it worth the investment?
There is no arguing that the Brilliant panels aren't expensive. I'd say they categorically are. Your average smart home owner who is looking for the cheapest Amazon Alexa smart plug will likely balk at the price tag affixed to the Brilliant panels. But in our mind, there is no better value smart home gadget.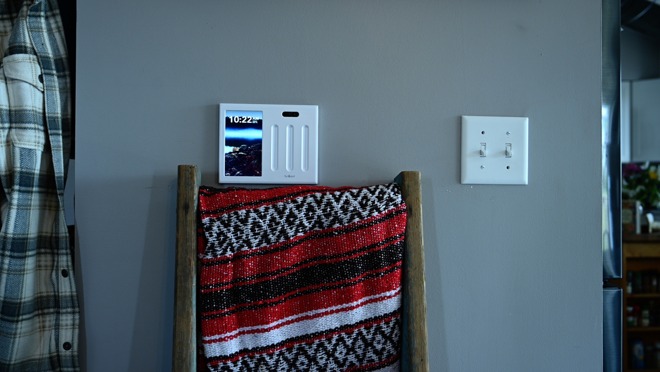 Brilliant smart home control panel
This is not just a replacement wall switch that adds smart functionality, it is an entire smart home system that gets more powerful the more it expands.
With Brilliant, you can control your temperature from any wall panel. When your doorbell rings, you can see the live feed from your Ring show up on the gorgeous display. Control your Sonos music playback from the wall, including volume. You can tap to lock or unlock your August smart lock.
Not to mention bringing physical controls to your Hue, WeMo, or LIFX lights. For fans of Alexa, they can also query Amazon's digital assistant right from the Brilliant panel.
Thanks to the camera, speaker, and mic, you have a full home audio or video intercom system as well as a security camera to check in on your housekeeper, kids, or pets.
The number of features found in Brilliant is truly incredible and there is little like it on the market. With HomeKit support, this easily jumps to the top of our best smart home accessories list.
There aren't necessarily drawbacks to Brilliant as there are ways that it could improve, notably with HomeKit. As we mentioned, we'd love to see HomeKit support expand to allow the Brilliant wall panel to be able to control other HomeKit accessories. Could be as simple as tying the physical switches to HomeKit scenes or as verbose as showing all HomeKit accessories right on the Home screen. There is a lot of potential here, it is just waiting for Apple to unlock it.
Pros
Supports Apple HomeKit


Whole-home broadcast or intercom


Cotnrol most major smart home brands of devices with more on the way


Easy to use and adds physical controls for all your smart home devices


Screen is bright and high resolution


Great way to display photos


Physical controls for Sonos, Hue, and LIFX are particularly noteworthy


Multiple faceplate options blend into your home


Can work locally over Bluetooth as well as Wi-Fi


Makes your existing lights smart and adds a dimmer when available


Has a huge amount of potential for growth
Cons
HomeKit support is limited by Apple


Some major brands are absent, such as Lutron


High price tag makes it an expensive endeavor for big homes
Rating: 4.5 out of 5
Where to buy
Brilliant's Smart Home Control panel
retails for $299
and can be ordered from Crutchfield. They go up to $499 for up to a four-gang switch.