Compared: Galaxy Tab S6 versus iPad Pro with Magic Keyboard
Posted:
in iPad
edited September 2020
Apple's new Magic Keyboard for the 2020 iPad Pro may make the tablet seem like an ideal portable workstation, but how does it stack up against the Samsung Galaxy Tab S6?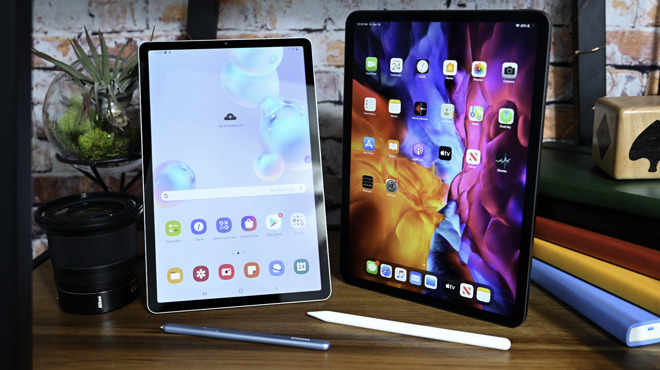 The Galaxy Tab S6 and iPad Pro 11-inch (2020)
Shortly after the launch of the
iPad
, Apple's tablet has been a consideration for those wanting a portable way to work. With the introduction of the
iPad Pro
lineup, Apple positioned the tablet closer to what power users would typically need in terms of features and performance.
For the latest release, the new
Magic Keyboard
that makes the iPad Pro float above the keys has caught many people's attention, framing it as a viable alternative to the traditional notebook.
Apple is far from the only tablet producer around, with long-time rival Samsung having a considerable number of them in its product catalog. It only makes sense for people rethinking their use of a notebook to also consider other alternatives, and as
Samsung's Galaxy Tab S6
also has a keyboard cover accessory, they target similar markets.
Samsung Galaxy Tab S6
Apple iPad Pro (2020)
Price
From $649.99
Now on sale
From $799 (11-inch), $999 (12.9-inch)
Lowest iPad prices
Display
10.5-inch 1,600x2,560 Super AMOLED (287ppi)
11-inch 2,388x1,688 Liquid Retina (264ppi),
12.9-inch 2,732x2,048 Liquid Retina (264ppi)
Dimensions
244.5 x 159.5 x 5.7mm
247.6 x 178.5 x 5.9mm,
280.6 x 214.9 x 5.9mm
Weight
420g
471g, 641g
Processor
Qualcomm Snapdragon 855
A12Z Bionic
Storage
128GB, 256GB, microSD to 1TB
128GB, 256GB, 512GB, 1TB
Rear Cameras
Wide and Ultra Wide 13MP, 5MP
Wide 12MP, Ultra Wide 10MP, LiDAR
Front Cameras
8MP
7MP TrueDepth Camera
Video Shooting
Up to 4K
Up to 4K at 24, 30, 60FPS
Connectivity
Dual-band Wi-Fi 802.11ac, Bluetooth 5.0, LTE Cat 20
Dual-band Wi-Fi 6 802.11ax, Bluetooth 5.0, LTE
Audio
Four Dolby Atmos AKG-tuned speakers
Four speakers
Battery
7,040mAh
28.65-watt-hour, 36.71-watt-hour
Galaxy Tab S6 versus iPad Pro - Size and Screen
If we are talking just dimensions alone, Samsung has the smallest model of the trio being compared, with its 10.5-inch screen overshadowed by the
11-inch
and
12.9-inch
versions used by the iPad Pro. This is also true for the width, length, and thickness, with Samsung being the smallest and slimmest, measuring 5.7mm thick compared to the iPad Pro's 5.9mm thickness.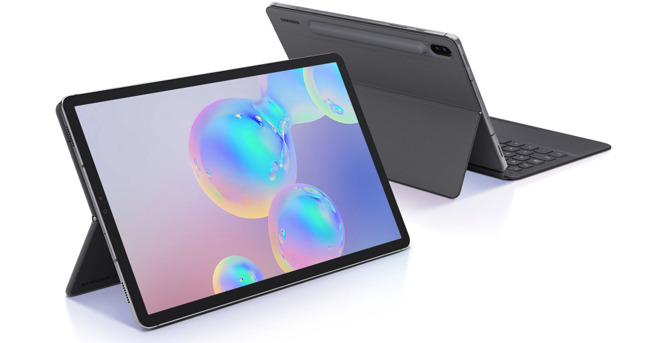 Samsung Galaxy Tab S6
Samsung also wins in terms of weight, with its 420-gram tablet being relatively light against the 11-inch's 471-gram mass and the heavyweight 641-gram 12.9-inch model.
Despite the size, Samsung also leads in resolution, squeezing a 2,560 by 1,600-pixel picture onto its Super AMOLED screen, giving it a pixel density of 287pixels per inch. The Liquid Retina displays of the 11-inch and 12.9-inch can't keep up at 264ppi apiece, but the 12.9-inch's larger size allows for an overall higher-resolution image, measuring 2,732 pixels by 2,048.
Galaxy Tab S6 versus iPad Pro - Performance
The 2020 iPad Pro has a somewhat faster chip than the previous generation, though the
A12Z Bionic
system-on-chip is a
re-binned A12X
from 2018. Under Geekbench, it achieved a single-core benchmark of 1,117 and 4,690 on multi-core testing.
By comparison, the
Qualcomm Snapdragon 855
used in the Galaxy Tab S6 musters scores of 713 on single-core and 2,460 on multi-core tests. Apple's processor is ultimately much faster overall than the chip used in Samsung's tablet, with it ultimately being no contest.
Galaxy Tab S6 versus iPad Pro - Cameras
Both Samsung and Apple have included quite good cameras on the back of their respective products. The Samsung has a dual-camera array consisting of 13-megapixel and 5-megapixel sensors paired with Wide and Ultra Wide lenses, which will do for most applications.
On the iPad Pro side, Apple slots between the two extremes of Samsung's sensors, with a 12-megapixel Wide and 10-megapixel Ultra Wide pairing. Also on the back is a LiDAR sensor which provides depth-sensing capabilities, something that could help both with standard photography and with augmented reality applications.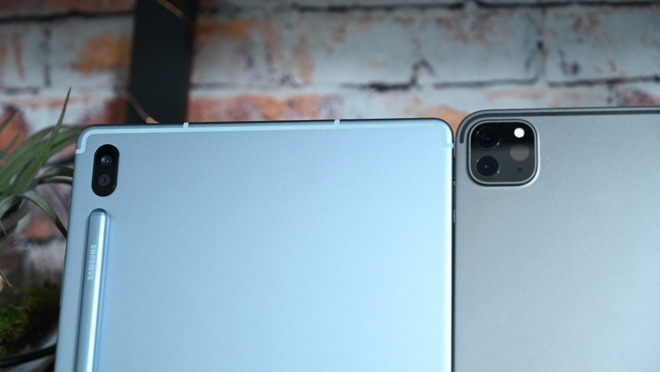 Dual-camera setups on iPad Pro and Galaxy Tab S6
To the front of the devices, it is a mixed bag. Samsung has opted for a fairly standard 8-megapixel camera, whereas Apple uses the 7-megapixel TrueDepth camera array. While Apple's solution is lower resolution, it also powers Face ID and can take advantage of the facial mapping in other ways that Samsung's tablet simply cannot.
For video, they are evenly matched, with both capable of capturing 4K video.
Other Specifications
Both offer amble connectivity options, including dual-band Wi-Fi support, though Apple supports Wi-Fi 6 802.11ax while Samsung uses 802.11ac. Both use Bluetooth 5.0 and offer LTE connectivity as an add-on.
Audio is also similarly matched with both using four speakers, though Samsung elects to include Dolby Atmos support and AKG tuning.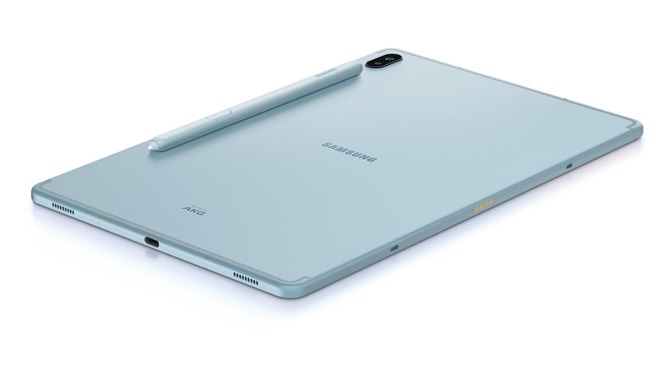 Samsung Galaxy Tab S6
The Galaxy Tab S6 has a 7,040mAh battery, and the iPad Pros have 28.65-watt-hour and 36.71-watt-hour batteries. Due to the variance of real-world usage, it isn't easy to quantify which is better short of putting them against each other in a battery of tests, but either will still provide quite a few hours of battery life per charge.
Though lacking Face ID's security, Samsung does offer authentication in a number of ways, including pattern, PIN, and password locks. On the biometric side, there is face recognition, albeit without Face ID's accuracy, as well as an on-screen optical fingerprint sensor.
Apple offers four storage options, ranging from 128GB all the way up to 1TB. Samsung only offers two storage options, in the form of 128GB or 256GB of internal storage, but Samsung also offers the opportunity to add up to a terabyte more using microSD.
Galaxy Tab S6 versus iPad Pro - Pricing
For the tablet alone, Samsung is starting its Galaxy Tab S6 from $649.99 for the 128GB model, or $80 more at $729.99 for the 256GB version, excluding LTE.
The iPad Pro starts from $799 for the 11-inch model, rising to $999 for the 12.9-inch version. Moving from 128GB to 256GB will cost an extra $100 regardless of size, while going up to 1 terabyte of storage adds $500 to the base cost. Adding cellular access costs an extra $250 on top.
A Word on Keyboards and Touch
Both Apple and Samsung have a variety of keyboard accessories available that work with their respective tablets.
On Apple's side is the much-touted Magic Keyboard, which offers a scissor mechanism, full-size backlit keys, a built-in trackpad, and a floating cantilever design. It is also the more unusual keyboard accessory designs, and that reflects in the price at $299 or $349, depending on the size of the corresponding iPad Pro.
Apple's Smart Keyboard Folio and Magic Keyboard
The more conventional Smart Keyboard Folio is a fold-out keyboard that the iPad Pro rests upon once deployed in one of two viewing angles, and has the older non-scissor mechanism. The Smart Keyboard Folio is a more wallet-friendly $179 or $199, again varying on size, making the switch up to a better keyboard mechanism and the floating capability a $100 or $130 upgrade.
Some users may elect to acquire a
Smart Keyboard Folio
, and use the savings to buy an Apple Pencil. They may also feel the trackpad isn't a great addition, seeing as the iPad Pro uses a touchscreen and there's also the Apple Pencil available to use.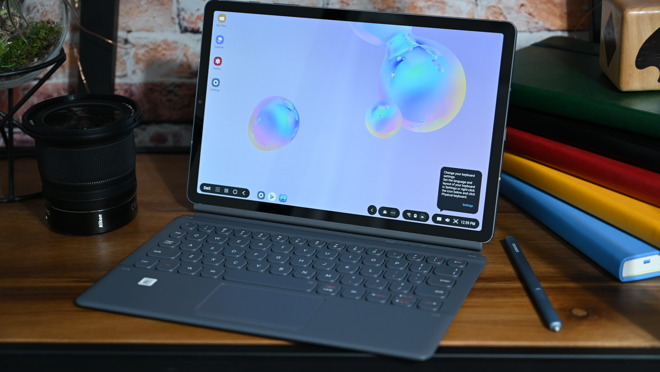 BookCover for Tab S6
On Samsung's side is the BookCover Keyboard. Attaching by magnets, the BookCover Keyboard offers a flip-out kickstand and a keyboard that seems to be similar to Apple's Smart Keyboard Folio. Again, it is sold separately, priced at $199.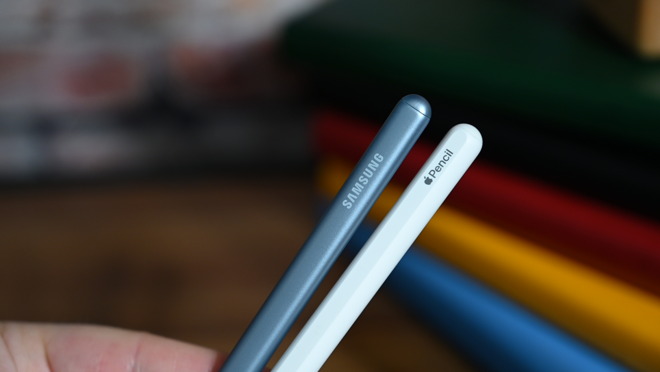 S-Pen and Apple Pencil 2
Samsung does score points, however, by providing the S-Pen with the tablet. Apple requires users to buy the second-generation Apple Pencil separately, at an extra $129.
Apple versus Samsung's tablet philosophy takes center-stage
This specification comparison shows a few things about Apple and Samsung and their approaches to tablet design and pricing.
Apple undeniably has the most powerful tablet of the group, with Samsung not coming close in terms of performance. It's also the more visually appealing, with the floating effect of the Magic Keyboard certainly capable of catching the eye of passers-by.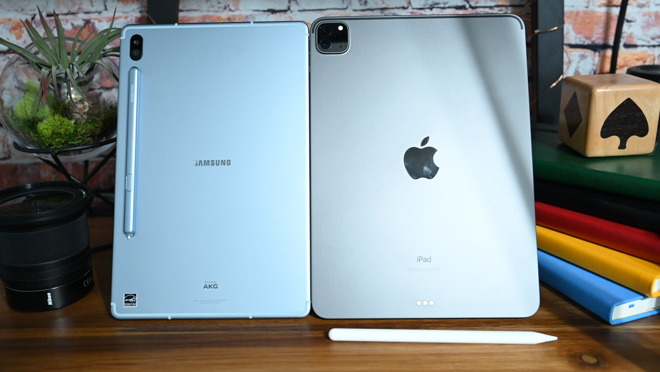 iPad Pro (2020) and Galaxy Tab S6
For the Galaxy Tab S6, it is potentially more expandable with the use of microSD, and is slightly smaller and lighter than its rivals. Samsung also benefits here from Apple's premium pricing strategy, with its offering being $150 cheaper at the base specification, as well as throwing in the S-Pen stylus without asking for more money.
If processing power isn't an issue, Samsung's discounted price compared to Apple's may make a big difference too. But, as tablets aren't on the same replacement cycle that mobile phones are, it makes more sense to get more power now, instead of skimping.
And, in regards to those keyboards, do you really need a keyboard that makes your iPad float? If you can justify the expense enough with the wider angle selection, a trackpad, and a better keyboard mechanism than most keyboard accessories on the market today, then Apple's Magic Keyboard is the way to go.
For most people with the available funds, the iPad Pro is arguably the better deal. While more expensive up-front, the sheer performance and the high likelihood it will be used for years longer than Samsung's effort makes Apple's higher price tag worthwhile.
Where to buy
The Samsung Galaxy Tab S6 is on sale
at Samsung
starting at $549.99. Shoppers can also pick up the 256GB version
at Amazon
after a triple-digit discount.
Those interested in the iPad Pro can save up to $70 instantly on the 2020 models, with the
best deals
at your fingertips in the
AppleInsider
2020 11-inch iPad Pro Price Guide
and
2020 12.9-inch iPad Pro Price Guide
.