Hands on: Adobe Photoshop Camera ups your photo game
Adobe is bringing its AI prowess to your pocket-sized iPhone cameras with its new free app. The Photoshop Camera app is now available and AppleInsider took it for a spin to try out if it can transform your pics.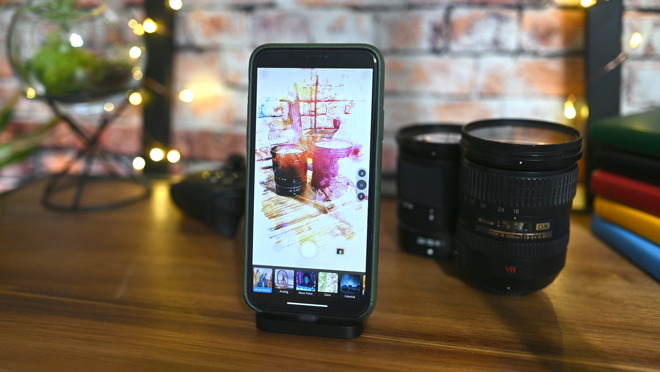 The new Adobe Photoshop Camera app
There are two practical uses for
Photoshop Camera
. It can be used to capture images as a replacement for the stock Camera app or it can edit previously captured photos saved to your camera roll.
Capture the right shot
Opening the app, the first thing you see is yourself. Adobe has clearly made the app focused on selfies and it reverts to that every time the app is completely quit out.
Looking at the camera interface, there is a globe icon in the top left which navigates to the lens library, an ellipsis to access the aspect ratio, flash, and settings, then a circular set of arrows to swap between the front-facing and rear-facing cameras.
The bottom of the user interface has a filter icon to access the different lenses and a glyph of your most recent photo to access your photo library, and the shutter button is dead-center.
Oddly, the camera interface seems to only feel comfortable in portrait orientation rather than landscape. As you rotate your device to landscape, many of the glyphs rotate. The ellipsis, circular arrows, your previous photo thumbnail, and the lens icons all adjust to the new orientation, but the names on all the lenses and the camera selector (.5, 1x, 2) don't, and face the wrong way.
This could just be a misstep for a 1.0 launch version and we will see if this changes in the future.
Another limitation is the camera zoom. If you have an iPhone equipped with the ultra-wide .5x, wide 1x, and tele 2X cameras, you have those options, but you can't zoom at all. You have no option to zoom in or our further than those nor anywhere in between. You simply get to choose those options, though you certainly can manually crop in after the fact.
As you go to take your picture, this is where the AI alterations come in. The app will automatically detect what it is you are taking a picture of and recommend different filters that it believes are correct. These "lenses" as Adobe calls them will be highlighted by a small blue icon if they are deemed appropriate for the shot you're taking.
For example, in a shot with a couple of people, it recommends the various portrait lenses as one of the options. With photos of some recently smoked pulled pork, it will recommend the food lens. In testing, this is accurate but you are by no means limited to its suggestions.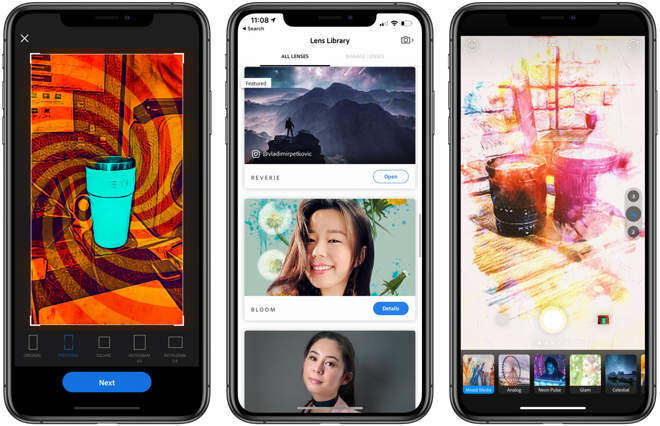 Exporting images, adding lenses, and taking picutres with Photoshop Camera
Out of the box, we had nine lenses installed within the app. Portrait, pop art, spectrum, Billie Eilish, articulations, food, scenery, blue skies, and reverie. Reverie is an animated one that added shooting stars, fireworks, and other moving objects to the skies of your shots.
You aren't stuck with those, however. That globe icon (or the "+ more" button at the end of the row of lenses) allows you to add additional lenses to your kit.
Edit your existing shots
Aside from being able to instantly apply these lenses in real-time as you take the shots, you are alternatively able to edit shots you've already captured, including from other apps. Assuming they are saved in your camera roll.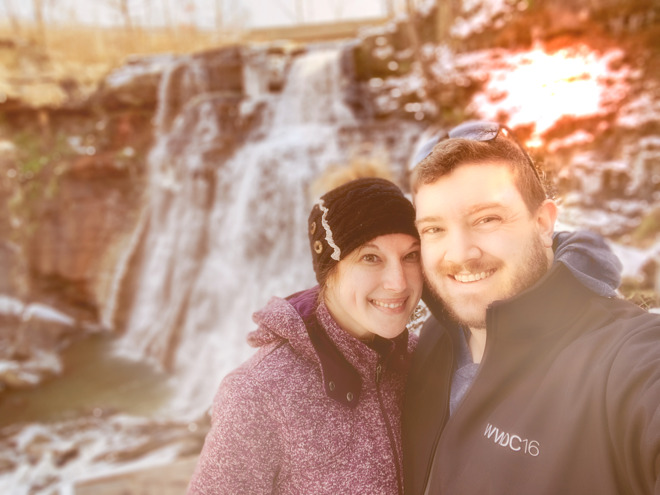 Glam filter from Photoshop Camera
This largely works the same. Open the photo and when you open the lenses drawer, recommendations will be shown based on the content of the image. Considering we weren't in love with how it captured the images, this may be a preferable method for users who want a better, more manual camera app.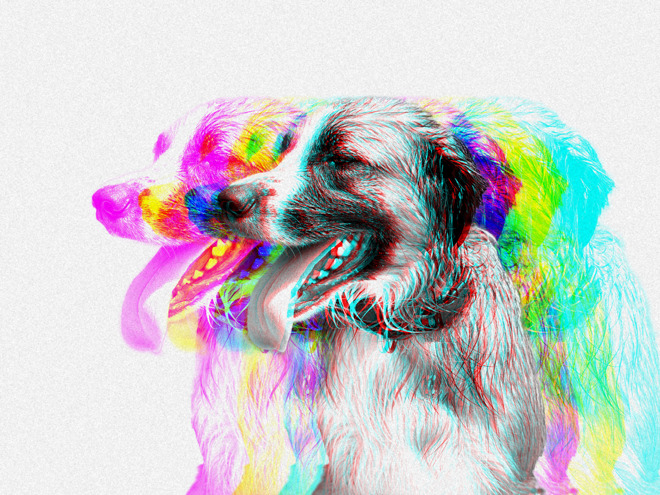 Spectrum filter from Photoshop Camera
Once edits have been made, you can save the photo back to the camera roll, or share direct to social media. On export, Photoshop Camera gives you the option to adjust the aspect ratio to one of several presets, including those for Instagram.
Free to try
This camera app may be lacking in its ability to zoom or manually control the look of your picture but its editing effects, a massive library of lenses, and a simple user interface will easily make this a staple for anyone looking to share a lot of photos.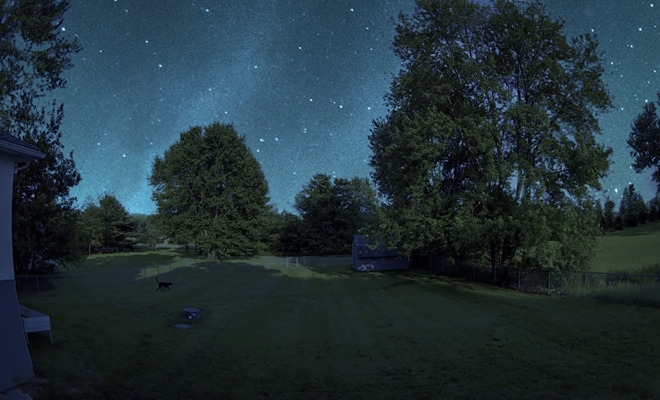 This was taken during the daytime with the celestial filter from Photoshop Camera
There are some lenses that are wild and out there like pop art or any of the Billie Eilish options but there are also simple ones that simply make your photos look better without looking overly edited such as those for food or scenery.
If you take a lot of images and are getting tired of the basic filters available on Instagram or other social platforms, with a price tag of
free
, Photoshop Camera is definitely worth checking out.
Download Photoshop Camera
from the
App Store
for free.