Apple previews new Sanlitun store ahead of grand opening
Apple on Thursday offered an inside look at Apple Sanlitun, the company's latest retail location in China.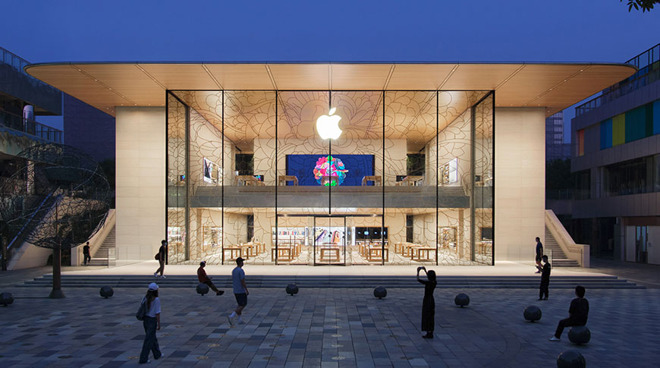 Teased on Apple's regional retail website
last week
, the
Sanlitun outlet
is located in the Taikoo Li mall in Beijing. It replaces Apple's first store to open in China, which closed its doors
on Tuesday
.
Just steps away from the original Apple Sanlitun, the new location is twice the size and features a number of firsts including an integrated solar panel array positioned on the store's roof. The system will power the outlet which, like other Apple facilities, runs completely on renewable energy.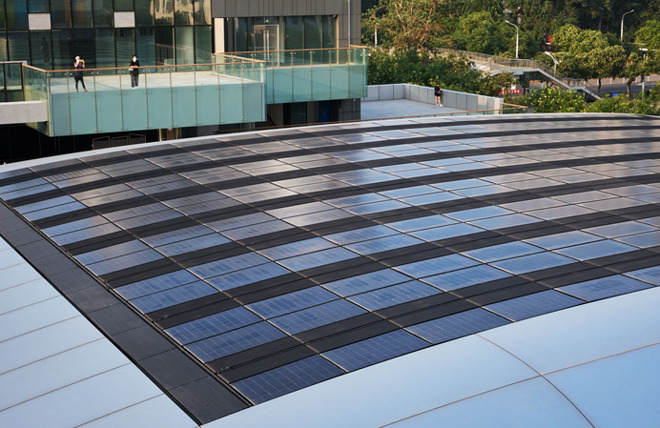 Apple Sanlitun features Apple's first integrated solar array in a retail store in China.
"This store sets a new standard for Apple Retail in China and we're thrilled to build on our history in Beijing," said Deirdre O'Brien, Apple SVP of retail and people. "We look forward to operating Apple Sanlitun, and all of our stores around the world, with the health and safety of our customers and teams as our top priority."
Like other flagships, Apple Sanlitun includes a Forum, Viewing Gallery, and Boardroom. The forum will host Today at Apple sessions, while the Viewing Gallery on the grand upper level looks out over Taikoo Li's central square. Boardrooms at Apple retail stores are dedicated sales and support meeting spots for small businesses.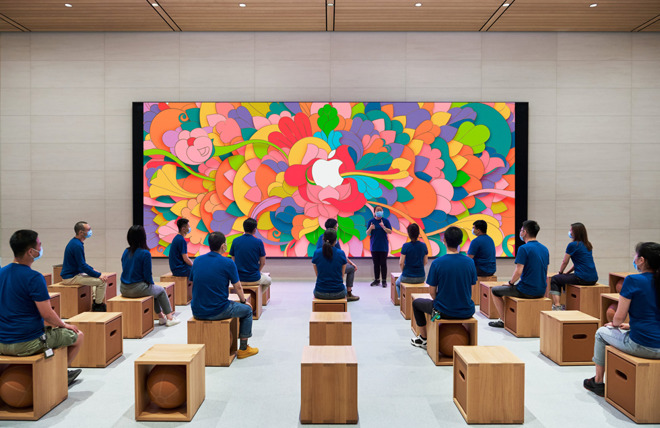 The Forum will be the future home for Today at Apple
Architectural flourishes and materials sourced from local businesses complete the store's aesthetic fingerprint. For example, the outlet's 33-foot glass panels were made in Xiamen, while the floor is covered in Padang Light stone from the Shandong province. Planters on the west terrace hold Sophora japonica trees, the official tree of Beijing. Some 185 team members work at the Sanlitun location.
Apple Sanlitun opens on Friday at 10 a.m. local time. The company notes standard Chinese coronavirus protocols are in place, meaning customers should expect to show and scan their personal health QR code upon entry. Apple is also implementing a mask requirement, temperature checks and social distancing for visitors.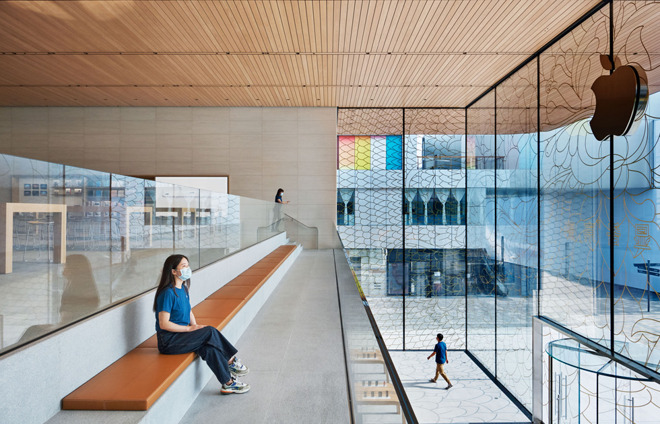 Masks are required inside the newly opened store
In related Apple retail news, the company on Thursday opened an updated and relocated store in Reston, Virginia. The new storefront, located next door to the previous outlet, is noticeably larger and features the usual accouterments like a large central display and all-glass facade.