Review: Vissles-W 3-in-1 is an inexpensive wireless charging pad
The Vissles-W 3-in-1 is a wireless charging plate meant for people specifically with an iPhone, Apple Watch, and AirPods or AirPods Pro.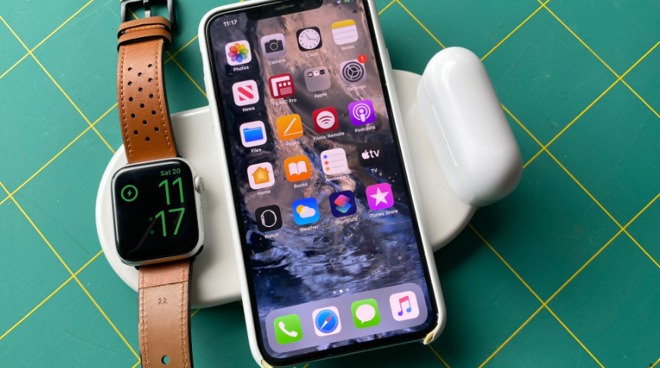 The compact little Vissles-W 3-in-1 wireless charging pad
Wireless charging pads are not yet ubiquitous, but with every iPhone since the
iPhone 8
able to use them, they are becoming commodity items -- and Vissles has an inexpensive edition. There are some issues with it being inexpensive and it isn't for every one, but overall it's a solid and useful bedside charging pad.
What's best about the Vissles-W 3-in-1 is that it's a reasonably compact little unit that does neatly hold the three devices of iPhone,
Apple Watch
, and
AirPods
or
AirPods Pro
. It's a set-and-forget kind of device, as once you've popped it by your bed or on your desk, you can just leave your phone on it, knowing it's being charged.
That's the case with all wireless charging pads, though, and this one's choice to be able to charge three different devices does give it broad appeal -- but that appeal narrows quite quickly. You can have these three devices but really you need all three. If you've currently just got two, this isn't for you.
This is because of its lighting. With no devices on at all, there is still a bright light from where you're supposed to charge your AirPods case. Put your iPhone on the plate and the section for the Apple Watch glows.
As with most such devices, Vissles' one doesn't come with an Apple Watch charger, and instead you have to fit Apple's own into it. If you do not do that, perhaps because you don't own an Apple Watch, then that section does more than glow, it shines extremely brightly.
Fit Apple's Watch charger into it and the remaining glow is still noticeable enough to be distracting.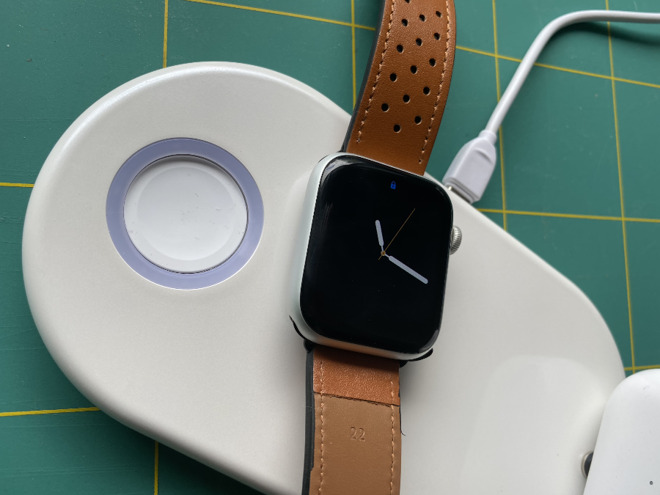 The Apple Watch charging part (left) is loose, but it snaps up when you place the Watch on it
There is also the case that fitting the Apple Watch charger isn't ideal. You have to crack open the charging pad's case -- the company provides a tool for this but you can do it with your fingers -- and then thread the Apple Watch charger through it.
It solely takes the one-meter version of the charger cable, so if you've bought the shorter 0.3m version as a spare, you can't use it. Also, at first it doesn't look as if the 1m one will fit either. It has to be pressed in tightly and then overlap itself before it's fitted and you can close the case.
You also can't make use of the Apple Watch charger unless your band is one that opens. If you have a loop one, or a continuous metal band with a clasp, you can't lay the Watch out flat. And so you can't use the charging plate
The AirPods charging is a little unusual, as if you don't have an iPhone on the pad, you can just rest the AirPods wireless charging case there and it will be charged. If you do, though, you need to charge them through a small connection to one side.
Vissles provides a Lightning connector which is solely that plug plus a slim metal circle. You fit it into the AirPods case and then that circle magnetically attaches to the right spot on the charging plate.
This means that unless you're going to forever fit and remove that Vissles Lightning connector, and remember to keep it handy, you will have it permanently plugged in to the wireless case. It makes for a stubby protrusion on the case which can snag on clothing.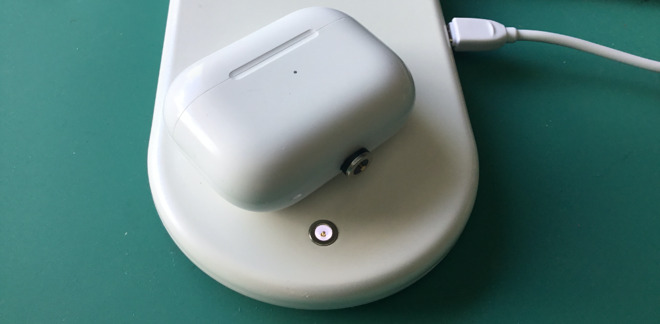 You have to fit an adaptor to the AirPod charging case to use it on the pad's connector. However, you can also charge wirelessly by placing it where the phone usually goes.
In practice, we found it did need us to take a little care, but we got used to treating the connecting stub as a place to grip the AirPods case as we pulled it out of a pocket. Plus if you don't have a wireless charging case for your AirPods, this connector means you can still use the pad to charge them.
It also means that AirPods snap onto the right spot for charging every time. The Apple Watch is a tiny bit tricker as the Apple charging plate for it is recessed slightly rather than being flush with the top of the unit. You have to position the Watch just so in order to make the connection.
The easiest one to get wrong is the iPhone. You get used to where it does and does not charge, but it does take practice, like most of these plates do.
Still, the pad is small enough that there isn't much room to get it wrong. And, the small size is part of the overall convenience of the unit.
We'd be happier if the Watch plate didn't sink into the device, and it would good if you didn't need the special AirPods case connector. But, these are common flaws to nearly every three-in-one, and hard to work around.
The Vissles-W 3-in-1 isn't perfect. Overall, though, it is a compact, solid, and useful wireless charging pad in a field of poor imitations of Apple's never-released AirPower. We've seen far, far worse from better names.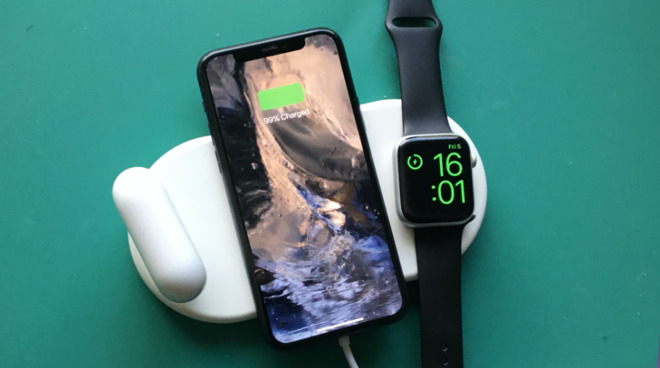 The Vissles-W 3-in-1 wireless charging pad with AirPods Pro, iPhone 11 Pro Max, and Apple Watch
Pros
Compact


Charges iPhone, Apple Watch, and AirPods simultanously


Cons
Can't be used with loop Watch bands


Needs all three devices or lights are too bright for night


Tricky to precisely fit the Watch charging cable


Rating: 4 out of 5
You can get the Vissles-W 3-in-1
from Amazon
or direct from the manufacturer. It retails at $45 but
AppleInsider
readers get a 20% discount by using the coupon code VISSLES at the
manufacturer's checkout
.