Apple Card adoption and use benefitting from the coronavirus pandemic
A new credit card analysis claims that the
Apple Card
has managed to weather COVID-19, with most of its features holding up "remarkably well" one year since its launch.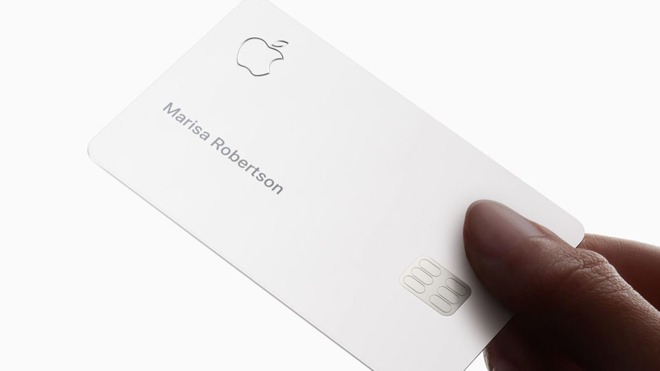 Credit: Apple
CreditCards.com analyst Ted Rossman claims that the global health crisis may well have improved the Apple Card's performance for a few distinct reasons. For example, contactless payments have been on the rise with a nearly 150% jump in usage from March 2020 to July 2020.
Apple Card incentivizes growth by rewarding users a 2% cash back rate when using
Apple Pay
. Rossman notes that Apple Pay is the world's most popular mobile payment method.
Rossman also sees the Apple Card's lack of travel benefits and its simple cash back policy as positives for the card. Spending on travel has plummeted since the pandemic, and the fact that Apple Card offers similar cash back rates on all purchases is a boon to consumers.
Apple has been steadily adding new partners for its upper-tier 3% cash back rate. Although initially reserved for Apple purchases, that tier now includes retailers from T-Mobile to Panera Bread.
The precarious economic situation created by the pandemic may also have given a boost to the simplicity of Apple's daily cash back model and its lack of fees. Customer support services are also easy and built-in, and Apple has provided users affected by the pandemic options to
defer payments
.
Taking a broader look at the Apple Card's first year, Rossman also said that the fact that Apple and Goldman Sachs appear to accept a range of credit scores also bodes well. The card is "especially well-suited for a young, tech-savvy audience that is just starting out with credit cards, as well as for Apple aficionados."
"The hope for Apple and partner Goldman Sachs is to hook this group early and grow with them, including offerings such as phones, entertainment subscriptions, savings accounts, personal loans and peer-to-peer payments," Rossman wrote.
The Apple Card
launched
in August 2019, and shortly after, Goldman Sachs said that the card's launch was the "
most successful
" ever. But that was before the
coronavirus
pandemic changed consumer spending, payment habits, and the world.