Compared: 2020 iPad versus 2019 iPad and 2018 iPad
Posted:
in iPad
edited January 2021
Apple launched the eighth-generation
10.2-inch iPad
on Tuesday, alongside a refresh of the iPad Air, but is it enough of an update to make owners of earlier
iPad models
upgrade? We compare the specifications.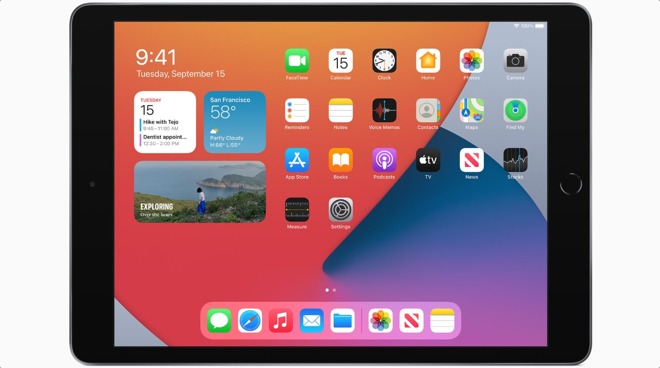 During Tuesday's "Time Flies" event, the vast majority of attention focused on the
iPad Air 4
, the
Apple Watch Series 6
, and the
Apple Watch SE
, as well as Apple's updated services offering. Apple did take some time to mention that it was updating the base iPad, chiefly by giving it better performance.
However, beyond the speed boost, there didn't seem to be that much of a change for the model, at least compared to what was announced for the iPad Air. Owners of previous
iPad
models may question whether it is good enough to upgrade to, or whether they should turn their attention elsewhere.
As we put the 2020 iPad's specifications against 2019's seventh-generation iPad and 2018's sixth-generation iPad, you'll see the answer isn't as tough to work out as you may think.
2020 iPad vs 2019 iPad vs 2018 iPad - Specifications
iPad (6th Gen, 2018)
iPad (7th Gen, 2019)
iPad (8th Gen, 2020)
Launch price
$329
$329
Lowest 2019 iPad prices
$329
Lowest 2020 iPad prices
Capacities
32GB, 128GB
32GB, 128GB
32GB, 128GB
Screen size
9.7
10.2
10.2
Screen resolution (pixels)
2048x1536 at 264dpi
2160x1620 at 264dpi
2160x1620 at 264ppi
Screen brightness (nits)
500
500
500
Processor
A10 Fusion
A10 Fusion
A12 Bionic with
Neural Engine
Apple Pencil
First Generation
First Generation
First Generation
Smart Connector
No
Yes
Yes
Dimensions (inches)
9.4x6.6x0.29
9.8x6.8x0.29
9.8x6.8x0.29
Weight (lbs)
1.03
1.07
1.08
Battery (hours)
Up to 10
Up to 10
Up to 10
Rear Camera (megapixels)
8
8
8
Front Camera (megapixels)
1.2
1.2
1.2
Video
1080p
1080p
1080p
Biometric
Touch ID
Touch ID
Touch ID
2020 iPad vs 2019 iPad vs 2018 iPad - Physical Size and Weight
Apple has been very keen to retain the same physical size for its core iPad product over time, with relatively few changes made over the years. While in 2018, the iPad measured 9.4 inches long by 6.6 inches wide, in 2019, this jumped to 9.8 inches by 6.8 inches, making it bigger but not by that much.
For 2020, Apple has implemented the same dimensions in the design as it used the previous year, with the 8th-generation iPad being 9.8 inches long and 6.8 inches wide.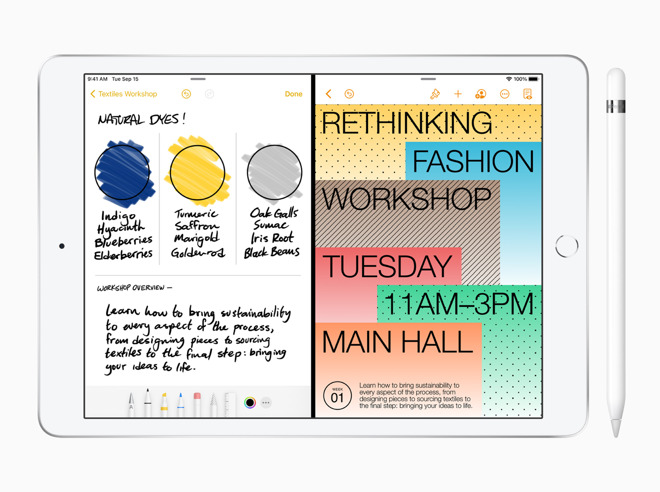 There's practically no external change in the iPad's design between 2019 and 2020
The thickness has been extremely consistent over the years, at 0.29 inches, something that Apple again retains for the 2020 model.
While the size is the same over one year prior, the 2020 iPad is also the heaviest of the trio, weighing in at 1.08 pounds versus 1.07 for 2019, and 1.03 for 2018.
The extreme closeness of the 2020 iPad to the 2019 model is a theme that will continue throughout the rest of the specifications.
2020 iPad vs 2019 iPad vs 2018 iPad - Display
The iPad's signature 9.7-inch screen was last seen in the 2018 iPad, which offered a resolution of 2,048 by 1,536. In 2018, Apple decided it was time to move on, and implemented a 10.2-inch screen, with a higher 2,160 by 1,620 resolution, while keeping the pixel density of 264ppi.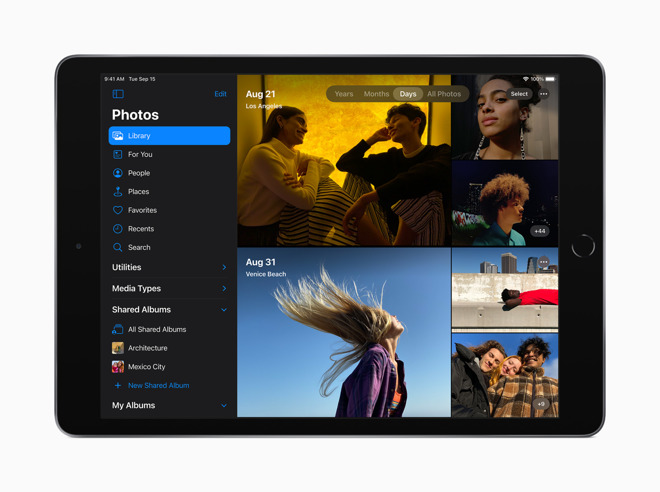 The 2020 iPad display is identical to the 2019 iPad
In 2020, it seems Apple has decided the 2019 screen was good enough to continue using, with the model using the same LED-backlit display, resolution, and size. It also continues to have Apple's usual iPad brightness of 500 nits, and still has a fingerprint-resistant oleophobic coating.
2020 iPad vs 2019 iPad vs 2018 iPad - Performance
Between 2018 and 2019, Apple used the A10 Fusion system-on-chip to power the tablet. While this was adequate, the lack of change meant there wasn't really any performance difference between the two models.
For the 2020 edition, Apple's big change is the chip, switching out the A10 for the tried and trusted A12 Fusion. While this is still a two-year-old chip being employed by Apple once again, it is still an improvement over the four-year-old A10.
According to Apple, the change makes the 2020 iPad run twice as fast as the "top-selling Windows laptop," and provides 40 percent faster CPU performance and twice the graphics capability of the 2019 model.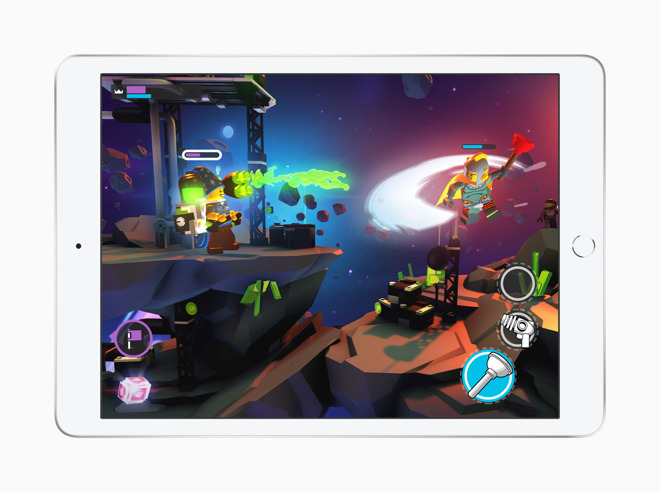 The 2020 iPad should perform better for gaming
Benchmarks on Geekbench put the 2018 iPad as having single-core and multi-core scores of 758 and 1,403 respectively, as well as a Metal score of 2,864. Obviously the 2019 model is in the same area, with 754 single-core, 1,389 multi-core, and 2,911 Metal scores.
As the A12 runs at a higher clock speed of 2.49GHz versus 2.32GHz, as well as having six cores versus two, the 2020 iPad should certainly do better. The A12-equipped fifth-generation
iPad Mini
demonstrates this with a single-core score of 1,110, a multi-core score of 2,780, and a blistering Metal score of 4,608.
The processing of the 2020 iPad may only be the main marketing feature for the model over the previous year's, but it stands to deliver on that performance promise.
2020 iPad vs 2019 iPad vs 2018 iPad - Cameras
Much like other areas of the design, Apple has chosen to keep the tried-and-tested camera setup the same for another year, which means the 2020, 2019, and 2018 models have the same imaging capabilities.
All three have an 8-megapixel f/2.4 camera on the back with a BSI sensor, a five-element lens, and a hybrid IR filter. Able to capture Live Photos, the autofocus camera can take HDR photos, 43MP panoramas, and offers burst and timer modes.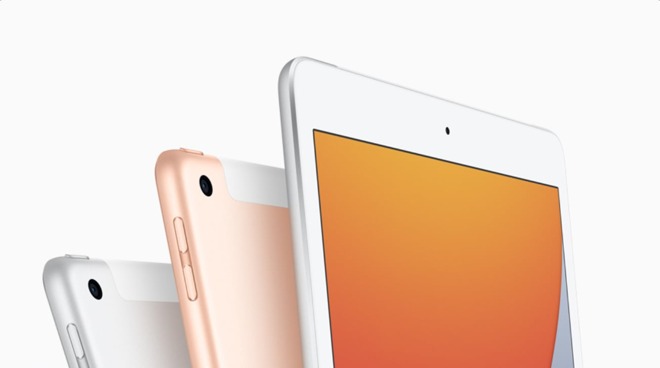 There's no change to the cameras in the 2020 iPad
For video, 1080p is still the highest resolution that can be captured at 30fps, with slo-mo support at 720p 120fps. Time-lapse video, stabilization, and a 3x digital zoom are all present and correct.
It's an identical story for the front, with Apple's continued use of a FaceTime HD camera with Retina Flash that can capture 1.2MP photographs, Live Photos, 720p video, and HDR images.
2020 iPad vs 2019 iPad vs 2018 iPad - Audio and Battery
Much like the cameras, there's no real change either for audio, with the use of two speakers for media playback. If you want more speakers, you're gonna have to look towards the iPad Pro range.
For power, Apple is again keeping to its usual claim of up to 10 hours of battery life for web-surfing or watching video in the 2020 model, as for the 2019 and 2018 versions. This also includes up to 9 hours of web usage on the cellular-equipped model.
2020 iPad vs 2019 iPad vs 2018 iPad - Connectivity and the Apple Pencil
While Apple has shifted over to USB-C for the iPad Air 4, that change hasn't reached the basic iPad, as it continues to use Lightning as its main connector. That means it has the same physical connection capabilities as the 2019 and 2018 models.
Sticking to Lightning also means the 2020 iPad continues to use the first-generation
Apple Pencil
, instead of shifting over to the second-generation model.
In 2019, Apple added a Smart Connector to the iPad, allowing it to work with the Smart Keyboard accessory. The Smart Connector has been retained for the 2020 model, along with compatibility with the Smart Keyboard.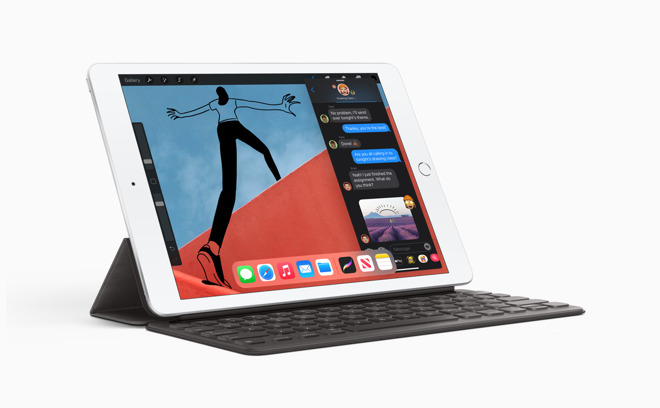 Smart Keyboard support in the 2020 iPad makes work on the move more appealing
On the wireless side, Apple's support for 802.11ac Wi-Fi and Bluetooth 4.2 continues from the 2018 to the 2020 model.
Cellular access changed from the 2018 model to 2019, with the later version dropping support for CDMA networks but increasing LTE support from 22 bands and speeds of up to 300Mbps to 27 bands in 2019 and gigabit-class LTE. Unsurprisingly, the 2020 iPad has the same cellular specifications as the 2019 version.
2020 iPad vs 2019 iPad vs 2018 iPad - Touch ID
After the major visual change of the iPad Air in removing the Home button from the display and shifting Touch ID to a button on the side, those concerned by the alteration are likely to be fine with the 2020 model. Unlike the Air, the 2020 iPad continues the tradition of keeping the Home button on the front of the tablet.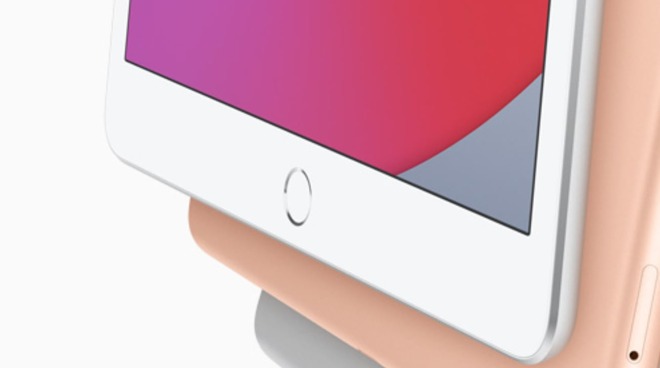 The continued use of the Home Button means Touch ID is unchanged in 2020
This also means Touch ID is in its usual place and not shifted around. This is handy for people who may have difficulty retraining themselves to press a different part of the iPad for Touch ID or to switch over to Face ID in the iPad Pro.
However, as Touch ID exists on so few devices, it seems its days are numbered.
2020 iPad vs 2019 iPad vs 2018 iPad - Capacity and Pricing
In terms of how much you can store on an iPad, things haven't really changed in years for the base model. Across all three generations, Apple offers just two storage capacities: 32GB and 128GB.
While the 32GB may not seem enough to retain a person's entire digital life without iCloud assistance and a severe culling of dead weight files, the 128GB still seems to be enough for most people's needs. For those who need more, they would be better suited looking at the other models in Apple's iPad range.
The introductory pricing also hasn't changed, with the cheapest model in all three years being sold at launch for $329. Going for the 128GB capacity will cost 2020 iPad buyers $429, while cellular will cost an extra $130 regardless of capacity.
Of course, this doesn't take into account how much the older tablets presently cost through third-party retailers, as they will certainly become cheaper when the new model goes on sale on Friday.
As usual, Apple offers three color options, consisting of Silver, Gold, and Space Gray.
2020 iPad vs 2019 iPad vs 2018 iPad - The same, but faster
In our
comparison
of the 2019 iPad against earlier models last year,
AppleInsider
suggested the change in display size wasn't really much of an upgrade for owners of devices released in the previous two years. In 2020, the situation is somewhat similar, but also different.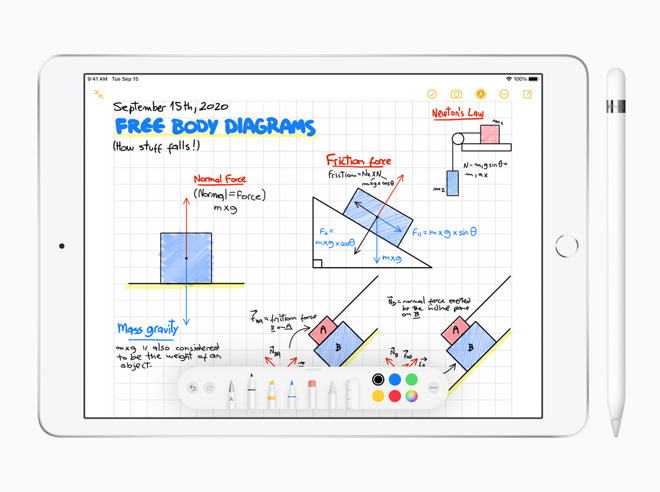 The 2020 iPad is an improvement, but not by much from 2019
For owners of the 2019 iPad, there's very little presented in the 2020 iPad to say it is a must-buy upgrade. The only real change these users may see will be a faster iPad.
This may be enough for some, such as avid gamers and anyone who feels the A10 is getting a bit slow for their needs. However, at the same time, anyone truly concerned about performance will be more willing to pay for an iPad Air or an iPad Pro.
Though a relatively minor upgrade from the 2019, there's more to it for the 2018 model. On top of performance gains, you're also looking at having a larger and higher-resolution display.
The added support for the Smart Keyboard will mean users can set up a more cohesive portable working environment, instead of having to rely on a separate Bluetooth keyboard accessory.
It is probable that there's enough of a jump in features for 2018 iPad owners to move over to the 2020 edition. For those with even older iPads, that's an even bigger reason to jump aboard the newest version.