GoPro releases new HERO9 Black camera with 5K Video, 20 MP photos
GoPro has announced the release of the HERO9 Black camera with upgraded image stabilization and 5K video capabilities, as well as the launch of the HERO9 Black Million Dollar Challenge.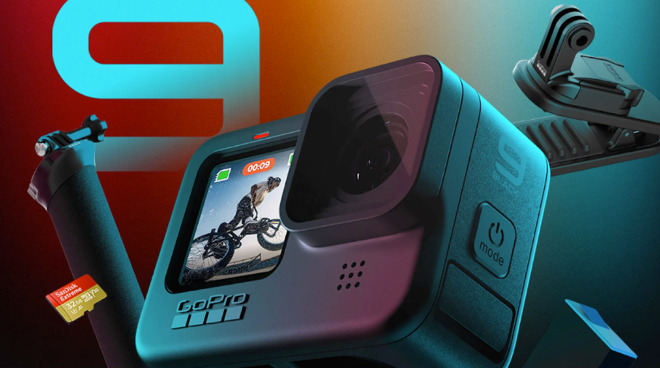 The
HERO9 Black
features a new image sensor capable of producing 5K video and 20-megapixel videos, ensuring your footage looks crisp and clean. It also features HyperSmooth 3.0 image stabilization with in-camera horizon leveling. The HERO9 Black is waterproof to 33 feet and is compatible with the Max Lens Mod, Light Mod, Display Mod, and Media Mod for HERO9 Black.
The new camera also boasts a new 1.4-inch front color display with live preview and status modes, a larger 2.27-inch rear touch display, and 30 percent more battery life over the HERO8 Black. The included battery is removable and rechargeable.
Other features include TimeWarp 3.0 with Real Speed and Half Speed, 1080p Live Streaming, 1080p Webcam Mode, HindSight, LiveBurst, Scheduled Capture, and Duration Capture modes, RAW Photos, SuperPhoto and HDR Night laps video, and digital lenses.
In addition to 5K video at 30 frames per second, the HERO9 Black can take 4K video at 60 frames per second, 2.7K video at 120 frames per second, 1140p video at 120 frames per second, 1080p video at 240 frames per second, and more.
GoPro has also taken an extra step to eliminate plastic from the HERO9 Black's packaging by packaging the camera in a high-quality travel case that fits additional mounts and accessories.
The
HERO9 Black is on sale
starting today for $449.99, or for $349.98 to current and new subscribers to GoPro's subscription service. A HERO9 Bundle is available for $449.99 (or $399.98 with a subscription) and includes the HERO9 Black camera, floating hand grip, magnetic swivel clip, and a spare battery.
HERO9 Black Million Dollar Challenge
The HERO9 Black Million Dollar Challenge is GoPro's third million-dollar challenge offered to customers. Customers who buy the HERO9 Black are invited to capture and submit video clips for consideration from now until Friday, December 4, 2020. Entrants whose video clips are chosen for the HERO9 Black launch highlight reel will receive an equal portion of one million dollars. Those interested in the challenge can learn more on
GoPro's Million Dollar Challenge page.