Behind the scenes video shows giant effort to film 'Tiny World' for Apple TV+
Apple has released a behind-the-scenes video for its latest
Apple TV
show "Tiny World," showing how its film makers captured footage of extremely small creatures in their natural habitat.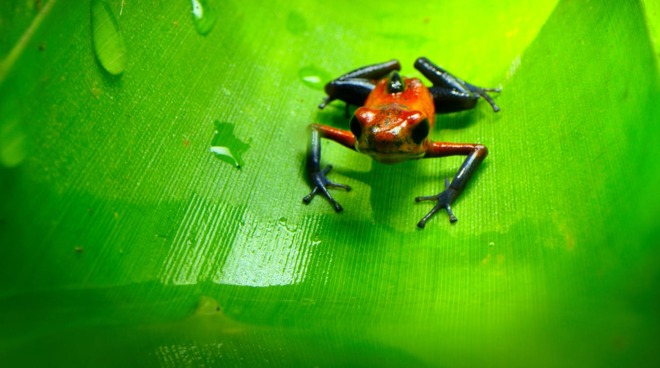 A thumbnail-sized frog from 'Tiny World' [Apple TV+]
Recently made available to watch via the Apple TV+ video streaming service, "
Tiny World
" is a nature documentary program that showcases the smaller creatures on the planet. The show, which is narrated and executive produced by Paul Rudd and made by filmmaker Tom Hugh-Jones, uses high production values and goes to great lengths to capture footage of the often hard to see wildlife.
In a behind-the-scenes video posted to the Apple TV YouTube channel, videographers for the show are seen setting up cameras in very close proximity to the creatures they want to film. For typical nature documentaries, cameras are set up at a distance and rely on zoom lenses so as to not disturb the creatures, but such techniques are largely impractical for "Tiny World."
As well as using standard macro lenses, the team had to also employ lenses that are meant for "scientific purposes" to capture some of the extremely close-up shots. In some cases, such as filing thumbnail-sized strawberry poison-dart frogs wrestling, the creatures would sometimes interact with the lens itself, climbing on or inside as if it is part of the existing environment.
To capture footage the point of view of a goshawk flying through trees, a first-person-view drone was used, one reinforced to take the high-speed knocks from branches. One filmmaker also took three years to film a specific gecko in the wild, using a motion control rig to perform highly precise motion shots that are still cinematic at such a small scale.
The show compiles footage that took almost ten years to collect, filming over 200 species of animal. It has been compiled into six 30-minute episodes, which can be viewed on Apple TV+.