ProtonMail CEO says Apple strong-armed adoption of in-app purchases
ProtonMail's chief executive officer said Apple forced the email service to introduce in-app purchases in a move he likened to "mafia extortion."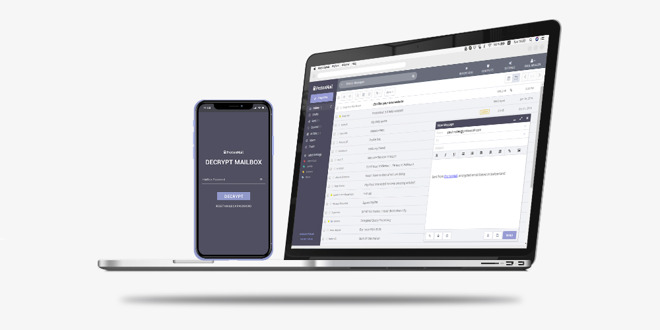 Credit: ProtonMail
The encrypted and privacy-focused email service launched on the
App Store
in 2016. Although it offered a premium tier on its website, there wasn't an option to purchase it within the app.
In 2016, Apple told the email service "out of the blue" that it had to add an in-app purchase option to remain on the App Store, ProtonMail CEO Andy Yen
said
in an interview with
The Verge
.
"For the first two years we were in the App Store, that was fine, no issues there," Yen said. "But a common practice we see ... as you start getting significant uptake in uploads and downloads, they start looking at your situation more carefully, and then as any good mafia extortion goes, they come to shake you down for some money."
He added that Apple blocked app updates for a month and threatened to remove the app entirely until ProtonMail complied with the guidelines. The email service eventually did, but also raised in-app subscription prices by 26% in an effort to make up the 30% commission that Apple takes.
ProtonMail is
free to download
that, prior to the addition of in-app purchases, offered a premium subscription through the company's website. Apple "stumbled" onto language in the app that mentioned the premium tier and demanded it be added to the app as and IAP, according to Yen.
"They are judge, jury, and executioner on their platform, and you can take it or leave it. You can't get any sort of fair hearing to determine whether it's justifiable or not justifiable, anything they say goes," Yen added.
The situation was characterized as being similar to those faced by Basecamp-created email service
Hey
and
WordPress
earlier in 2020.
Apple in September
tweaked
its App Store guidelines to allow for free apps that are meant to complement premium web-based services. It also introduced a new process that allows developers to not only appeal App Store decisions, but also guidelines. In the wake of those updated rules, Yen said that ProtonMail plans to remove its in-app premium purchasing option.
Yen added that he believes Apple's 30% cut of in-app purchases is particularly hurtful to ProtonMail, since it isn't free like ad-supported rivals, such as Gmail.
ProtonMail is one of the founding members of the Coalition for App Fairness, a nonprofit organization that also includes other companies that have had run-ins with Apple's app guidelines -- including Epic Games, Basecamp, and Spotify.
The group advocates for a set of "
App Store Principles
" that it believes companies like Apple should adopt, including allowing for rival app stores and reducing its commission on in-app purchases.