Apple's 'iPhone 12' debut will be 'most significant iPhone event in years,' says Morgan St...
Ahead of Apple's "
iPhone 12
" event on Oct. 13, Morgan Stanley is raising its iPhone estimates on new average selling price (ASP) analysis and iPhone build data.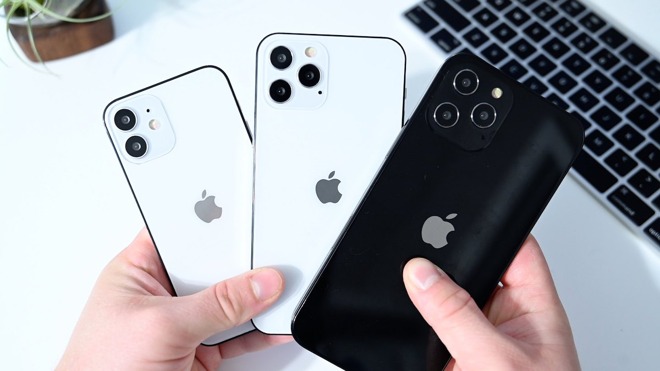 Credit: Andrew O'Hara, AppleInsider
In a research note to investors seen by
AppleInsider
, lead analyst
Katy Huberty
writes that the bank's iPhone mix and pricing analysis indicates that Wall Street's unit build and ASP estimates "remain too low" for 2021.
The upcoming "iPhone 12" and "
iPhone 12 Pro
" launch will be the "most significant iPhone event in years," Huberty writes. She also points out that it comes at a key time for the company as device replacement cycles have lengthened to more than four years. Other factors could include increasing adoption of device trade-ins and gains in markets like Europe, the Middle East, and Asia.
Morgan Stanley's Asia hardware technology team forecasts a total of 82 million iPhone builds in the December quarter, which suggests about 78 million iPhone shipments in that period. That's an increase from the bank's previous model of about 76 million.
As a result, the new data lifts Huberty's 2021 iPhone shipment forecast to 220 million units, up more than 22% year-over-year and 4% ahead of consensus.
"Should Apple capture a growing share of the smartphone switchers market, then we'd expect iPhone installed base growth to remain in the high-single digits ... leading to a bull case." That case would see 240 million iPhone shipments in 2021, and a valuation of $170.
The investment bank has also carried out a detailed pricing and mix analysis suggesting that Wall Street's ASP estimate of $763 is too low. Huberty expects iPhones to start at $649 for the smaller 5.4-inch "
iPhone 12 mini
" device, and cap out at $1,399 for the 6.7-inch "
iPhone 12 Pro Max
" with 512GB of storage. The bank is forecasting that the mix of one-year-old iPhones will be about 11%.
Because of the analysis, Huberty is raising Morgan Stanley's 2021 iPhone ASP estimate to $772.
The analyst is also raising its 2021 AAPL revenue and earnings-per-share (EPS) estimates by 2% each on the back of shipment and ASP changes. That will represent 6% and 5% upside to current consensus forecasts.
"Looking forward, we believe the most important metrics investors should follow to track the performance of the iPhone 12 cycle a 1) device sell-through, either through third-party vendor data or lead time tracking, 2) the trajectory of iPhone supply chain builds, and 3) monthly performance in China, including Y/Y shipment growth and smartphone installed base share shifts."
The bank is expecting four iPhone models at Apple's Oct. 13 "
Hi, Speed
" event, including the following:


5.4-inch "iPhone 12 mini"


6.1-inch "iPhone 12"


6.1-inch "iPhone 12 Pro"


6.7-inch "iPhone 12 Pro Max"


All models are expected to sport 5G connectivity, Apple's A14 Bionic chipset, longer battery life, higher base storage configurations, and dual- or triple-lens camera setups across the board. The iPhone Pro models could also sport new AR functionality through a rear-facing LiDAR sensor.

Despite the forecast bump, Huberty is maintaining her $130 AAPL price target. She arrives at that estimate by a 6.5x enterprise value-to-sales multiple, a 32x price-to-earnings multiple, and a 29x enterprise value to free cash flow multiple.

Shares of AAPL were trading at $115.13 Thursday morning, up 0.044% in intra-day trading.