Only 10% of analyst's survey respondents plan to buy an 'iPhone 12' in 2020
A new Piper Sandler survey indicates that only 10% of respondents plan to buy a new "
iPhone 12
" model in fall or winter 2020, suggesting that consumers are "hunkering down" heading into the launch.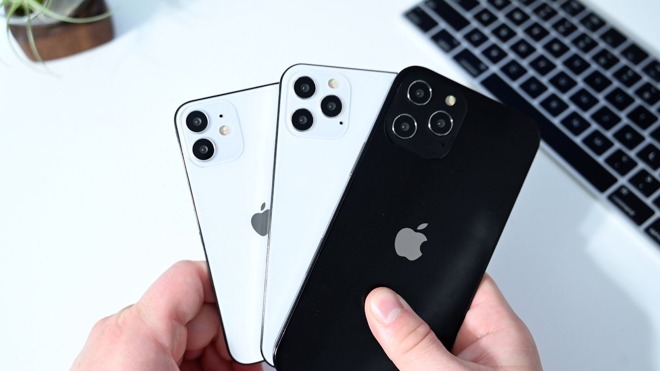 Credit: Andrew O'Hara, AppleInsider
In a research note seen by
AppleInsider
, lead analyst Harsh Kumar details the results of a survey of about 1,000 Americans that the investment bank conducted in late September 2020.
Per the results, only about 10% of that number said that they expect to buy a new iPhone or upgrade to a 5G-equipped "iPhone 12" model in the latter half of 2020. As Kumar notes, that's well below a previous survey that suggested 23% of respondents planned to upgrade but may be attributable to the global
coronavirus
health crisis.
"We are a bit surprised by the lower than expected demand given the cellular transition, but the global pandemic may be putting pressure on spending patterns this fall/winter," Kumar writes.
Of those that do plan to upgrade by the end of 2020, about half said they would do so for the 5G capabilities of the new device. The other half said they simply needed to upgrade their devices.
Other details revealed in the survey include that the average age of a current iPhone is about 2.3 years. Respondents also said that they expect the average price of a mid-range iPhone 5G to be about $1,015 -- slightly lower than the average mid-range price of $1,068 over the last three years.
Piper Sandler also asked its participants about other Apple devices. Here's what they said.


About a quarter of respondents said that they saw value in the new Apple Watch Series 6, but only 8% said they'd buy one.


12% of those surveyed said that the lower-priced Apple Watch SE makes it more likely that they'll buy an Apple wearable.


Kumar says that similar pandemic-related budget constraints could be causing the "low interest level" for the Apple Watch.


About 15% of respondants said that they expect to buy a new iPad soon due to a "recent lifestyle change."


As far as methodology, the bank surveyed 1,000 Americans in late September 2020. The average age of respondents was 47, and among those surveyed, 52% were male and 48% were female. The bank says 33% were in the South; 23% were in the West; 29% were in the Midwest; and 14% were in the Northeast.